Golden, Helen Juliet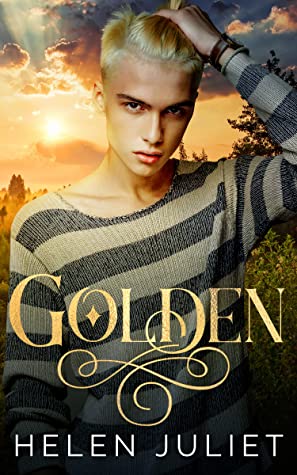 Rating: 5 'Daddy, Papa, & Baby' Stars
Publisher: Helen Juliet
Genre: Gay Polyamorous Erotic Romance
Tags: Contemporary, Age Gap, BDSM, Daddy Kink, Erotica, MMMM Erotica & Romance, Fairytale Retelling, Porn Industry
Length: 139 Pages
Reviewer: Cindi
Purchase At: Amazon
Blurb –
Can three very hungry bears find their own sweet golden boy?
GOLDIE
Thanks to my no-good ex, I'm up to my eyeballs in debt…to an adult entertainment company. The owner offers me the chance of a lifetime: if I keep my lips zipped about why I'm there, I can work off the loan in front of the camera. I'm thrilled, but self-conscious: who wants to work with a skinny twink like me? Then the biggest, scariest star of all asks for me. In fact, Daddy demands me. And, like both his partners warn me: what Daddy wants, Daddy gets. Can I really handle three bears? As they close in on me, I realise…it's too late to run.
DADDY
Goldie is shy, innocent, brand-new…and totally irresistible. I'm going to make him ours. The three of us have enough love for a fourth. It's supposed to be only for a weekend, but our golden angel's secrets betray a broken soul that needs mending…and I'm the man to do it. Goldie's sleazy ex is too cold for him, and this weekend might be too hot. But the four of us together? That feels just right. And when I find out why Goldie's really there, we'll stop at nothing to save our golden boy.
Golden is a super steamy, standalone MMMM gay romance novella featuring a picturesque cottage in the English countryside, lashings of praise for a shy boy, one very fat cat who knows best, enough porridge for four hungry tummies, and a guaranteed HEA with absolutely no cliffhanger.
Review –
I went into this expecting not much more than PWP. What I got instead was a very sweet story that had me saying, "Aww…" when I finished it. Yes, it's sexy, but it's also a really good love story.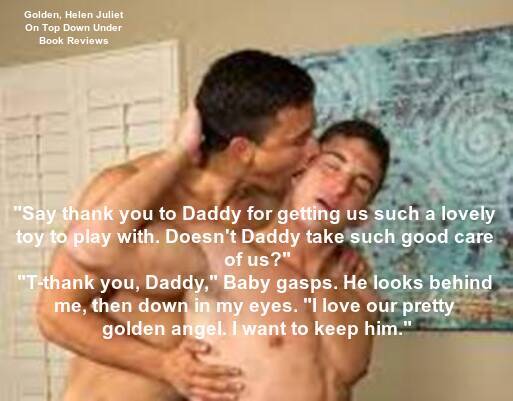 Twenty-one-year-old Golden has been put in a really bad position thanks to his bastard ex-boyfriend, Robert. Robert took out a loan in Golden's name with the porn company Honipot and can't pay it back. So now Golden's left with the responsibility of having to do it.
The ex was a jerk anyway, but the reader sees how bad he really is as the story plays out.
In order to pay off Robert's debt, Golden agrees to do a few porn movies until the full amount is paid. He's nervous – Robert constantly told him how bad he was in bed – but he doesn't have much of a choice. That nervousness turns into full-blown panic when he gets a call from the sleazy Honipot guy saying he'd been requested, no demanded, by a popular porn star they call Daddy for the weekend. Daddy and his two boys, Papa and Baby, are Golden's favorite porn stars. Not only do they do porn scenes, they're a throuple in real life – a very happy throuple.
Golden pushes his nervousness aside and takes the trip to the cottage where Daddy lives with his boys, getting more nervous the closer he gets. What if they don't like him? What if he's not, as Robert had drilled into him, not good enough? And it's not like he can tell Daddy or the others why he's playing with them that weekend. The Honipot guy told him not to. As far as Daddy, Papa, and Baby know, Golden's a new guy getting started in the gay porn industry.
Where do I start with Daddy, Papa, and Baby? They were absolutely perfect, all three of them. Daddy is take-charge, and it's common knowledge that he's the so-called boss of everything. Then there's Papa, who's technically married to Baby, though they all three love each other equally. Then there's sweet Baby and his too-tight Care Bear tees and booty shorts. Baby was just adorable all the way around. He wasn't a little or anything like that. He was simply Baby, the man loved and cared for by both Daddy and Papa.
I'd say Daddy is a bear and Papa is more of an otter. Baby is a proper bear cub, though, slightly chubby with his tummy poking out from a too-small T-shirt that has eighties Care Bears on it.
Everything happens quickly when Golden -aka Goldie to Daddy – arrives at their cottage. Terrified he'll do something wrong, Daddy makes him feel wanted right off, as do the other two. And they all got right down to business with their cute new visitor, taking all his fears away. 😉 Sure, they're being filmed a lot – by each other and cameras in the cottage, not the Honipot people – but that's okay. Goldie allows himself to believe, maybe pretend a little, that it's real, if only for a couple of days.
Daddy, Papa, and Baby have no idea why Golden is there, as I said. They're still going with the belief that he's trying to get into the industry.
Until the truth comes out in a pretty dramatic way.
I'm getting ahead of myself.
Golden's having the time of his life. He's never felt so cared for before and the sex is unbelievable. He's constantly being assured that he's perfect in all ways. If feelings start creeping in, it's okay. Golden can allow himself to pretend, if only for a few days.
Only it's not pretend with Daddy, Papa, and Baby. Sure, it started out as a new guy to play with, and they were going to have a little fun, take some videos, then send him on his way as they had countless others over the years. But the moment they meet Golden the first time, they know they'll never be able to let him go. He's the final piece of a puzzle they didn't know was missing.
When the truth comes out about why Golden's there that weekend, I was cheering him on at the same time I was wanting kick Robert's sleazy butt. Thankfully, Daddy did that for me. 😉
But then the weekend ends and Golden knows he has to go back to the real world. He doesn't want to, but it was all for show, right?
The reader knows Robert hasn't gone away, nor has the bastard at Honipot.
There are some pretty intense (and somewhat violent) moments but Daddy, Papa, Baby, and Goldie get their HEA, all four of them.
Daddy goes into Daddy protective mode when he learns his golden angel is in danger. I LOVED that.
Told in different points-of-view – Daddy, Papa, Baby, and Golden's – the reader is able to get inside each character's head, which I loved. There was no chance of getting confused by it.
I also have to mention Golden's mother, who has MS. She has good days and she has bad days. Just being away from her for the weekend is difficult for Golden, even knowing he has people who'll be taking care of her in his absence. I loved her. When everything was said and done, she never blinked about her son falling in love with three men. As long as he was happy, so was she.
This is a nice gay version of Goldilocks. Unrealistic as hell, but who cares? It was awesome. The sex was hot and written well. Daddy, Papa, and Baby were all amazing. There was no jealousy with any of them when Goldie came into their world and became part of them because they were already established. There's also a really nice epilogue showing how well they're working out a year later. I loved how everything played out.
The book was a little !!!! heavy, but I was able to overlook them for the most part.
An easy 5 stars.
But now everything is just right, like a perfect bowl of yummy porridge. Goldie did indeed get his Three Bears.
And now they were going to live happily ever after.