Merry & Sprite, Dani Lakely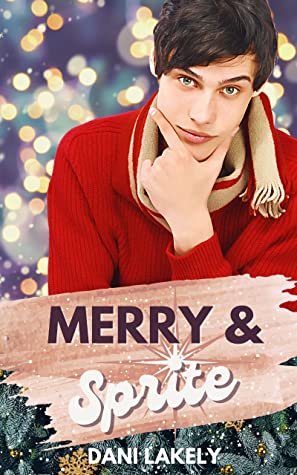 Rating: 4 Stars
Publisher: Dani Lakely
Genre: Gay Romance
Tags: Contemporary with a Little Magic, Christmas, Enemies to Lovers, HFN, Humor, Opposites Attract, Romance
Length: 177 Pages
Reviewer: Cindi
Purchase At: Amazon
Blurb –
Opposites attract in this hilarious and sexy holiday romance with a little bit of magic and a whole lot of heart.
Jonathan's to-do list:
1. Deck the halls
2. Throw Forrest off the nearest cliff
Jonathan Thomas moved across the country to escape his ex, only to end up planted next to a guy who drives him even further out of his mind. Forrest Wilde has no problem doing every little thing he can to work Jonathan's last nerve, crashing into his tidy life and well-built walls with obnoxious flirtations and merry mischief.
When Jonathan is mysteriously hit with a spell that forces him to grant the wishes of the local townsfolk, he strikes a deal with Forrest to help him find a cure. As the saying goes, keep your friends close, and the impossibly hot guy who may just be an imp closer.
Toeing the line between naughty and nice, Jonathan and Forrest work together to break the spell. But as the tension between the two nears its breaking point, Jonathan is forced to decide if it's really hate he feels — or something he's willing to risk everything on for the greatest wish of all.
Merry & Sprite is a slow-burn contemporary MM Christmas romance set in a small beach town on the Southern California coast. The story features enemies-to-lovers, hijinks and banter, rival Christmas tree farms, and a little black cat. This warm-hearted romantic comedy is sure to cast its spell on you this holiday season!
Review –
This book is hard to classify. Jonathan (don't call him Jonny) is a sprite. He's minding his aunt's tea shop in California while she's on a long vacation. It's coming up on Christmas so Jonathan trades the snow of Connecticut for the sandy beaches of California. He has other reasons for doing it. That reason being a cheating bastard of an ex named David.
Across the street from the tea shop is a bar run by Forrest Wilde. Forrest is the epitome of what Jonathan doesn't need in his life. He's a bad boy who has the one-night-stand thing down to a science. Jonathan knows this because he's always seeing the guys do their walks of shame in the middle of the night when Jonathan can't sleep. Yeah, it's a bitch living in an upstairs apartment across the street from your nemesis.
As much as Jonathan likes looking at Forrest, he's no dummy. After David and his cheating ways, Jonathan's pretty much sworn off men. You can't blame him really. And Forrest, though very tempting with his flirting and cheesy pick up lines, is somebody he knows he has to stay away from. That changes when Jonathan's almost knocked out by a turtledoves ornament that fell from the Christmas tree in Forrest's bar. When he starts seeing spots, and then the wishes inside the heads of some of the people in town, he knows a spell has been put on him, that spell being to grant wishes. It's not as cheesy as it sounds. The book doesn't focus constantly on the magic or the spell.
It turns out that Forrest might be able to help Jonathan get rid of the spell. This, of course, means they're forced to spend a lot of time together.
Forrest is nothing if not persistent. He's flirty, full of the above-mentioned pick up lines, and is constantly making sexual inuendos. It takes a lot for Jonathan to resist him, but he knows he has to, and honestly, I understood that. Eventually, he doesn't have much of a choice when they're forced to get a 'tad' closer at a Christmas tree farm. But Jonathan being the wounded man he is, says something really stupid and pushes Forrest away. What he said was mean and hurtful, sure, but he was guarding his heart so I couldn't fault him for it. Forrest did, but I didn't.
There are various wishes granted over a period of a few days (before the Christmas tree farm incident). As much as Jonathan hates to admit it, he's really missing Forrest and his persistence in trying to get in Jonathan's pants. So he offers a peace offering. It takes a little while before Forrest goes back to being the same flirty guy he was before – his feelings were genuinely hurt – but when he does, things are good. They're made even better when the final wish is granted and the spell on Jonathan has been broken.
I can't really say more than that or risk giving it all away.
Merry & Sprite is a slow burn story. I could see why things dragged out like they did, but I still would've liked to have seen more couple time with Jonathan and Forrest. Not the 'helping grant wishes' friends time – couple time. It's obvious they'll get their HEA, but it kind of ended on a HFN, hence my tag at the top of this review.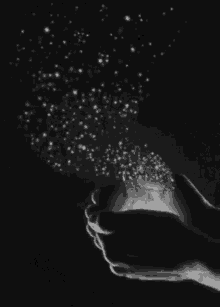 I loved most of the characters and the silliness of the town itself. Fern and Esther, two elderly women, made me a laugh a time or two, as did a few of the other residents. There's a black cat, Lilith, who's too smart for her own good. She basically belongs to everybody.
The entire book has Jonathan trying to figure out who cast the spell on him by almost knocking him out with the turtledoves ornament. If the reader's paying attention, really paying attention, they'll figure it out pretty much immediately, like I did. It's all in the wishes.
The ending was nice, though I would have liked (as I said before) more Forrest and Jonathan couple time. I wanted to see them meeting families, living together, and spending their lives as a couple. And I guess I wanted to see more of Forrest being all in, though his feelings were pretty clear toward the end. While he was actually more all in than Jonathan throughout most of the book, in the back of my mind I kept seeing the one-night-stand king who still needed to prove himself.
Something I didn't get… Jonathan being leary around other men would've been understandable. He was guarding his heart after the hurt from his last boyfriend. But his being downright mean to Forrest all the time wasn't fair, and it was kind of silly. He was bossy in a town when he was merely a visitor, when Forrest had lived there all his life. Sure, they'd met as kids (re: Jonathan's aunt living there), and there was a sweet backstory with that, but still. I understand the author was showing the reader how much the two men didn't get along and why Jonathan (unfairly) didn't like Forrest. It wasn't Forrest's fault Jonathan had been hurt in the past. So had Forrest, but that didn't keep him from being friendly, and I'm not referring to the flirting. Had it been occasionally, no big deal, but it was every single time they saw each other.
There's also one other thing that really bugged me, which is why it's four stars and not higher. It's something that has me (more often than not) knocking a star off any review I write unless I'm reading strict erotica with no romance. As much as I want to say what it is, I won't because it's a spoiler of sorts. Just go back to the HFN thing.
The entire book is told in Jonathan's point-of-view. I would've liked to have been in Forrest's head as well, which is why I said what I did about him being more all in. Jonathan's thoughts got tiring, and honestly, he wasn't the interesting one of the two men. I would've loved to have known what was going on in Forrest's head during all the times he was getting to know Jonathan. He'd also been hurt by somebody in the past. It was mentioned, slightly elaborated on, but not much more than that. I wanted to know his story. I wanted to meet his family. I wanted to know what he felt when he was looking at Jonathan all those times they did things together, and I'm not referring to him wanting in his pants. I wanted to see more of a softer, sweeter side. The funny and sarcastic side was cute, but I needed to see him maybe a little more vulnerable.
Overall, a nice story by an author I'd never read before. There's just enough magic to keep it interesting, though I would've liked to have known more about Jonathan being a sprite. It was mentioned, accepted by all he told, and that was that.
The cover is cute.