Holigay, K.M. Neuhold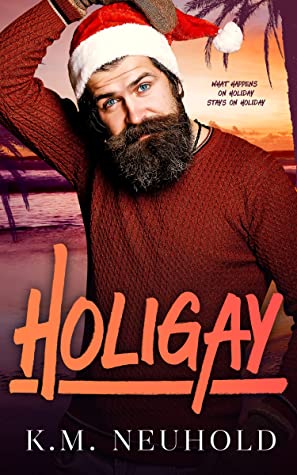 Rating: 4.5 Stars
Publisher: K.M. Neuhold
Genre: Gay Romance
Tags: Contemporary, Christmas, Friends to Lovers, GFY, Romance
Length: 81 Pages
Reviewer: Cindi
Purchase At: Amazon
*This review is NSFW-ish.*
Blurb –
I've been in love with my best friend for almost as long as I can remember. The only problem is he's straight. At least I thought he was.
But when he gets me to Fiji for Christmas, he's suddenly looking at me in a way I've never seen before. Could this all be real, or is he just HoliGay?
Review –
Holigay is a sweet story. It's predictable, and more than a little unrealistic, but a nice story just the same.
The story starts with a prologue told in Caspian's point of view. It's the middle of the night and his best friend (Matt) is calling him in tears. That wakes Caspian up pretty quick. After learning that Matt's outside his building, he starts a pot of coffee and waits for his friend. Apparently Matt caught his girlfriend Jessica – who he'd planned to propose to – in bed with another guy. Caspian does what any good friend would do, what he's always done for Matt, he takes care of him, comforts him.
Caspian is openly gay and has been head over heels in love with Matt since they were kids. Of course, he's never shared that with his best friend because it would destroy their friendship. Matt always seems to date women that Caspian hates, most recently Jessica, who Caspian seriously despises. When he finds out about Jessica's cheating Caspian has a hard time keeping his relief to himself, especially when Matt throws out that he'd planned a romantic week in Fiji with Jessica so he could propose. The trip is not refundable so Matt asks Caspian to go with him. It's coming up on Christmas and Matt's not exactly ready to tell his mother (who wants a bunch of grandbabies) that he's not with Jessica anymore. So Caspian agrees to spend Christmas in Fiji with his best friend.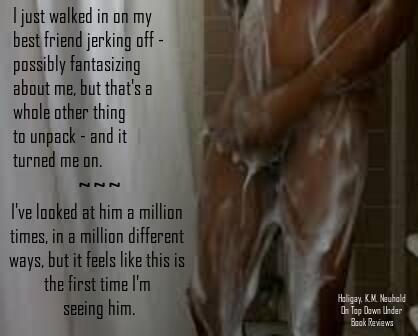 Shortly after they arrive, everything changes. Like, really changes. Matt walks in on Caspian taking a shower – no big deal, he's just borrowing his toothpaste – but then he stops short instead of grabbing it and getting out. His best friend is jerking off in the shower. Matt's about to sneak out quietly before he embarrasses Caspian but then he hears Caspian moan out, "Matt." Yeah, that has Matt rushing out the door without Caspian knowing he's in there.
Instead of being weirded out by what he heard, Matt gets turned on by it. Seriously turned on – as in, he's harder than he's ever been in his life. After a few uncomfortable hours with Matt acting weird, Caspian finally has enough and pushes him to share. Talk about embarrassing. Thankfully, this has Matt assuring him everything's good and he's not opposed to kissing his best friend. And, well, if more happens, that's okay too. Let's just say it was okay a lot.
I listed gay-for-you as a tag above. Holigay is true GFY. This isn't out-for-you, and Matt's never identified as anything other than straight. He'd never noticed guys that way until he overheard his best friend saying his name while jerking off in the shower. Hell, he'd even seen Caspian with his tongue down another guy's throat at a party before and thought nothing about it.
I tend to avoid GFY like the plague because it's just simply not realistic. Strangely, it worked with these guys. I think it worked because they'd been best friends for so many years and I could see it being more than just friendship. It's still extremely unrealistic, but it didn't matter. I loved these guys.
Caspian obviously has reservations about doing anything with Matt. While Matt's romantic feelings for Caspian are new, Caspian's for him are not. Right now Matt's on the rebound after Jessica, and his newfound lust for Caspian won't last beyond a holiday fling, or so Caspian thinks anyway. Even knowing this, Caspian can't stop himself from living out his fantasies with his best friend, even knowing his heart will probably be shattered when the week is over.
"He's HoliGay," Remy says simply.
"I'm sorry, what?"
"HoliGay," he repeats. "He's curious and giving himself permission to experiment because nothing on vacation counts anyway. It's a vaGaytion"
"That… actually makes a lot of sense."
"Let him get it out of his system and cherish the memories," he advises.
The sex is written very well, which isn't a surprise because this author can write some damn good sex scenes. Caulky has one of my all-time favorite sex scenes ever. Hmm. I really need to get back to that series.
There's not really much more I can say about Holigay without telling everything. It's only 81 pages long. So, I'll just say that I loved these guys, I loved watching Matt come into his own sexually, and I truly loved how everything played out later. There's a nice epilogue that shows them a year and a half later so the reader knows there was no change of heart for Matt after they got back to the real world. Sure, we knew it anyway as it's a romance, but it's nice seeing them a little down the road.
A really nice story.