Caulky (Four Bears Construction #1), K.M. Neuhold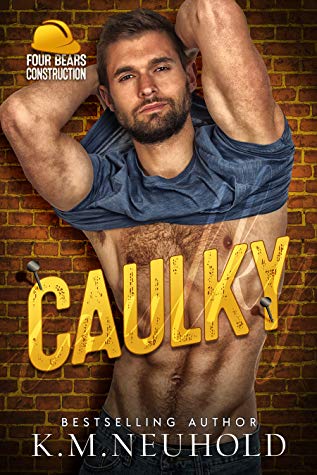 Rating: 4.5 Stars
Publisher: K.M. Neuhold
Genre: Gay Romance
Tags: Contemporary, Romance, Series
Reviewer: Cindi
Purchase At: Amazon.com
Blurb –
Ren is in desperate need of a rebound fling. Lucky for him, the smoking hot contractor he hired has just the tool for the job.
The last thing I want is another relationship or another broken heart.
All I need are my bees and the occasional hookup to scratch the itch.
Okay, maybe meeting up with my hot contractor weekly is a little more than occasional. And maybe the way I'm starting to feel about the guy I've been anonymously chatting with online should concern me.
But CaulkyAF doesn't want to meet, and Cole doesn't want anything serious, so what's the worst that could happen?
**** Caulky is book 1 in the Four Bears Construction Series and can be read as a stand-alone. This is a funny, steamy MM story guaranteed to make you laugh and swoon. Absolutely NO cheating and NO love triangle. This series does NOT contain shifters, it's the OTHER kind of bears.
Review –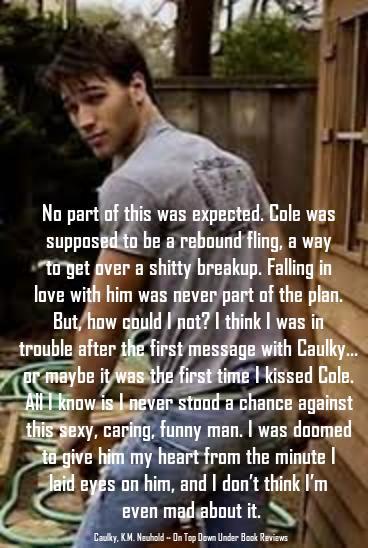 Ren has just been dumped by his boyfriend of five years. His heart broken, his best friend Daniel insists he just needs a good rebound fling. They go to a gay bar and commence to get drunk. Well, Ren's not exactly experienced in picking up guys in bars so when he approaches one in particular it doesn't quite go the way he'd like. Oh, the man's interested, but Ren is too drunk and the guy won't take advantage. After a heated kiss, he's gently pushed away and told that he (the sexy man) is there every Thursday night and to find him again when he's sober. It takes Ren six months before he does, but sparks fly as soon as they meet again. They end up back at Ren's house and have one hell of an experience against the back of the couch. The man leaves, they share no personal info, and Ren figures he'll never see him again.
Ren wants his bathroom remodeled so he does some research and sets up a consultation with Four Bears Construction. Imagine his surprise when the contractor who shows up at his door is none other than his one-night-stand. That was cute. Ren had set his alarm wrong and ends up opening the door in his underwear. Fast forward to a few uncomfortable moments and the contractor, whose name is Cole, is taking measurements and doing what he does. Ren's mortified when he remembers that he left his dildo stuck to the tile in the shower. You know, the same shower that Cole's measuring at the moment. That was hilarious but Cole pretended not to see it. Well, then anyway.
For almost an entire week while the renovation is happening Ren has to pretend he's not lusting after his hot contractor. When the job is only a day from being completed, Ren shows up at the bar again – it's Thursday – and he sees Cole. They don't even make it out of the building. *snort* The next day the job is done and they christen the nice new countertop. 😉
After that, they meet up at the bar on their regular night but don't take it beyond sex. When Cole tries, Ren bolts. After the last guy dumped him after five years, and his boyfriends before that breaking his heart, he's not willing to risk his heart again. Cole was supposed to be a rebound, nothing more.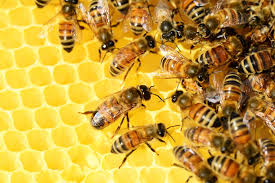 In the background during all this, Ren has signed up for the dating app M2M and he's been talking to a guy whose user name is CaulkyAF. Caulky hasn't attempted to meet him in person. That confuses Ren a bit but it also helps him open up to this anonymous stranger, even telling him (without giving personal details) about his fuck buddy and how he's feeling about him. Because of the anonymity, both men share more than they probably would in person. They don't talk sexual to each other but they do discuss other stuff outside of their hookups like hobbies and things like that without getting too personal. You know, like exchanging real names or anything.
Cole, who has never believed much in the so-called myth of the happily-ever-after, is suddenly finding himself wanting it with Ren. But Ren pushes him away when things start getting too close. He finally asks Rebound, the man he's been chatting online with for months, to meet him face to face. He hasn't done it before now because he's not wanted to shatter the illusion of who and what Rebound is. They may meet and not click in person and then he would've lost someone he considers a friend. He's also conflicted over his feelings for Ren.
They eventually (after more than one try where Ren backs out) do meet and you know what happens next. CaulkyAF is Cole and Rebound is Ren. After a bit of awkwardness, they decide to take a chance with each other, even starting to date, something Cole's never done in his life.
I'm stop there about the actual story.
There are several secondary characters who no doubt will have their own books. I'm really hoping Daniel is a love interest in one of them. I adored him.
"Stop, the horror is too much to bear."
"I know," I groan. "He's gorgeous and fantastic in bed and supportive of my dreams; how am I supposed to keep from falling in love with him?'
"Um, you could not keep from falling in love with him," he suggests.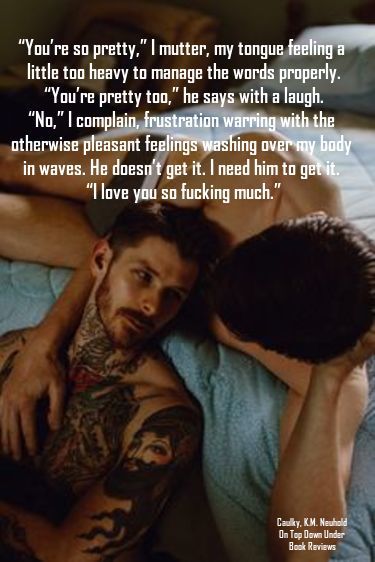 There's Cole's brother and co-owner of Four Bears Construction. There are the other two partners, Stone and Everett. His brother, unlike the others, is desperate for love. That desperation usually has him getting involved with the wrong men. I loved him and I hope he'll be Daniel's love interest. The others were nice too but his is the one I'm most looking forward to.
This a nice, feel-good story. The only niggle I had with it was that when Ren told Cole that he wasn't 'chill' because he was pushing for them to see each other every day after the first date, I had to agree. I don't think Ren really minded, but I saw it as a bit much, too fast, especially considering how hesitant Ren was to get serious. Even so, Cole's persistence paid off and it worked. Them seeing each other every day, I mean.
This was really sweet and I even giggled a couple of times. I can't wait to read more in the series.
My first by the author.