Crankshaft (Big Bull Mechanics, #1), K.M. Neuhold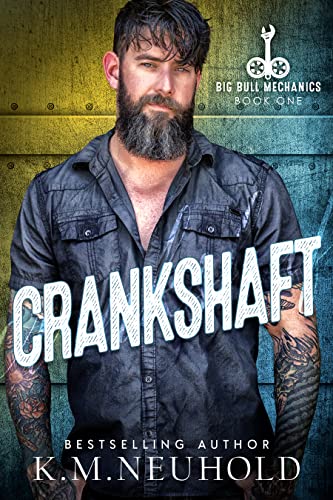 Rating: 4.5 Stars
Publisher: K.M. Neuhold
Genre: Gay Romance
Tags: Contemporary, Opposites Attract, Romance, Series
Length: 249 Pages
Reviewer: Cindi
Purchase At: Amazon
Blurb –
I don't have time for a relationship, not even with the adorably dorky vet I can't seem to stop bumping into… *sigh * pass the oil and lube
Between running a garage full of beefed up, gear head mechanics and bailing my idiot brother out of trouble every other week, the last thing I have time for is a relationship.
I've tried it too many times, and the ridiculous reasons I always find to end it have become a running joke around the garage. But I've learned my lesson. No. More. Boyfriends.
I don't care how many times Porter falls asleep drunk in my bed or how cute he looks covered in oil smears while I teach him how to fix up the vintage car he has rusting away in his garage, I'm not going to fall for him.
Even if I did, what do a mechanic and a veterinarian have in common anyway?
It's better if we're only friends… friends who occasionally fiddle with each other's crankshafts…
Review –
I read Caulky (4 Bears Construction, #1) a couple of years ago, and then went back recently and read a couple of the others in that series. I'll be catching up by reading the rest of the books soon. Not having read all the others in that series didn't affect my enjoyment of Crankshaft at all. And this one is a new series with different main characters.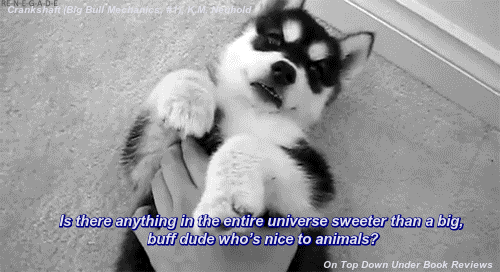 A mechanic who owns his own shop, Steele's up to his ears in cars and the behind the scenes stuff of running a business. Throw in a needy and irresponsible brother – and a mother who feels it's Steele's job to help said needy and irresponsible brother – and he barely has time to breathe, much less anything else. He's had a few boyfriends here and there, but they don't last because Steele always finds something wrong with them. The last one? He took a pickle off Steele's plate without asking. It wasn't just the pickle that had him dumping the guy, obviously, but it was the straw that broke the camel's back, so to speak. The guys at his shop find his excuses hilarious. To Steele, it's just another reason to stick with the occasional hookup and nothing more. It's not like he has time for a relationship anyway.
Is it a crime to be picky about dates? I'm a forty-five-year-old successful business owner with pretty blue eyes and a killer smile. Not to mention the tattoos and beard combination that gives me just enough of a rough-around-the edges look to make men drool. I have no problem pulling all the ass I want… the problem is finding reasons to keep them around.
Shortly after graduating from veterinarian school, Porter took over his former neighbor slash mentor's vet practice. He's overwhelmed from all the responsibilities of not just taking care of the animals but also keeping the business above water in the process. He definitely doesn't have time for a relationship.
Things change for both guys one night when Steele eases up next to Porter at a bar. There's a little flirting going on, and then they're making their way outside and to Steele's house. Unfortunately, while Steele was doing the flirting inside the bar, nervous Porter was downing one drink after another. Needless to say, not much happens between the two of them that night. The next morning Steele has to get to the shop before Porter wakes up. He leaves him a note, along with his phone number.
Porter finds the note, but he doesn't call. He wants to but he doesn't.
Apparently Mr. I Don't Really Do Well With Relationships Steele really wishes he'd call… or text… or something, which is kind of entertaining considering that he and Porter did nothing more than kiss a time or two and sleep in the same bed. According to the guys at the shop, Steele and Porter had met before. For the life of him, Steele can't remember where. Until much later anyway.
Ah, but things change when Denali, Steele's husky puppy, disrupts a rabbit's nest in the back yard. Freaking out, and thinking the dog had hurt the baby rabbits, he rushes them to the vet's office. Not his normal vet, but the one all his friends and coworkers insist he go to.
You see where this is going.
Note to the pet lovers out there – the rabbits were fine.
Yeah, I'll just ease into the rest of my review with a quote from Dr. Pet Doctor Porter himself…
Right after I bought the clinic, I took the whole staff out for a round of drinks, and I may have gotten a smidge tipsy and confessed to them all about my long-time fantasy that the man of my dreams would show up here with a box of injured bunnies. I'm not sure where I even got that idea, just a silly fleeting daydream I once had that took hold. At least once a week, one of them tells me there's a gorgeous man with a box of bunnies coming in.
Their meeting is a little awkward at first, but the baby bunnies are the priority. Even though they're still lusting after each other, nothing really happens. Well, until a pair of silver shorts, no shirt, and a nipple ring cause Porter to have a bit of an accident in his car not long after. Steele, being the good man he is (he inadvertently caused the wreck, he just didn't know it at the time) rushes over to make sure Porter is okay, and then offers to fix his car at no cost. He even offers his best loaner car until it's repaired.
"You can't just give away thousands of dollars of free work to every idiot driver who wrecks his car because he was too busy ogling you to pay attention to the road."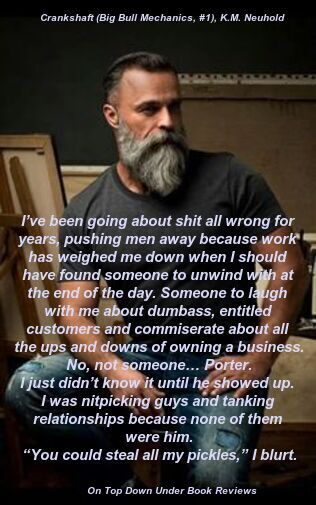 And to add to his kindness (*snort*), he also offers to fix, at no cost as well, the '69 Mustang Boss 302 Fastback that's been in rusting in Porter's garage since his grandfather left it for him.
For the record, '69 Mustang Boss 302 Fastbacks are not meant to be rusting away in garages. Just sayin'.
It's decided that, even as busy as both men are with their respective businesses, Steele will work on the Mustang every Sunday afternoon. He does work on the car, but there's also a bit of fooling around. Before they know what's happening, they're pretty much spending all their free time together, though poor Porter does fall asleep in Steele's bed again before the good stuff can get started. When it does? Hot!
It was so cute watching Steele and Porter as they pretended to not be falling head over heels in love with each other. Granted, they didn't spend as much time together as they'd have liked because their businesses kept them away more often than not, but they were still working toward something. I loved how they both finally figured it all out. Who knew a big, burly bear of a man could be all sweet and sappy?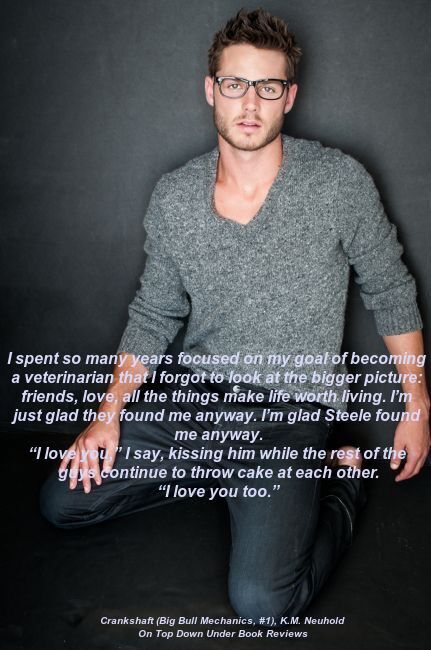 In the midst of all the work with the shop and falling hard for a certain veterinarian, Steele still has to deal with his brother, Gates, who's back in town but staying with Tallahassee, Steele's best friend and coworker. Gates swoops into town every so often, but this time is different. Steele just can't figure out what it is. Even so, he still has to rescue Gates again before it's over. His and Tallahassee's story is coming up next so we'll see if he ever grows up.
I liked all the other guys, Steele's friends and coworkers. They all look big and bad-ass, but they're just softies, as was proven later in the book when it came to the little bunnies Steele had rescued early on.
I loved both Steele and Porter equally. I especially loved Steele's growly, possessive side. Because it wasn't over the top, it was sexy as hell.
I look forward to reading the next one.
A great book.