A Pancakes Kind of Morning (One of Those Days, #1)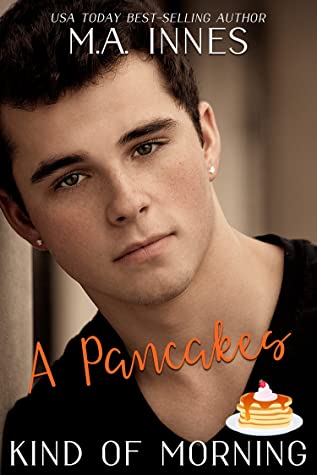 Rating: 2.5 Stars
Publisher: M.A. Innes
Genre: Gay Erotic Romance
Tags: Contemporary, Age Gap, Age Play (ABDL), Bestie's Dad, Bi Character, Daddy Kink, Friends to Lovers, Romance, Series, Virgin
Length: 263 Pages
Reviewer: Cindi
Purchase At: Amazon
*This review has spoilers!*
Blurb –
Sometimes losing your job is the best thing that can happen.
When Elliot's left without a job or a plan for what should come next, he thinks the universe might be trying to tell him something. Luckily, his best friend's father is right there with advice and whipped cream-topped pancakes to make everything better. But what James can't help with are Elliot's feelings and the way he longs to be more than friends with the tender man—the man who Elliot knows would make the perfect Daddy.
James has been careful to keep his relationship with his son's best friend innocent and friendly, nothing more, even if the wide-eyed cutie is everything he wants in a man…and possibly everything he wants in a sub. But when an overheard conversation between the two best friends changes everything, James has to decide if he's ready to put it all on the line for the sweetest sub he's ever met.
Author's Note: While this is book one of the new series, the prequel is currently in the Dirty Daddies 2021 Anniversary Anthology. The prequel is Ryker (James's son) and Corey's story, but you don't need to have read it to enjoy this book.
Review –
I'm on the fence about my rating for this book. I've literally changed it three times before going with 2.5 stars. It's not 2 stars, and it's not quite 3. On one hand, the story was a little sexy and sweet. On the other, I felt things moved way too fast. There's also the issue of not being told exactly how old James is. If it was in the book, I missed it. I'm really funny about knowing the ages of the characters, especially if there's an age gap or one of the main characters is the best friend of the other one's son. Elliot's 24. Maybe the characters were introduced in other books as minor secondary characters or whatever. If so, it didn't help me here. I've read a couple of others by this author, one of which (Snow Regrets) also never mentioned the exact number of years between the two main characters. If it's a pattern, I may have to either get over my weirdness about it (not likely to happen) or pass on any future books by this author.
It started out pretty good. Elliot's sitting outside on his back step when James – his best friend's dad and next door neighbor – walks over. Elliot has been best friends with Ryker for years so he's close enough to his dad to be really comfortable around him. It also helps that James knows little things about Elliot that others might miss, things like his favorite foods (pancakes with whipped cream and mini chocolate chips and homemade mac 'n cheese). James learns that Elliot got fired by his boss/former lover so he announces that it's a 'pancakes kind of morning' and invites Elliot over for breakfast. This is nothing out of the ordinary. Elliot's pretty much made himself at home in James' house since he was a kid. His feelings for his best friend's dad, however, are anything but paternal. He's had the hots for the guy for as long as he can remember. And strangely, Ryker's all for Elliot and his dad getting together, and has been since they turned eighteen and Ryder learned it was more than a passing crush for Elliot.
Not long after the pancakes breakfast day, Ryker plans a dinner at James' house with Elliot to introduce his new boyfriend (Corey) to them. Ryker and Corey's story is in Dirty Daddies 2021 Anniversary Edition anthology. I went in and read just their story when I was done reading this one, though I wish I would've read it first. It's not necessary to. It's just always good for me to be familiar with the other characters. James and Elliot aren't even mentioned in that one, so I didn't miss anything there.
Right before dinner, Ryker and Corey show up at Elliot's house so Elliot can meet the new guy before Ryker's dad does. What none of them expect is for James to overhear a rather detailed conversation about how Elliot has been head over heels with his bestie's dad for as long as he can remember. Ryker has absolutely no problem with Elliot and dad his hooking up, which I found refreshing. There was no weirdness about any of it between the two. After a chat with Ryker after dinner – who's a total Dom/Daddy – James is forced to admit to his son what he overheard. This has Ryker pushing a conversation between James and Elliot whether either of them are ready for it or not. I seriously loved Ryker's take-charge Dom personality that carried over even to his father, who's also a Dom.
Until that moment, James had no clue that Elliot liked him as anything other than his friend's dad. It didn't take much before James was really into being Elliot's Daddy. Elliot's a little, and James is more Dom than Daddy, but they make it work. They both fall into their roles quickly.
Which was the main problem I had with the book – everything moved too fast. It went from, "Gee, I never noticed the kid had a crush on me," to James and Elliot jumping into the Daddy/little role literally seconds after their one conversation about it. There was zero hesitation or embarrassment or working their way up to things. Granted, they'd known each other forever, but until that night, James hadn't ever even considered Elliot in that way. Now he's head over heels and helping Elliot come out of his 'little' shell? I don't buy it. I also don't buy how fast Elliot went from 'I'm crushing on my best friend's dad' to being his little boy, right down to sucking a binkie and wearing a diaper in front of him. Sure, he acted a little shy at times, but not really.
I should also point out that Elliot's a virgin. He's done a little playing here and there, but there's been no penetrative sex. I don't know if this is a spoiler or not, but James has never done it either with a guy, though he's openly bisexual. Elliot had always known that James was a Dom so maybe he felt comfortable knowing he'd take care of him no matter what, even if being a Daddy to a guy was new to him.
Other things I had issues with…
Elliot got fired from his job because his boss overheard him talking to Ryker on the phone about his feelings for James. So, the boss, who'd pushed Elliot into a kinda sexual relationship, fired Elliot, claiming it was to bring his cousin in to work his position. It wasn't. It was because he was jealous, so he illegally fired him. Anybody would see that. There's a lot of talk throughout the book about the jerk ex-boss not being willing to give Elliot a letter of recommendation, though he'd done his job well for years. Lots of job hunting by Elliot, and lots of James', "If you don't ask for a recommendation I will or my attorneys will," to him finding a not-named job that's barely mentioned in passing at the end of the book, with no mention of the old boss or if he got in trouble for how he illegally fired Elliot. That irked the hell out of me. Don't go on and on about something in a book if there's absolutely zero resolution at the end – at least not the resolution the readers want/need. A mention of a job in passing does not make up for all the talk about Elliot's job hunt throughout the book.
I read a lot of Daddy kink. There's pretty much nothing that will faze me in any way as far as kinks. Even so, I felt like a couple of things in this one were a little too much, too fast.
I felt like I'd jumped into a story with characters and situations I should've already been familiar with, and not just because of not knowing James' age. They go back and forth about how open Ryker and James are about them both being Doms. Ryker and Elliot's coming out to James years before is talked about like it's something we should already be familiar with. A couple of things are even mentioned about Ryker's mother. Then, nada. It was a lot like The Only Way to Live, where you really do need to read another book before that one, even though the blurb says you don't.
It just ended. Just like that. They're having a get-together, there's a bit of being sneaky with Elliot and Corey, and a couple of other things and then, bam! The end. It literally stopped in the middle of something. Elliot and James got their HEA, but there were other things that should've been elaborated on. Maybe they'll come up in future stories or maybe they won't.
~*~
I did love Ryker (strangely, he's the second Ryker I've seen in a book this week when I don't think I'd ever seen the name in a book before) and Corey. I liked them even more after having read their short story. I liked the secondary characters, Turner especially, James' best friend.
I'm curious about the other books in the series, but I honestly don't know if I'll keep going. A Pancakes Kind of Morning was a nice enough story, but the things I mentioned above took a lot away from it. I'll see how I'm feeling when the next one is released.
The cover is cute.