The Only Way to Live (The Mechanics of Love #1), M.A. Innes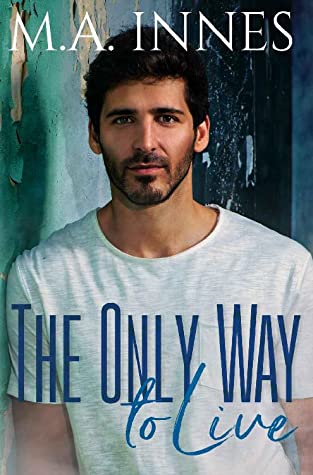 Rating: 4.5 Stars
Publisher: M.A. Innes
Genre: Gay Romance
Tags: Contemporary, Age Gap, BDSM, Bi Character, First Time, OFY, Opposites Attract, Romance, Series
Reviewer: Cindi
Purchase At: Amazon.com
Blurb –
Flirting with his friend's father was supposed to be just fun and games for Derek, but what happens when teasing leads to unexpected questions and some surprising curiosity?
Derek has known the unflappable Sean for years and nothing ever gets a reaction out of the attractive older man. Nothing, that is, until Derek senses some unexpected curiosity from the man he always thought was straight. But who better than an adventurous switch to help Sean explore his wild side?
Sean knows better than to take Derek's teasing seriously. There's a reason he's always called the impetuous younger man "the pest." But when Derek's playful banter leads to some interesting reactions, Sean has to decide what's more important…hiding behind what he's always assumed or finally getting to discover who he really was all along.
62k words
Story Contains: M/m sexual content, playful use of the term Daddy, BDSM elements, spanking, a mischievous switch, a fun adult toy store, and a man who always thought he was straight.
Author's Note: There is no age play in this book, although Derek loves to drive Sean crazy about their age difference.
Review –
I'm going to say this because it's not mentioned in the blurb – it's best if you read Christopher & Ethan (Beautiful Shame #3) before reading this. I say that because I hadn't read it and read The Only Way To Live first. There are a lot of things and people mentioned in this book that might not make a lot of sense – a blonde calling Sean Daddy, all things Ethan and Christopher, and how Sean and Derek actually know each other. I honestly felt like I had been dropped into the middle of a world I knew nothing about.
I put this review on hold to read Christopher and Ethan's story. Had I not done so, my rating of The Only Way To Live wouldn't have been near the 4.5 stars I'm giving it. Click the link above to see my Goodreads review of that book. I'm not one to ever read books in series out of order. I did this time with Christopher & Ethan. I can say with 100% certainty that it can be read as a standalone, actually more so being the 3rd book in a series than The Only Way To Live that's #1 in a series.
With that being said, now to my thoughts on the book.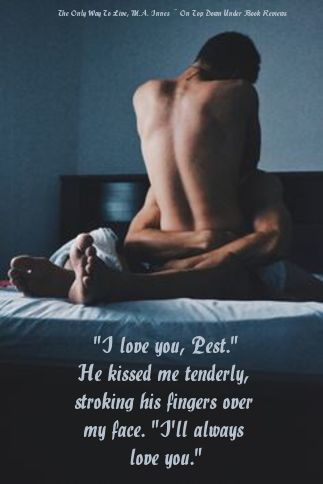 Derek owns a sex toy shop. He's having a conversation with his best friend slash roommate (Jules) when they somehow end up making a bet that involves flirting with someone with the loser of the bet buying dinner at the winner's restaurant of choice. Long story short, Derek decides to flirt with Ethan's (another friend) father, Sean. What Derek doesn't expect is for Sean to react the way he does. Sean is straight, or so Derek believes. Hell, or so Sean believes. But then again, Sean got with Ethan's mother when he was only sixteen and had only been with her until her death many years later. He's not really dated much since. It's not like he ever thought he wasn't into guys. His late wife was just all he knew. Lots of women and men want him but he's oblivious to the flirting. That is, until Derek shows up one day and turns everything on its head.
Sean is a successful businessman, owning 10 automotive shops. Once upon a time Derek worked at one of them. Now he's a successful businessman in his own right. To say that Sean is shocked over his body's reaction to Derek's flirting is an understatement. Derek is 24. Sean is 40. Derek is one of Sean's son's closest friends. How awkward would a relationship be if they took it beyond a little flirting?
Apparently not that awkward and this is what I really loved about the book. Ethan and Sean have an amazing relationship. When Sean and Derek go to dinner the first time and then start dating, Ethan forces Sean to talk to him about it. He's open and he's blunt, which says a lot about how good of a father Sean has always been to him. There's awkwardness for Sean discussing his love life with his son, but Ethan is never weirded out over Sean dating his friend. Hell, he encourages it.
I recently DNF'd two books where the son's friends were dating the dads and it was this huge secret that blew up in their faces later. Thankfully, it wasn't that way with Ethan. He pretty much knew everything right off and was happy for both his father and Derek.
Now we get to Sean and Derek's actual relationship that quickly goes from Sean being Ethan's dad to Sean being the man Derek is falling in love with. Trust me, it's not one-sided.
Derek has a lot of kinks. So not only is Sean nervous about dating a much younger man, he's nervous about not being enough for Derek. He's always been pretty vanilla. One thing that he was NOT nervous about was dating a man for the first time. He's always been open-minded and supported Ethan 100% when he came out. Ethan is also into BDSM – something Sean learned when Ethan was a teenager – so he's not completely ignorant about the lifestyle.
Everything happens super fast with these guys but it worked. I absolutely adored Derek. He's a switch (which was mentioned entirely too many times in this book in my opinion) so he's easily able to fall into the submissive role as well as going into Dom mode pretty quickly. And he's all about teaching Sean everything he knows. 😉
Now to something that irked me a little in this book but not so much now that I've read Christopher and Ethan's story. I understand it now. I actually raised my rating of this book by a star because I do understand it. Without saying too much I'll just say that sometimes Christopher and Ethan are helped out a bit when it comes to picking out certain things in Derek's shop. 😉
There's no cheating.
Overall, this is a really good book, made even more so after I learned more about the characters. I liked Sean a lot and Derek was a blast. Christopher is a sweetheart and I adored Ethan. There's one character I've not mentioned much in this review. That's Jules, Derek's close friend and roommate. Jules was just adorable. A little, he's anxiously awaiting the time when he finds his own Daddy. The reader knows who it will be, as does Derek. It's just getting the two together and pushing Jules to tell his secrets. I honestly can't wait to read their book.