Worth the Risk, Carly Marie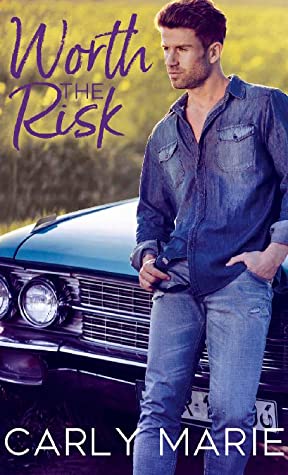 Rating: 4 Stars
Publisher: Carly Marie
Genre: Gay Romance
Tags: Contemporary, Bi Character, Blended Families (Kids), Older Characters, Romance
Reviewer: Cindi
Purchase At: Amazon.com
Blurb –
Two single dads in a small town. Is their connection a recipe for love…or for disaster?
Mark Murray is used to chaos. Between his job as an emergency room doctor and being a single father to two boys, he's the definition of exhausted. Yet he always makes it work. When a new job finds him moving to a small town, he's faced with a different set of challenges. Juggling a move, his nosy family, and new routines, dating isn't anywhere on his radar.
Jeff Rusk has three loves in life; his kids, his garage, and his classic car. Unfortunately, he's yet to find a man that accepts he and his kids are a package deal. When the new doctor in town rescues him off the side of the road, he finds more than a ride to town.
When friendship becomes attraction that leads to a kiss, Jeff discovers Mark isn't ready to be out. With one man out and proud and one man haunted by his past and desperate to move on, will love be worth the risk?
This 72,000 word MM romance is about meddling families, a classic car named Louie who is often more trouble than he's worth, and passion that flares out of control.
Review –
I've read a lot of books with kids in them lately. Worth the Risk is the first one where both main characters have children. Another plus for me is that both men are in their forties. I have no problem with younger characters – obviously, because of the amount of books I read with them – but sometimes it's refreshing to see a book where both men are older. I say that because I read a lot of books where there's a substantial age gap between the two main characters.
Mark, a single father of two boys, is an emergency room physician in a big city. His wife took off six years before, leaving signed divorce papers and giving Mark full custody. He's worked hard to give the boys a good life. By doing so, he's working way too many hours and is rarely able to see his family who lives several hours away in a small town called Fairview. When his brother tells him that the town doctor is retiring and wants to sell his practice, Mark's interested. It doesn't take long before he's resigning at the hospital and is moving his children to the town where his family lives.
Jeff, a father of a teenage daughter and teenage son, lives in Fairview with his kids. He owns a garage that's been passed down to him through his family. He's not in the closet and lives openly as a gay man. Strangely – and I say this because most small town books are full of homophobia – the town has always accepted him without issue. Honestly, it was one of the most gay friendly towns I've seen in the books I've read. That's a good thing.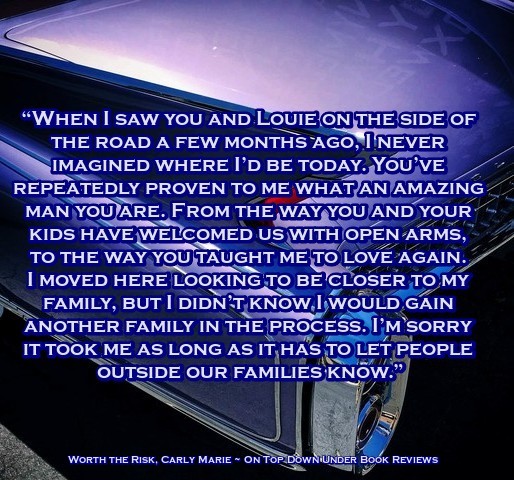 The two men meet a few weeks after Mark moves to town. He's made a wrong turn and is lost. He's driving down a long road when he spots an old car on the side of it with the hood open. His brother Carl, who he's talking to on the phone at the time, encourages him to pull over because he knows who the car belongs to. Carl and Jeff are close friends and everybody in town knows Jeff's car (affectionately named Louie) and the troubles it tends to cause, leaving Jeff stranded often.
The quick meeting turns into dinner and drinks after Mark helps him get his car going again.
When I say drinks, I mean that Mark is a serious lightweight. I'm not criticizing him for it. He has three beers when he's not a big drinker. The getting tipsy wasn't a problem for me. The way he was written as being tipsy was where I had a problem. There was a lot of silly giggling that I found to be rather annoying. I don't mind the occasional giggle, but this was kind of ridiculous.
Anyway, Mark ends up spending the night in Jeff's guest room since he can't drive drunk. This begins a nice friendship between the two guys; a friendship that turns into much more not long after, though Mark is hesitant about taking it public.
I'm going to be honest… up until around 40% of this book I wasn't liking Mark at all. He kept making moves on Jeff only to jerk back, hurting Jeff's feelings. Mark is bi. His family and friends all know he's bi. He had an open (for him anyway) relationship with a man in college before he met Nicole, his ex-wife. His excuses for not wanting to have a quote-unquote relationship with Jeff didn't fly for me after the first few times he said it. Thankfully, it eventually clicked that if he ever wanted a chance with Jeff he better get off his butt and do the right thing.
So they start quietly dating and getting to know each other's children. They waste no time before they have a hot and heavy sexual relationship. The sex scenes were pretty hot, by the way. 😉 They have lunch together every day, do outings together with the children, and are seen together often in public. It's a small town so it's obvious they have something going on even if Mark believes it's being kept quiet. He's determined to not be out to the town for reasons mentioned in the book.
I didn't get it. Don't get me wrong, I totally understood his reasoning for being careful to an extent, but he wasn't. Careful, I mean. Like I said, everybody in town knew they were a couple. Their families knew. Hell, even their children figured it out even if it wasn't discussed with them until much later. Mark wasn't ashamed of being bi and he wasn't ashamed of the relationship he had with Jeff.
I said I didn't get it but I'm also kind of glad for the way it was written because I didn't have to sit through page after page after page of Mark being ashamed of his sexuality or him openly trying to hide what he had with Jeff. They didn't do much of trying to hide anything.
When the 'truth' came out (it was the town's worst secret) it was kind of a nonevent, which was also good for me. Mark stood up for himself, for Jeff, and all was well.
I liked these two together even if it took me awhile to start liking Mark even a little bit. I seriously loved Jeff right off. I loved all the kids, especially Mark's seventeen-year-old daughter. I even kind of liked Jeff's sister when normally the sisters or female friends are written in a way I end up hating them.
This is a nice, low drama story. It drove me nuts a few times but I ended it with a smile on my face.
This is my first by this author.