Snow Regrets (Snowed In – Valentine's Inc. #3), M.A. Innes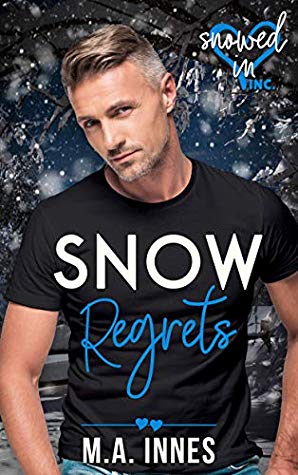 Rating: 4 Stars
Publisher: M.A. Innes
Genre: Gay Erotic Romance
Tags: Contemporary, Age Gap, Age Play, BDSM, Daddy Kink, Romance, Series
Reviewer: Cindi
Purchase At: Amazon.com
Blurb –
When Joseph gets trapped with his father's former coworker in one of the worst snowstorms of the year, he starts to wonder what ancient god he must've pissed off. After being kicked out of the house at eighteen and having to make his way on his own, the last thing he wants is to be stuck with the sexy older man.
Forest isn't looking for a relationship, but when Joseph steps back into his life, grown up and hurting, he can't walk away. Maybe it's the Daddy Dom in him, but leaving Joseph confused and angry goes against everything he believes in. But getting Joseph to open up is just the tip of the iceberg when it comes to helping him move on from the past.
When a boy is frustrated and confused, can a temporary Daddy step in and help, or will unexpected emotions steer things in a surprising new direction?
62k words
Story Contains: MM Sexual Content, BDSM elements, Spankings, and Age Play (no ABDL)
Review –
Joseph is furious when he shows up at his family's cabin and discovers somebody else is staying there. He's in desperate need of a vacation. He was put out at eighteen by his father and forced to work sometimes three jobs just to make ends meet, even living out of his car a few times. Now he has a job and a roof over his head but he's still struggling financially. Not to mention that he's had to spend a lot of money on attorneys just to be able to stay at the cabin that is 50% his. He needs this time away from all his problems.
It doesn't help that the man staying there is an old friend of Joseph's family, Forest. With the weather being bad, the only logical thing would be to share the cabin with Forest until the snow clears out enough for Forest to leave. They already know each other, so no problem, right? Well, not quite. Joseph has had a crush on Forest since he was a young boy. They've not seen each other in years but that doesn't matter. That crush comes roaring back with a vengeance.
I just had to find my anger and not get distracted by sweet smiles and muscles wrapped in tight cotton.
Unfortunately, staring up at Forest Patterson, the man of all my teenage fantasies, I knew it wouldn't be that easy. He starred in so many of my adolescent dreams, anger would never be my first reaction when I looked at him. He was the tender, strong man who'd always had something nice to say to the shy child who followed him around.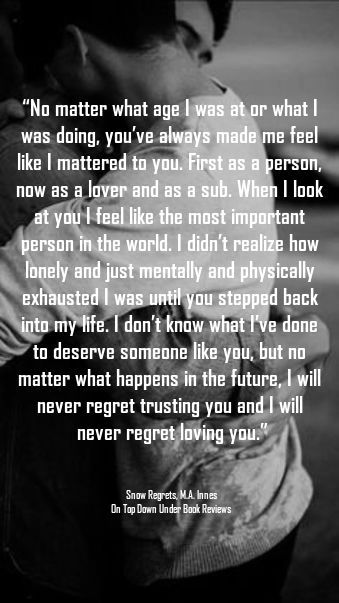 Forest, a physician, used to work with Joseph's dad. While they didn't have a close friendship, they had a decent acquaintance type relationship. When Forest was offered the use of the cabin when he got back to the States after a stint with Doctors Without Borders, he accepted without question, not knowing anything beyond a few friendly words with the man. I ended this not really understanding why Forest would be offered the use of the cabin when Joseph's dad knew it was Joseph's time to stay there, or even why there would be such a legal fight over Joseph using something that's rightfully his. I'm guessing it's because Joseph's dad is just a jerk and wants to hurt his son any way he can.
Forest learns a lot of things about the man as he spends more time with Joseph.
Joseph stays closed off and mostly in his bedroom alone until Forest makes it where he can't. Oh, how I love a man who will bribe me with brownies. 😉 Little by little, over watching Star Wars and eating a plate of brownies, Forest slowly helps Joseph ease out of his shell and open up. When he discovers that Joseph has always longed for a Daddy, someone in control to take care of him, Forest is more than eager to give 'his boy' what he wants. What he doesn't expect is to fall head over heels in love with the much younger man in the process.
The sweet and shy teenager I'd known seemed to be gone and in his place was an angry, bitter man that felt the world – or at least his family – had screwed him over. Maybe it was stupid, but part of me mourned for that boy.
Forest is so patient. A Dom, he recognizes things in Joseph that Joseph hasn't even really admitted to himself yet. With each day – hell, with each hour – Joseph falls into his role as a little eagerly. What I enjoyed about this story is that it had a little bit of everything when it came to Forest. He was friend (and later boyfriend), Daddy, and Master. Being in friend mode is what it says, friendship. Forest is there for Joseph as a friend and confidante. When Forest is in Daddy mode, Joseph is Joey, and is allowed to forget anything and everything as he plays with toys, watches cartoons, and does other things a boy might do. When Forest is in Master mode, there's sexy spanking involved. 😉 I enjoyed each aspect of Forest and watching Joseph come into his own with his wants, his needs.
There's an age gap between the two men but I didn't see exactly how many years are between them. I don't think the ages were mentioned of either character. I'm kind of weird when it comes to numbers, so the ages not being listed anywhere bugged me throughout the entire book and into me typing this review. Others might not have noticed. It's a personal thing so take that however. If they were there and I just happened to miss them, I'll make changes to this review accordingly if someone can tell me exactly where their ages are mentioned. What I do know is that Forest is around the same age as Joseph's father, so I'm guessing in his forties with Joseph being in his twenties.
Ah, Joseph's father. What a jerk. And I can't say anything good about 'Mom' either. Neither character is in the book much but they don't have to be.
The sweet times have a ton of aww moments. The Daddy/boy times were written well. I will say that I've not read a lot of books with Daddy/boy and age play, but I enjoyed it. The sexy times were really sexy, with spanking and orgasm denial that Joseph couldn't get enough of.
There was a necessary epilogue that takes Forest and Joseph down the road a little. I was scared that certain things would remain unanswered but the epilogue covered them nicely. I absolutely adored the ending.
Another thing I should note is that while the author explained age play well, the book never read like a how-to manual. I've read other books that did and that took away from the stories for me. It was part of the story here and it all flowed nicely with how Forest explained things to Joseph without it sounding like it was too much.
A very entertaining read. I think this is my first by this author. I'll be checking out more.
I love the cover.