Gage & Tyson (Arrested Hearts #1), Jayda Marx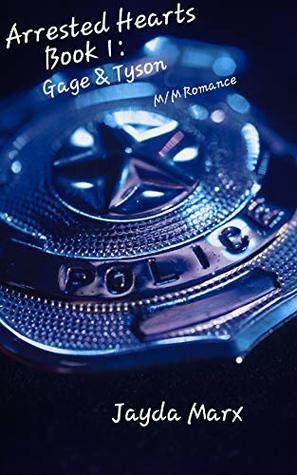 Rating: 4.5 'Sweet and Fluffy' Stars
Publisher: Jayda Marx
Genre: Gay Romance
Tags: Contemporary, Age Gap, Cops, First Time, Humor, Insta-Love, Romance
Reviewer: Cindi
Purchase At: Amazon.com
Blurb –
Tyson- Every Saturday morning during my shift at the diner, I'm graced with the presence of the most gorgeous man on the planet; Officer Gage Langston. The problem? I've always had a bit of verbal diarrhea when I get nervous, and Officer Langston makes me extremely nervous. Not because he's a cop; I respect law enforcement, but I don't fear them. No, my mouth becomes a geyser of stupidity when he's around because I've had a raging crush on the man since the first time I saw him walk into the diner. The even bigger problem? Even if the sexy older man weren't obviously straight, he's way out of my league.
Gage- I have a problem; I'm borderline obsessed with the gorgeous man who waits on me every Saturday at the diner. I don't even know that much about Tyson, except there is something about him that calls to me. I'm pretty sure he doesn't feel the same way about me, though. Every week, I enjoy our conversations so much, even if I don't know what the hell is happening half the time. He'll ramble on and go off on wild tangents when he speaks. I love it; it's like going on a car trip and taking all the detours to see the fun pit stops. But it always seems like he doesn't enjoy our interactions as much as I do; I think I make him nervous. Probably because he can sense I like him, and he's not too keen on having some old fart perving on him. Tyson is so young and precious and free-spirited. The last thing he needs is a predictable, graying, softening old man. He's way out of my league.
*This M/M May-December romance is for readers 18 and up! It contains a sexy, loving cop, his bow tie wearing angel and their feisty best friends. It has no cheating or cliffhangers, and a very happy HEA.
**My stories tend to be low on angst because it hurts my heart. They are, however, packed with sexy scenes, heartwarming moments and a healthy dose of humor.
Review –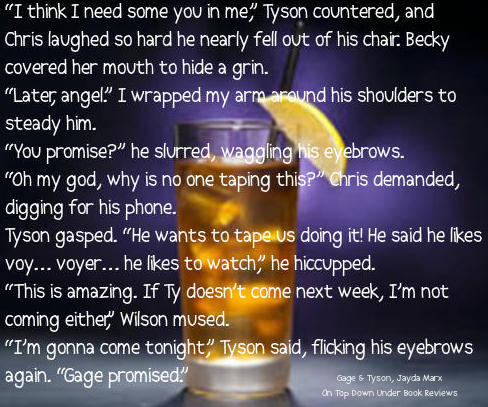 The first thing I'm going to say is to leave reality at the door if you plan to read this book. It's not even remotely realistic, but it didn't matter. It was such a breath of fresh air after the last few I've read. The blurb is all over the place, there's more than one YOUR where there should be YOU'RE, and it's so sappy and sweet you'd get a toothache from reading it. It's was exactly what I was looking for. I just didn't know it.
Okay, so the your/you're thing wasn't quite what I was looking for, but the actual story was.
Tyson is a twenty-year-old waiter at a diner. He tries really hard to act normal around a certain customer every Saturday morning. Normal isn't a quite a word you'd associate with Tyson. The customer is HOT. When Tyson is around him his nerves make him ramble. You'd think it would be annoying but it's not. He's had a serious case of lust for this guy since he started working at the diner a few months ago. The customer has to be straight. No way in hell is that six-foot-something gorgeous man into guys. And if he is, he'd never want a tiny five-foot-three Tyson. That only happens in cheesy romance novels. 😉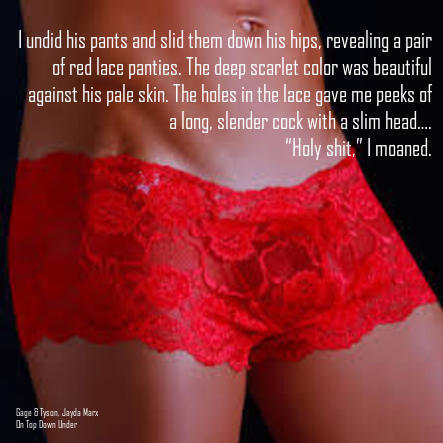 Gage, almost forty, is a police officer. He's been going to the same diner every Saturday morning for breakfast for months. When Tyson starts working there Gage is gobsmacked. He's finding himself looking forward to the shy, rambling server. Gage tries to show interest but he's convinced that Ty wouldn't want an 'old' guy like him. I mean, Tyson is gorgeous and could probably have anybody he wants. He'd never want a cop who's at least twice his age.
If he only knew. 🙂
After talking to his work partner (that would be Chris) one time too many about how awesome Tyson at the diner is, Chris makes it where Gage has to make a move. How does he do this? By showing up at the diner with Gage and asking the cute waiter out himself. He doesn't mean it, of course, but it does force Gage to finally ask Tyson out. Ty can't agree fast enough.
This starts their super fast relationship. You think you've seen insta-love? Uh, no. These two guys give it an all new meaning. But you know what? It didn't matter. They were perfect together. Gage has a bit of an issue with the age difference (almost two decades) but Tyson sets him straight about that quick.
Tyson is loved by everyone except his bitchy boss at the diner. From customers at the diner, to Gage's coworkers at the police department, he's loved by all. He reminded me a lot of the perfect characters in Mary Calmes books. The difference is that I, the reader, couldn't help but love him as much as everybody else did. He was just so good, so innocent. Sure, he was a bit naive at times, but who cared? Gage didn't, that's for sure.
Then there's Gage. I loved him as much as I did Tyson. He fell for Ty hard and fast and would go to the end of the earth to protect him. I absolutely love protective characters. That was Gage 100%. Once Tyson officially came into his world, all he cared about was protecting him, being there for him.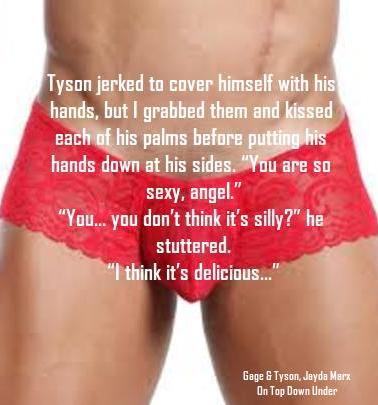 Then there are the secondary characters. First, there's Monica, Ty's best friend who works with him at the diner. Normally the female best friends are a bit much for me. Not so much with Monica. Don't get me wrong. She was a total bad ass and didn't take no prisoners when it came to Tyson. But she was only that way because she cared about him and didn't want to see him get hurt.
Second, there's Chris. Ah, Chris. He's a total man whore and doesn't give a damn who knows it. His idea of a relationship consists of how long it takes him to get in and get gone. 😉 He's awesome. He had me cracking up throughout the book. His book is book 2 in the series. There's also Tyson's shy neighbor, Lyle, who will be Chris' love interest. Lyle was sweet but he has a secret past.
All Gage's friends from the police department immediately take to Ty and his innocent and naive ways. When Gage introduces them at their regular Saturday night drinking spot, they love him right off.
Of course, there has to be at least a little bit of drama in the story or it would've been boring. Gage is about to testify against a gang leader so that brings problems to their little world. Also, Gage's bitchy, horrible, ugh! sister makes an appearance but he puts her in her place pretty quick.
Tyson has never been with a guy. Until Gage, he'd never even been kissed or gone out on a date. There are reasons for that but I won't throw out a spoiler. Officer Gage is all too eager to help him with that. 😉 Sweet, naive Ty surprises his big cop when they do get intimate the first time. He's wearing red lace panties. The first time Gage sees them… just wow. The sex scenes were hot and sweet at the same time.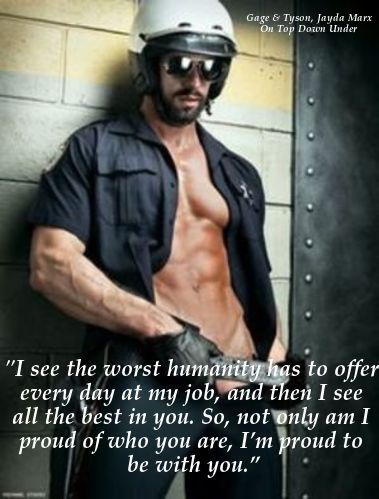 I smiled a lot while reading this. I even laughed a few times because of Chris and a drunken Tyson (yes, there is underage drinking in this book, and yes, he does it in front of a table full of cops… you'd have to read the book to see why/how it happened). I admit to getting teary a time or two. It's cheesy. It's over the top. It was exactly what I was looking for.
Because I can't end this review without mentioning this again… there were quite a few editing issues throughout the book. I mentioned some briefly at the beginning of this review, along with the blurb being all over the place. I noticed them – some even stood out – but my enjoyment of the story made it where they didn't matter. I was in desperate need of sweet and fluffy. I definitely got that with this book. There is practically zero drama and zero angst. The whole book is Tyson and Gage, and Gage going out of his way to show Tyson that he's worthy of the 'old guy'. Damn, anybody would be lucky to have a Gage. 😉