Love at Lupine Bakery (Trillium Creek 0.5), Silvia Violet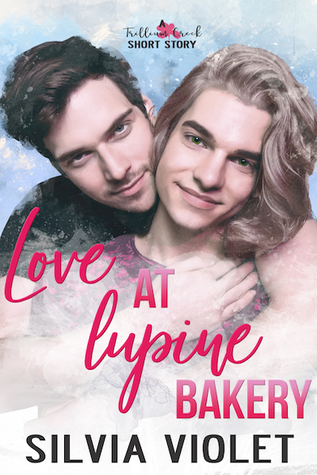 Rating: 4 Stars
Publisher: Silvia Violet
Genre: Paranormal Gay Romance
Tags: Fated Mates, Insta Love, Mpreg, Romance, Series, Short Story, Wolf Shifters
Reviewer: Cindi
Purchase At: Amazon.com
Blurb –
Finn is focused on continuing the success of his family's bakery. Eventually, he'll settle down with an alpha and start a family, but for now, he's content to satisfy his needs with casual hook-ups. Then a gorgeous stranger walks into the bakery, and Finn's whole world shifts.
Levi's father was a wolf shifter, but he was raised by his human mother and—like most hybrids—has never shown any wolf characteristics. That all changes when he enters Lupine Bakery and every instinct tells him the omega behind the counter is his.
Both Finn and Levi try to ignore what their hearts and bodies are telling them, but an unexpected pregnancy may force them to face what fate has in store.
Review –
I think I've read exactly one mpreg book out of the thousands I've read over the years. I could be wrong, but I don't think so. Honestly, it's not something I seek out. I'm determined to make 2019 a year of new things. Thankfully that includes picking up books that I normally would shy away from. And I'm really glad I did in this case. I just can't recall even one time where I've written a review about mpreg and knotting. 🙂
Finn, an omega, owns a bakery that he inherited from his late parents. He knows he'll eventually find his alpha, have babies, and settle down. In the meantime, he's perfectly fine hooking up with random guys every chance he gets.
Levi is new to the area. He lives and works close to Lupine Bakery. He's passed it several times but couldn't bring himself to walk in. When he does he's not prepared for what he feels when he sees the guy behind the counter. Sure, the man's hot, and Levi would have no problem at all getting him naked, but he's been turned on by guys for as long as he can remember. What's so different about this one?
Apparently everything.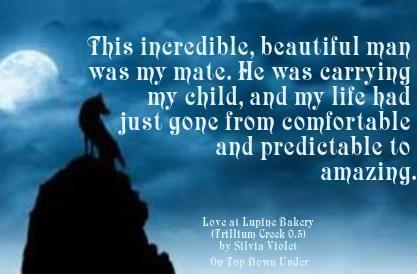 Levi is a hybrid. His father – who took off when he was a kid – is a wolf. His mother, who raised him, is human. Levi's 'wolf' has never come out before so he assumed it never would, not uncommon for hybrids. Seeing Finn changes everything. He's having dreams that involve more than just sex. He's confused about what he's feeling. Finn is just as confused. He senses that Levi is at least part wolf but it's more than that. Hell, it's A LOT more than that. The suddenness of it all freaks Levi out. This doesn't stop him from seeing Finn again. When they finally have sex it's unlike anything either of them has ever experienced. It confuses Levi even more – he never believed in knotting, much less experienced it – so he takes off. Oh, he enjoyed the hell out of it, and it was the best sex he's ever had, but he's freaked out over the intensity of it all.
But then Finn discovers he's pregnant – it wasn't even time for him to be in heat when he hooked up with Levi – and everything changes drastically for both men.
This was a nice, sexy story. I adored Finn right off. Levi was really shy until his wolf came out. Then, holy cow! 😉
I'm eager see more of Finn and Levi in future stories, along with some of the secondary characters mentioned in this one. Love At Lupine Bakery is a prequel to Love At Last, Silas' story. Silas was introduced in this one. I off to read his book. Hopefully I'll enjoy it as much as I did this one.