Love at Long Last (Trillium Creek #1), Silvia Violet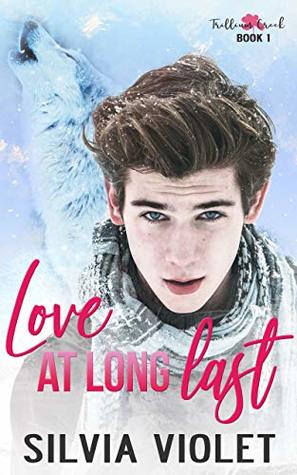 Rating: 4 Stars
Publisher: Silvia Violet
Genre: Paranormal Gay Romance
Tags: Age Gap, Daddy Kink, Fated Mates, Insta Love, Mpreg, Romance, Virgin, Wolf Shifters
Reviewer: Cindi
Purchase At: Amazon.com
*This review is NSFW-ish.*
Blurb –
Silas had always expected to find his fated mate early in life, like most pack leaders do. But as he nears his fortieth birthday, still single, he begins to accept that maybe he's not meant to have a mate after all. When he finds an intruder in his territory, a young cop who smells human but also like everything he's longed for, Silas can't help but feel a spark of hope. Could this man be part shifter? Could he be Silas's mate? 
Cory's conservative family believes shifters are evil, but when he meets Silas, he's shocked by the pack leader's gentleness and hit with feelings of desire beyond anything he's ever experienced. All of Cory's fantasies center around older men who take charge and take care of him, so when Silas asks if he needs a Daddy, all he can say is yes. 
Torn between his family's expectations and the pull he feels toward Silas, Cory knows he'll have to give up his career if he follows his heart. Silas wants Cory, not fate, to decide if they should be together, so he fights his protective instincts. But an unexpected pregnancy forces their hands, and the two men have to figure out how to fit their lives together. And maybe have love at long last. 
Love at Long Last is the first full story in the Trillium Creek series, but you can also enjoy the prequel short, Love at Lupine Bakery. This mm shifter mpreg story contain claws, fangs, knots, cuddling with cocoa and a definite HEA.
Review –
Silas is pushing forty and convinced he'll never find his fated mate. As pack leader, it's his responsibility to ensure the safety and well-being of his pack. He only wishes he had a mate by his side.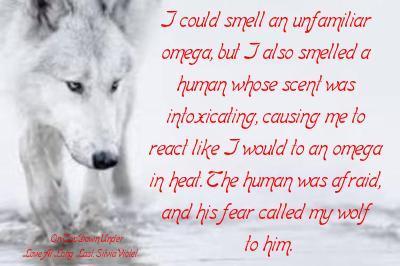 Then he meets Cory.
When Silas senses an intruder on pack land he searches until he finds him in a cave. No, he doesn't just find Cory. He senses him, he smells him, and he's so turned on by him he has to fight his 'wolf' to keep from claiming him. Silas knows within seconds that Cory is his long awaited mate. Cory, on the other hand, is terrified of being in the presence of a wolf shifter. A twenty-two-year-old human cop, he has been told his entire life that wolves are bad – really bad. So bad they supposedly can control your mind and force you to do things you wouldn't normally want to do and they can also eat you, and not in a good way. *snort*
Cory came from a family of jerks. I'll come back to that.
Wolf shifters aren't a secret.
When Cory sees Silas he's convinced that the big wolf leader is controlling his mind. No way would he be feeling so strongly for this total stranger otherwise, right? Wrong. Silas knows what they're both feeling is the mate bond. What he doesn't understand is how Cory – a human – can be his mate.
Fast forward a little and Cory has kind of gotten over his fear of Silas. The bond is so strong they're both helpless to stay away from each other. The first time they have sex – Cory's first time ever – it's so intense, so powerful, that Cory doesn't know what's happening. Not surprising considering that sex with a wolf shifter is a tad different from what you'd expect from your average male. I mean, there's the knotting thing. 😉
Of course, Cory hooking up with the leader of a wolf pack doesn't sit well with his uncle, the police chief of the town he works for. I mentioned Cory being raised by a bunch of jerks. Not only are they serious homophobes but they're anti- everything that would make Cory happy. They don't give a damn about him. All they care about is controlling him. This is made even more evident much later in the book.
Cory tries to stay away from Silas in order to keep his job and to keep peace with his family. But the mate bond is so strong it's a hopeless battle, made even more so when Cory – who'd believed his whole life that he was 100% human and that wolves were bad – goes into heat. Apparently dear old Grandma neglected to tell Cory that something happened back in the day with her and a wolf shifter. Consensual or forced, the reader doesn't know, but she didn't exactly tell the whole truth when she was bashing wolves to the family over the years.
Finn and Levi, from Love At Lupine Bakery (Trillium Creek, #.5), are in Love At Long Last a lot and I'm glad for it. While Love At Long Last is listed as #1 (and could probably be read as a standalone) you really need to read Love At Lupine Bakery (Trillium Creek, #.5) first. If not, you won't get a lot of the references in regards to Finn, Levi or Brett and Ryder, other important characters.
There's a bit of drama (that Cory's uncle the chief is up to his ears in) with a neighboring pack, Oaklawn. Oaklawn is completely unlike Trillium in that they enforce laws and rules that would be considered barbaric, even forcing underage omegas to have sex simply because the pack leader wants an heir. Silas isn't like that in any way. He may be the pack leader, and is respected by all, but he doesn't force his pack to do anything against their will. Everybody seems happy and they welcome Cory as their leader's mate right off, even if he is part human.
I'm a big fan of books with characters who have substantial age differences. Silas and Cory had eighteen years between them, a big plus.
I enjoy daddy kink on occasion and these guys were all over it.
You can't not love the pack and the way they're all one big, happy family. Everybody's good to everybody and it didn't come across as forced.
The world building is quite good.
Ryder and Brett no doubt will have their own story and I'm eager to read it. There's also some drama that will likely happen down the road with Levi's wolf father who abandoned him as a child.
I really enjoyed this but…
I liked Cory but he often came across as childlike and I'm not just referring to when he and Silas are playing Daddy games. Even the cute guy on the cover looks young, kind of like Shawn Mendes. If you don't know who he is, Google him. 😉 That's not me saying Shawn Mendes isn't cute. He's just really young looking.  Cory's whole demeanor and actions made him appear to be much younger than even his twenty-two. I'm not necessarily saying that's a bad thing, but it should be noted.
I loved everything about Silas. He wanted to claim his mate but he wanted Cory to come to him on his own, not because of the mate bond.
Overall, this was a really nice read. I loved seeing Finn and Levi again. I can't wait to read what's next for all these guys.