Long Time Coming, Gavin Atlas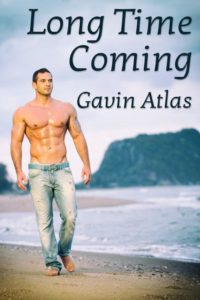 Rating: 4 Stars
Publisher: JMS Books 
Genre:  Gay Erotica
Tags: 5 Stories, Novella, Different Kink
Length: 72 Pages
Reviewer: Kazza
Purchase At:  amazon, JMS Books 
Blurb:
These five short stories by Gavin Atlas explore gay lust at its finest.
Meet young exhibitionists in "La Playita" and "Long Time Coming."
Prefer voyeurism? Try "Snapshots of Seduction," where a go-go boy entices with every pose he strikes.
In "Love and Rockets," a young sub is rescued from the grasp of a cruel master by a loving man.
Finally, in "The Highest Bidder," a guy auctions off his body only to be won by his ex, who's the most punishing top he's ever known.
There's no need to delay gratification any longer. Quench your desire in Long Time Coming.
Review:
 La Playita
Jamie is a college student on holiday in Costa Rica after his boyfriend left him. Two guys from a local restaurant, playful cousins Luis and Rudiger, hit on the shy, sexy book worm, helping him to bring his fantasies of exhibitionism and multiple partners to life on a Costa Rican nudist beach.
Nice for those who like voyeurism and exhibitionism. Sexy little start to this novella.
Love and Rockets
*I'd read this story on its own previously -Dec 2014 – and this is my original review
This short e-book offers up exactly what is says it will – it is sexy, smutty, kinky and had some funny dialogue. It was also well put together. It had insta-lust that turned to insta-love, but I'm good with that in such a short read. I will say it may not be for everyone because there is a short rape scene with an ex master, who is a douche, just a quick warning.  I'll definitely read more by Gavin Atlas. (And I have.)
Aunt September's Society
Aunt September is having a society soiree, but Biff Batterman is covering it for the paper, and he doesn't like Aunt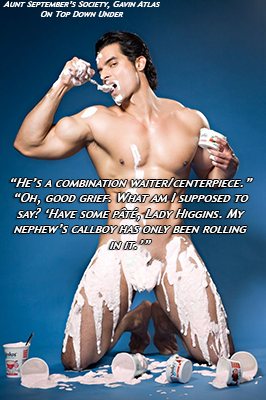 September. Not to worry, nephew Joffrey has it covered. He has his secret weapon, boyfriend Paolo, who is currently a combination centrepiece/ waiter at the soiree and he, uh, makes sure Aunt September's social affair gets all the positive coverage it desires.
Oh, how I wish this were longer. It's cheeky, sassy, delightful, and I wanted more.
The Highest Bidder
Jason Tate is a porn star auctioning off his 'hole' for charity. He did the same last year and raised $5,000. Good for you, Jason. Nothing like throwing yourself bodily into a good cause. This year Jim, someone who wants Jason as his own, is back and buys Jason for $25,000, he must be some hot arse for that, and hauls him off to a cabin where things get straight to the point. Jim and Jason have a chequered history, but Jason likes it hard, nasty and often and Jim is just the guy to give it to him. Jim is changed. Jason doesn't want monogamy but he's a 'whore' with a heart and Jim now approves.
A bit short and a lot expedient but fun all the same.
Long Time Coming
Jose has wanted Ricky's sweet arse, and the rest of him, for fifteen years. During this time Jose has heard all about Lamont's exhibitionism with Ricky from his then boyfriend, Lamont. Ricky is shy but enjoys seeing other people get off on his arse being fucked in front of his friends. Now Jose knows Lamont has left Ricky, he's keen to have that sweet arse as his own. It starts with a dirty phone call and all the things he'll do right down to when Jose shows up and claims what he wants… and, much to Ricky's joy, in front of others.
One more for the exhibitionist basket, plus a non-con fantasy is played out as well.
Snapshots of Seduction    
Joseph is an older guy, bit of a silver fox, who goes to Vegas to see Cody, a college-age go-go boy who's in Vegas for a
three-night engagement. They talk nearly every day, but they've only seen each other in person a couple of times, Joseph is keen to make it more. Cody's wearing a red jockstrap when Joseph arrives and boy does he look smoking, so smoking Joseph would like nothing more than to go hot and hard on Cody, but Randolph, his ex, sows a few seeds of doubt about Cody being a gold digger. Cody seems to be interested in photos that Joseph can take of him because he lives near 'Hollywood' and could give them to the right people, but he also seems interested in more than just a game. Nice read that needed actual sex. However, this short is about lust and seduction. It's also for those who like the kink of role playing, a hot guy in a hot red jockstrap, an older man with a younger, sexy guy who wants him.  
Sometimes longer is better and I would have liked more this time too, because this stopped when it was warming up and I was interested in both MCs. I was like, noooo! Keep going. Take those red jocks off with your teeth, Joseph.  Clearly, I like a good seduction tale, so a longer, raunchier story would have been great for me. Still, this is a nice little tease.
Overall:
Most of these stories are a wee bit short for full character backstory, and I liked some more than others, but they're all happy and sexy and unbridled fun to read, each with a kink or fantasy attached.
I've been struggling to finish books lately then I remembered I had this novella on my Kindle. I'm glad I saved Long Time Coming because it offered sexy tidbits that I enjoyed. I've always really liked this author's style. Gavin Atlas says he's been called the "bottom's bottom" of gay erotica and this novella further supports that. Bottoms up and cin cin.