Curious (The Finn Factor #1), R.G. Alexander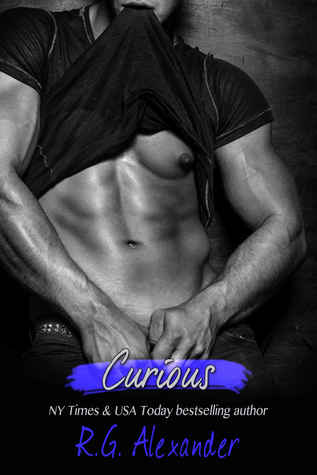 Rating: 4.5 Stars
Publisher: R.G. Alexander
Genre: Gay Erotic Romance
Tags: Contemporary, BDSM, Bi Character, First Time, Friends To Lovers, OFY, Romance, Series
Reviewer: Cindi
Purchase At: Amazon.com
Blurb –
Are you Curious?
Jeremy Porter is. Though the bisexual comic book artist has known Owen Finn for most of his life—long enough to know that he is terminally straight—he can't help but imagine what things would be like if he weren't.
Owen is far from vanilla—as a dominant in the local fetish community, he sees as much action as Jeremy does. Lately even more.
Since Jeremy isn't into collars and Owen isn't into men, it seems like his fantasies will remain just that forever…until one night when Owen gets curious.
Warning: Contains explicit m/m nookie. A lot of it. Very detailed. Two men getting kinky, talking dirty and doing the horizontal mambo. Are you reading this? Do you see them on the cover? Guy parts will touch. You have been warned.
A previously published alternate cover version of ASIN B00U2WORPA can be found here.
Review –
I recently read the three books in the Finn's Pub Romance series. I admit to being a little lost because I went in not knowing who a lot of the secondary characters were that are mentioned a lot. I had no clue The Finn Factor series even existed until after I started reading One Night At Finn's. All the Finns being mentioned wasn't that big of a deal until Third Time Lucky where I was more confused than not over certain things with Joey and Tani, Joey's best friend. My reading Curious is me going back to where it all began and hopefully sticking with the series until I know all the people who have been talked about up to now. I've skimmed over the blurbs of all the books in this series. A couple are a little outside of my normal reading box but hopefully they'll work for me anyway.
This is a really good friends to lovers story, and man does it start off with a sexual bang. Well, it starts with an on-page threesome with two guys and a woman. And then a few weeks later it's a, "Show me yours and I'll show you mine." Hello! 😉
"Your cock. I want to see it for myself. I've never been this interested before." Owen shifted, looking rueful. "Well, that's not entirely true. I've actually been thinking about it for a while now."
"You have?" Did his voice sound unusually high? It did to him.
It's Owen Finn's birthday and he's spending it with his best friend Jeremy instead of with his large Irish family as he does every year. The two men haven't spoken in a few weeks, which is not their norm. The last time they saw each other Owen had walked in on Jeremy having a threesome with a random guy and a mutual female friend – one of Jeremy's regular no-strings fuck buddies. Jeremy didn't stop what he was doing when Owen walked in. He took the guy harder, being so turned on knowing Owen was watching. When he walked out of the room later, Owen was nowhere to be seen until his thirty-fifth birthday a few weeks later.
Close to three weeks when Jeremy hadn't had the nerve to end the blackout himself, accepting the excuse of Owen's busy work schedule, though he knew the real reason for his absence.
Owen was so turned on that night it's all he's been able to think about. Jeremy has always been open about being bisexual and there's been no shortage of partners, both male and female. Owen has always considered himself straight, though he doesn't act at all like the thought of being with a man bothers him. Owen's a Dom and usually spends a lot of time at the local BDSM club. He and Jeremy are both the ultimate alpha types. Both big, somewhat muscular, and very adamant about what they won't do in the bedroom.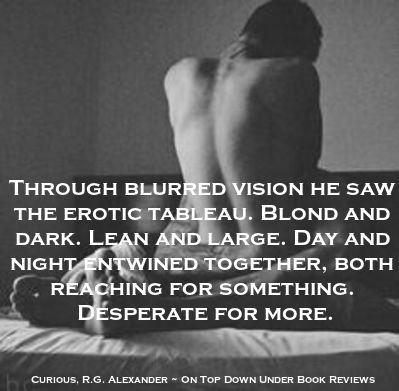 Now his best friend is at his house asking him to show him his cock. Jeremy obviously thinks Owen has lost his mind. A little nudging, a bit of alcohol, and a whole lot of arousal, and Jeremy gives in. Before the night's over, they've both given in in other ways. For Jeremy, it's a big deal. He's loved his best friend forever. It was hard to tell with Owen because his feelings weren't as out there as Jeremy's unless he was being bossy during sex. Even so, Jeremy's convinced that this is a bit of an experiment with Owen and he knows better than to allow himself to start believing it might be more than a few sexual encounters.
But then Owen shows a bit of possessiveness and asks for exclusivity, even if they are keeping what they're doing from their families, namely Owen's big family. Jeremy has considered them his own since he was a kid. He has no problem keeping things quiet. He'd never do anything to cause issues with the Finn family. They took him in when they didn't have to. They gave him love and support he never got from his own family. He refuses to allow his little fling or whatever it is with Owen to take that away from him.
The sex scenes were super hot. They were especially hot because both men are so big on control. It's kind of a power struggle but it works because each man secretly loves giving up a bit of control.
"I don't catch, and from what I hear, it wouldn't be your style either, Master Finn. Since I'm not into collars and you're not into dicks, just take your birthday blowjob and go. If we both have a few more drinks before bed we can chalk this up to temporary insanity between old friends. I'll take it to my grave if you do the same. No one ever has to know."
One night together becomes several as Owen waits for some repairs to be done at his place. They're sharing a bed and exploring each other, with Jeremy falling harder in love each day.
With Jeremy it was obvious how he was feeling. The reader is mostly in his head. For Owen, he needed a bit of a nudge. He's seriously oblivious in a lot of ways. Not in how he feels about Jeremy but in how he shows his feelings. When someone tries to blackmail the family, and uses photos and videos of things that could hurt two of the Finn brothers, everything comes to a head.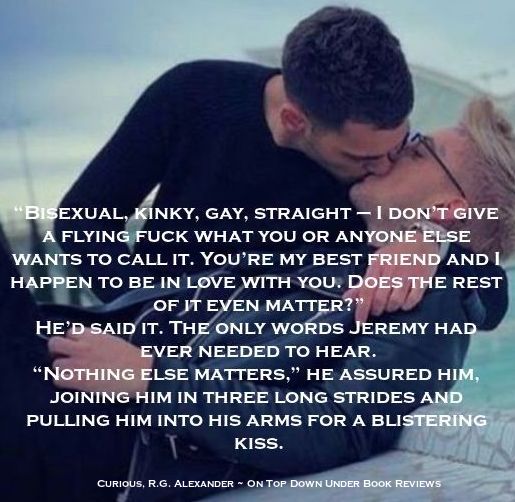 Jeremy's convinced he and Owen are done, especially when Owen has a bonehead moment or two. 🙂 But of course, everything is resolved nicely and they have their HEA. Owen was a little slow on the uptake and didn't always communicate like he should. Okay, he never communicated like he should, assuming that his feelings were obvious. Uh, no. We need the words. 🙂 Even so, when he did share his feelings it was sweet.
I adored the Finns. I kind of liked Natasha, a MC in the next book, Scandalous. She was the woman in the threesome that I mentioned above. She and Jeremy have a close friendship and are friends with benefits. Thankfully, she stayed decent throughout and there was never any silly jealousy when it came to her with Owen. And the 'with benefits' thing ended as soon as Jeremy and Owen got together the first time. There are a couple of Finns – Brady and Seamus – whose stories I really want to read. I don't want to read any out of order.
This is a nice, sexy book. I wish I would've read it before I started the Finn's Pub Romance series but it is what it is. Maybe I'll go back to One Night At Finn's and do a quick reread someday. I've seen Owen's name a few times so it was nice to finally meet him and see how he got his man. I love a good friends to lovers story and  Jeremy and Owen were perfect.
A hot read and a sweet romance.