One Night at Finn's (Finn's Pub Romance #1), R.G. Alexander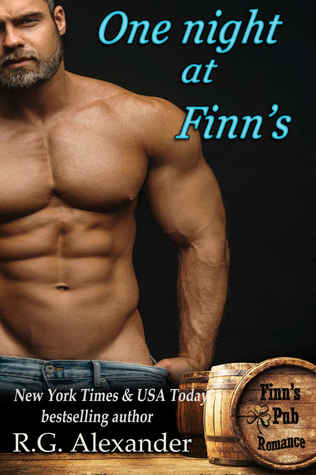 Rating: 5 'Zeus!' Stars
Publisher: R.G. Alexander
Genre: Gay Romance
Tags: Contemporary, Age Gap, Humor, Romance, Series
Reviewer: Cindi
Purchase At: Amazon.com
Blurb –
**A standalone romance from the Finn Factor World of New York Times and USA Today Bestselling author R.G. Alexander.**
Ever been on a bad date? Hold my beer…
My dry spell isn't voluntary. It just happened. Or didn't happen. And then… it didn't happen some more.
I'm not saying I'm looking for perfection, but is hot, sweaty sex with a genuinely decent guy too much to ask?
When I meet the much older and newly retired Master Sergeant Carter Willis, he definitely fits my criteria. But after he rescues me from the worst of my dating mistakes, I can't tell if he's watching my back to protect it, or because he likes what he sees.
Giving romance tips to strangers is easy. This feeling I get when Carter is around is making life complicated. It feels like a thing. A forever type thing.
And if there's one thing that scares me more than my accidental abstinence becoming a permanent condition… It's trusting in forever.
Review –
JD Green is a twenty-six-year-old advice columnist for a local LGBTQ e-zine. He gets paid for helping others with their love lives, but he kind of sucks when it comes to his own.
JD needs to get laid. He's not looking for a forever type thing. He just wants a decent guy to play around with. Is that so much to ask? Something that should be easy, right? Yeah, not so much. When he realizes that his dry spell won't be ending anytime soon, he starts what becomes a popular column titled The Dry Spell Diaries where he documents his bad dates.
Trust me when I say there are a lot of bad dates.
He's at Finn's Pub (his favorite place) with the latest one, set up by JD's neighbor and coworker, Toni. JD had helped Toni get away from an abusive boyfriend (or husband? I don't remember) so she's always trying to set him up as a thank you of sorts, maybe? Who knows? Even so, this guy is the ultimate loser. Billy Ray (as JD calls him in his head because he reminds him of the Billy Ray Cyrus of old… the guy has a mullet) plays games on his phone during the whole date and then starts pushing JD to leave with him and blow him, expecting JD to do just that because he's obviously so hard up he'll do just anybody. Uh, no.
"Why don't we get out of here while we still can? Find something else for you to do with your mouth."
"Excuse me?" I no longer felt sorry for him. At all.
"When Toni told me how hard up you were, I thought this might be a pity fuck. But you look like you could be a model or something with all that girly hair and those big brown eyes. I've had half a chub all night. You're really hot."
The romance. Make it stop. At least use a different adjective.
He may be having a dry spell, but he's not desperate.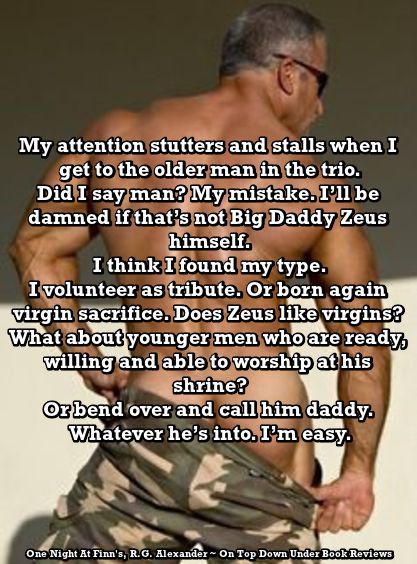 JD can't get away fast enough. Not even bothering to say goodbye to the loser date, he gets up and walks toward the bar where his friend Fiona is bartending. He's almost there when he freezes. A man is near the bar talking to two of the Finns. Not just any man. This guy is older, he's built, and he's the hottest man JD has ever seen. JD has never gotten so hard so fast just from looking at a guy. Calling him Zeus in his head – the man is built – he eventually gets control of his raging hard-on and keeps walking until he gets to Fiona. One of the Finns who'd been talking to 'Zeus' overhears him telling her about the loser date who hasn't gotten the hint and is still sitting at the table. He does the nice thing and asks him to leave. After Fiona does some intros, JD discovers that they, the Finns, know all about JD and his columns, even The Dry Spell Diaries. He's kind of a local celebrity because he often mentions their pub in his columns. They're all fans of his work which is kind of embarrassing but also flattering. Before he knows what's happening, they're buying him drinks and hanging out with him, with Big Daddy Zeus right there with them. Big Daddy Zeus is giving off mixed signals. He's leaning in to JD and bumping his leg – that type of thing. Even so, JD knows he has to get away before he makes a complete fool of himself. He doesn't even know if the man's gay or if he's reading him right. He waits until the guy has his back turned and then he's walking out of the bar.
Only Billy Ray isn't quite done with him yet.
Thankfully, Zeus comes to the rescue. When I say that, I mean it literally. Without giving too much away, let's just say that there's an incident and Zeus – aka Carter – swoops in and becomes JD's hero. Not just that, he helps him handle the fall-out and insists he come and stay with him for the night. JD's not one to ask for or accept help, but he doesn't want to go back to his place so he agrees. He doesn't know Carter at all really but the Finns seem to trust him so he takes his chances. It's awkward but it is nice to have somebody jumping in and taking charge, even if it is a guy who has JD feeling all kinds of things he has no business feeling.
Carter is a forty-three-year-old retired Marine. When he walks outside the bar to see the 'incident' he's angry at himself for letting JD sneak away. He's been doing everything short of shoving himself in front of the guy to get him to notice him all night. Having to rescue him to get his attention wasn't exactly what he had in mind. Even so, JD goes home with him and stays in his guest bedroom. But Carter wants a whole lot more than the friendship or whatever it is that's happening between them. He wants JD and he wants him bad, and I'm not just talking about sex.
JD is stubborn with a capital S. He's so convinced that Carter wouldn't be interested in him that he mostly avoids him until he can't. When he's forced to stay another night with Carter, the man has to bribe him with food to get him to do it – even inviting some of the Finns and Fiona. Something almost happens between them but then JD again freaks out and bolts to the guest room. Only when he's not given much choice, and has nowhere to run, does something sexual finally happen between them.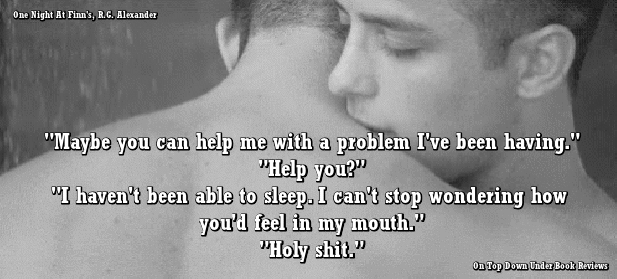 I loved Carter right off. I liked JD well enough but he had me shaking my head more often than not. Carter was an only child. JD was one of ten foster kids. Unlike some horror stories you might hear about foster families, JD and his brothers had a wonderful experience. Their foster parents were good to them and remain in their lives. More about that comes out in the book, with a couple of brothers and the parents even being introduced on page. The love and closeness was obvious and they liked Carter, even if he was only six years younger than Rick, JD's foster dad.
Everything's going great. JD and Carter are finally spending time together and not just in bed. You can tell that Carter is all in. JD, on the other hand, is hesitant because he's starting to suspect that he's falling in love with Carter when they've only known each other for a few days. Everything comes to a head when he shares things with Carter that he's never shared with anybody else. Carter is wonderful about it but he doesn't offer much of his own story in return. That, for reasons mentioned in the story, has JD rethinking their relationship, maybe believing that he cares more than Carter does, though Carter didn't really give him reason to feel that way. He also went out of his way to make sure JD was well taken care of in bed.
No more dry spell, thank you very much. 😉
Even so, JD freaks out and takes off.
There are a lot of characters in this book that I know are in others by this author. I saw this one first so only later did I check out her bio and book page. Even if they've had their own stories, and they were discussed a little, I didn't really feel like I was missing anything. After I get through this particular series, I may check out the other Finn books.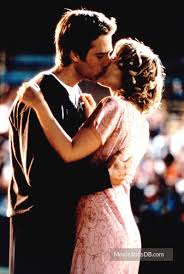 The ending of this book was really sweet and also hot as hell. It had kind of a Never Been Kissed vibe – before the 'hot as hell' part anyway. That's one of my favorite movies ever so I got the reference before it was even mentioned in the book. Can we say Michael Vartan? Hello! 😉
He has absolutely nothing to do with this book. He wasn't even mentioned. But if I hear Never Been Kissed he's the first thing I think of, so there you go.
This is a feel good book. There's nothing really overly special about it if I want to be honest. The characters are like characters I see every day in the books I read. But it kept me grinning and I'm still thinking about it long after I finished it. There's a bit of a mystery, a little violence, a whole lot of well-meaning friends and family, and bunch of Finns. It was truly a great book. This has gone on my all-time favorites list. It's my first by the author.