The Heat Is On, Lorelei M. Hart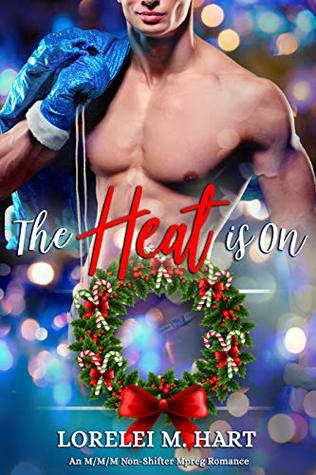 Rating: 4 "Naughty Omega" Stars
Publisher: Decadent Publishing LLC
Genre: Gay Paranormal Romance
Tags: Christmas, Menage, (Non-Shifter) Mpreg, Paranormal, Romance, Short Story
Reviewer: Cindi
Purchase At: Amazon.com
***This review is NSFW.***
Blurb –
At the Christmas Inn, not all presents are wrapped in a bow.
Innkeeper alpha Miller and his mate Winston have a merry life in the town where Christmas rules. When the holiday season rolls around, people come from all over the country to enjoy both their hospitality and the wonder that is their town. Guests spend their days building snowman, decorating wreaths, caroling, enjoying romantic sleigh rides, and indulging in every kind of Christmas treat anyone can imagine. But when an emergency forces a cancellation at the inn, it opens up a room for a certain omega whose misfortunes have piled high lately.
Omega Klaus's life is on a downward trend starting with the death of his uncle, who raised him as his own. On the way back from the funeral, Klaus is on his way to a blue Christmas when he finds himself in the middle of a winter wonderland. A wonderland he might enjoy more if his car wasn't broken down, and his pockets nearly empty thanks to his mean-spirited and scroogy employer, who decided that was the perfect time to let him go.
When the towns kindly mechanic offers to find him a place to spend the night, Klaus has no choice but to agree. He is dropped off at The Christmas Inn where he finds himself confronted by two alphas his every instinct insists belong to him. But they're married to each other, and trouples are rare. Besides, even if they felt the same, what does he have to offer two handsome, successful men like them? He's broke, recently unemployed, and alone.
When it becomes apparent that all three feel the connection, it triggers heat in this guileless omega, and a night of passion ensues. In the morning, the heat is over…which can only mean one thing. A Christmas present is on the way in the form of their baby.
The Heat is On is a 16,000 word sweet with knotty heat non-shifter MMM Holiday Male Pregnancy Romance that takes place in a small Christmas wonderland.
Blurb –
Klaus is having a really bad week. His vehicle died on a road trip as he was heading back home after the funeral of the man who practically raised him. He doesn't know it yet, but he's about to be unemployed. He barely has enough money for gas to get home, much less enough to pay to stay at an inn as his car is being repaired. Thankfully, Klaus' car chose the perfect location to die. When the mechanic still hasn't diagnosed the problem at closing time, he takes him to The Christmas Inn. Joel, the mechanic, called ahead so the owners, Miller and Winston, are expecting him. What they aren't expecting is to find their third, a part of them that they didn't even know they'd been missing.
Winston and Miller are mated alphas. They're as in love now as they were when they first met years before. The plan, since they can't have biological children between the two of them, has always been to adopt later on down the road. But then Klaus walks into the inn and all thoughts of 'down the road' go out the window. Oh, they still plan to adopt, but they also both know they'll be welcoming an omega into their fold who could also be adding to their family if he stays. Of course, Klaus is confused, as are the two alphas early on. But then Klaus goes into heat and everything changes.
When I pick up a menage book, I do it hesitantly. I'm not a fan of books that bring in a third (or more) and then it's nothing but drama, jealousy, and even more drama. I've read some great ones where that isn't the case (More by Sloan Parker for one) but a majority I've read have had some kind of conflict/jealousy/secrecy/silliness between the three people. Thankfully, The Heat Is On wasn't like that at all. Both Winston and Miller recognized Klaus as their omega mate within minutes of him arriving at the inn. There was no jealousy or secrecy because they both felt the same thing. I loved these two guys because they were a team and adding Klaus to it wouldn't be harming them in any way. It would enhance things. They were just all so good together.
Of course, it takes sweet Klaus a little while to realize that he has more to offer Winston and Miller than just his body. He has a few self-doubts but his alphas – his mates – help him get rid of them pretty quickly. This is a non-shifter mpreg book but the pregnancy doesn't really take center. It's important as a whole, but a majority of the story is about the three men coming together.
I really enjoyed this. I liked the town, the inn, and all the characters – both main and secondary. I would've liked to have known more about the pasts of the main characters, but I was happy with what was there. Told in each character's point of view, the reader is allowed to feel what all the men are feeling as they work their way toward their HEA.
A nice and sexy Christmas short.