A Christmas Miracle (Bakersville Christmas, #1), Reese Winters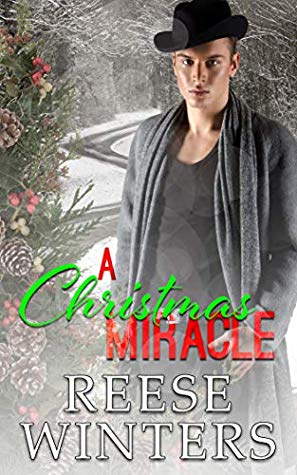 Rating: 3 Stars
Publisher: Reese Winters
Genre: Gay Romance
Tags: Contemporary, Christmas, First Time, Insta-Love, Musician, Opposites Attract, POC, Romance, 
Reviewer: Cindi
Purchase At: Amazon.com
Blurb –
"Getting home before Christmas requires a miracle… named Dante."
Jabari's all set to go home for the annual Christmas musical. He's performed in the musical for almost two decades, but this year all the outgoing flights are canceled, and it looks like he's out of luck.
That is. Until some nosy man named Dante Hernandez inserts himself into the conversation. Dante offers a solution: they could drive to Bakersville. In a car. Together.
The idea is absolutely insane, but what other choice does Jabari have if he wants to get home to see his family?
Review –
I'm not going to lie. This was almost a DNF for me at 13%. Jabari was a total jerk from the minute he was introduced in the story. His flight home for the holidays was cancelled so he caused a scene with the airport ticket agent. For some strange reason (after witnessing the scene play out) Dante swooped in and saved the day. He offers to rent a car and drive this total stranger to his home in Mississippi. The trip would take at least a day, including stops and a night in a hotel somewhere along the way. Instead of smiling and saying, "Thank you," Jabari is a big brat about it. I should also note that Jabari is an aspiring classical musician. Dante is a wealthy businessman. We're talking billions. Throughout the first half of the trip Jabari's attitude stayed as it was at the airport before. He had no problem allowing Dante pay for everything. Dante could easily afford it, but that's not the point.
Things change when they stop for the night at a hotel. This is when super immature Jabari comes out to play. I won't even go into all that because it was just silly.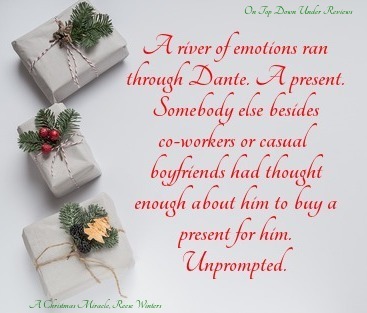 Long story short, they make it to Jabari's parents' home and things start moving quickly for the two men. We're talking MAJOR insta-love here. I liked Jabari's family right off. His mother is your typical southern mother who's always trying to feed everybody. As a mother from Alabama myself, I could totally relate to her on so many levels. There's a running joke with my kids that someday I'll be on my deathbed and asking if they're hungry. 🙂 I liked Jabari's dad too. I was a little confused over some of the people in Jabari's hometown. I'm sure (with this being a series) they'll be explained more in future stories.
I did like Dante a lot. While a lot isn't really said much about his childhood, the reader does learn that he grew up in foster homes and wasn't shown a whole lot of love in his lifetime. This also includes romantic relationships he's had over the years. I can't say too much about it, but I found some of that to be quite unrealistic. I'm not referring to his childhood. I can't go into details about what was unrealistic without giving too much away. I don't think the ages of the men are mentioned anywhere. I think had I known that my opinion might be a little different about certain things.
I did eventually warm up to Jabari when I honestly didn't think that would be possible. I didn't ever love him but I liked him somewhat.
Strangely, as different as Dante and Jabari are, they seemed to work – and work fast. There is one thing that bugged me with Jabari later. Dante would move Heaven and Earth to make Jabari happy. This was obvious from the very beginning, before they even exchanged names. I didn't see Jabari feeling or acting the same way when it came to Dante. Oh, he let him know he cared in some ways, but when it came to certain holiday traditions, he basically played dumb. As in, "Do I have to buy you something?" A little thing, but it still bugged me. I was seeing Dante bend over backwards for Jabari, and watching Jabari's parents do the same for Dante, but not much from Jabari. I think the reason that bugged me so much is because of Dante's reaction to a gift from Jabari's parents. It was touching and brought out all kinds of feels because it was obvious he wasn't accustomed to receiving anything gifted from the heart. Something as simple as a handwritten note from Jabari would've brought out the same (or bigger) reaction as an actual gift. For Dante it's the thought and care gone into it. So with that being said, Jabari came across as a selfish little boy who was perfectly fine with accepting things but not so much as giving. He's a musician. He could've written something.
I did have some issues with the story that go beyond how Jabari acted in the beginning and what I just mentioned. There were a lot of overused words and phrases – the musician, the businessman, Ah!, mahogany – among others. I often felt that the dialog was stilted. Even so, I did enjoy the story once I got beyond the early Jabari thing.