Company for Christmas: A Festive Cinderfella Story, A.E. Ryecart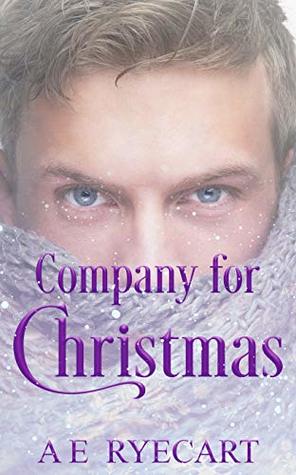 Rating: 4 'Aww!' Stars
Publisher: A.E. Ryecart
Genre: Gay Romance
Tags: Contemporary, Age Gap, Cinderfella, Disability, HFN,  Rent Boy, Romance, Short Story
Reviewer: Cindi
Purchase At: Amazon.com
Blurb –
Who says fairy tales are only make-believe?
Every night, Nathan works the street known as The Rack. Like every other rent boy, he dreams his Prince Charming will come and take him away to a better life.
Too bad Nathan's stopped believing in fairy tales.
Max has everything except the one thing he craves: somebody to love, cherish, and protect.
Somebody to call his own.
When Nathan and Max's worlds collide on the cold and grimy backstreet, little do they know that Christmas magic has already cast its spell.
Maybe fairy tales really can come true after all.
Company for Christmas is a 16k novelette. A warm woollen coat instead of a glass slipper, an unconventional found family, an inflatable Father Christmas called Dirty Santa… and the best Company for Christmas ever.
Review –
Nathan, 19, is a rent boy who plies his trade on a street referred to as The Rack. He has a small group of other rent boys who he considers family. One, Anthony, has recently found his so-called Prince Charming, though I use that title loosely. The story was short so I won't elaborate on that.
Nathan's closest friend is Sean, who's 23. Sean and Nathan look out for each other. The thing I love about Sean is his encouragement. He knows Nathan's too sweet, too innocent to be doing what he does. He encourages him to work toward making a different life for himself.
Max, 40, is an international banker. After dinner with friends, he makes a wrong turn and ends up literally bumping into Nathan. It's a cold night and Nathan isn't dressed for it. Being the nice man he is (he really is super nice), Max offers him his coat – his very expensive coat. Of course, Nathan offers his 'services' in return, but Max refuses to take him up on it. He's simply doing a good deed, nothing more. That's not something Nathan is used to. People don't just give him things without expecting him to bend over or drop to his knees. He reluctantly accepts the coat and Max is on his way.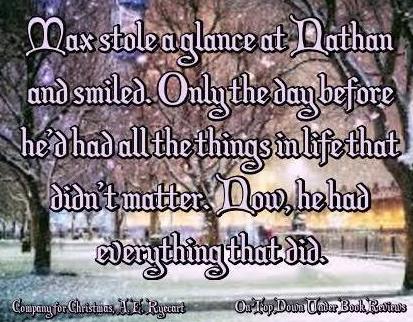 Neither man can stop thinking about the other once they part. Of course, because it's a Cinderfella story, they meet up again. Not everything runs smoothly – Nathan's still convinced that Max has some type of agenda – but it eventually comes together nicely.
Very little backstory is told about either man but I didn't really miss it. Enough is told about each one to give the reader a glimpse of how they came to be where they are. What was said about both guys broke my heart, even if the details didn't go on for a lot of pages.
There's a big age gap, which I totally love. Nathan is young, maybe a little naive, but I found him to be charming.  He's also dyslexic. And, Max… well, you'd have to read the story to know why I just wanted to hug him as much as I did Nathan.
One of Max's friends is also introduced, though I've since learned that he has his own story in the Barista Boys series by this author. I'll be seeking that out soon.
Edited to add: I just discovered that Sean's story is available. I'm off to buy. 🙂
A very entertaining read.