The Christmas Interlude, Raven de Hart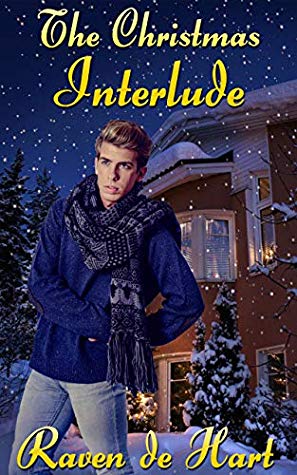 Rating: 5 "Let it Snow!" Stars
Publisher: Raven de Hart
Genre: Gay Romance
Tags: Contemporary, Bi Character, Christmas, Family, HFN, Humor, Romance, Small Town
Reviewer: Cindi
Purchase At: Amazon.com
Blurb –
When a lingering blizzard strikes over a small Washington town, two travelers wind up snowed-in.
A winter storm shuts down all travel in and out of the aptly-named Blizzard Falls. Benji Thomas, a cello virtuoso, is snowed in. His next gig is officially out of reach, and he's looking at a night spent on the cold metal benches of the train station.
That's when Skyler Jacobson swings in for the rescue. bringing Benji home for Christmas. Blizzard Falls might as well be the North Pole, it's so drenched in holiday cheer. Twinkling lights, tinsel, and of course the well-placed mistletoe doesn't go to waste.
Benji may not believe in fate, but getting trapped in a town called Blizzard Falls for Christmas feels like a little more than coincidence. And spending Christmas with Skyler, maybe he'll get to unwrap more than some woolen socks
Review –
Sometimes I get lucky while doing random searches on Amazon. That was definitely the case with The Christmas Interlude. What an amazing story. I had one niggle with it and it was that I ended it wanting more of these guys. I seriously adored them both.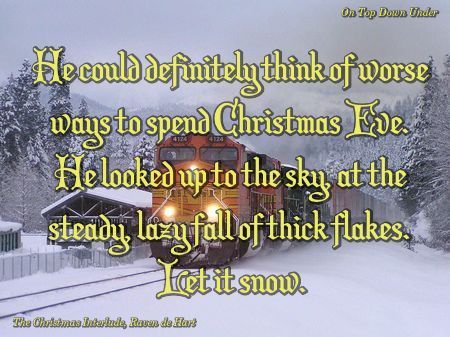 Benji, a professional cellist, just wants to make it to Houston for a scheduled performance. When he finds himself stuck in the small town of Blizzard Falls during a blizzard, he knows he won't be making it to Texas anytime soon. The seats in the train station are miserably uncomfortable, not to mention that blasts of snow and freezing air come in every time the door is opened. After a bit of back and forth with his agent on the phone and the woman at the ticket counter, Benji is rescued by a former local, Skyler. Skyler, a high school counselor traveling from Chicago, is in Blizzard Falls to spend the holidays with his family. After a quick phone call from Skyler to his parents, Benji is offered a chance to stay with them until the trains start rolling again.
I can't tell you how much I loved Benji's family. His mother, father, sister… all fantastic.
Benji is understandably hesitant about staying with total strangers, but what can he do? The only hotel in town is booked solid and he has no desire to spend the night inside the train station. Not to mention his being fearful of somebody stealing his cello. He gives in and minutes later he's in a pickup truck with Skyler and his father headed to their family home. The family welcomes him with open arms.
This takes place in Washington and I'm from the deep South. What I loved about Blizzard Falls and its people was how much it reminded me of home. There are still places where I'm from that won't think twice about taking in a stranger in need. Sadly, it's getting rarer these days, but it was nice seeing it in The Christmas Interlude as I've seen the same scenario play out many times over my lifetime.
Blizzard Falls is like a picture postcard. From the wintry weather, to the many twinkling lights and Christmas decorations, to the people who are all eager to help out a stranger in need… it was absolutely perfect. It's the type of place I'd move to in a heartbeat if I could.
Skyler and Benji are attracted to each other right off. That's obvious from the get-go. But they don't act on it other than a little flirting here and there and Skyler's mother's constant mistletoe antics. Benji's accepted as part of the family and he's enjoying a holiday season for the first time in years. Always traveling or performing, he's not spent Christmas with his own family in five years. The more time he spends with Skyler's, the more he's hoping the snow continues so he can stay a little longer.
Then there's Char, short for Charlotte, Benji's agent. Good Lord, how I couldn't stand that woman. She was mostly just doing her job by being annoying on the phone all the time – I get that part – but she also made me mad at the same time she was doing the same with Benji. There are constant taunts and 'redneck' comments made about the 'hick town' and 'hick family' that she assumes Benji is staying with. She also makes arrangements for a private concert of sorts without discussing it with Benji at all, not even caring that he'd be putting the kind Jacobsons out. Char only cares about pushing Benji, nothing more. Well, Benji and the money he can bring in. At one point he finally snaps with her and I was cheering him on.
Char had gotten him locked into a concert without his permission. She'd simply decided that he'd not only be willing to perform, but that it wouldn't be a bother to the family hosting him out of nothing but the goodness of their hearts.
Or if her other comments meant anything at all… Char didn't care whether this would put the Jacobsons out. They were hillbilly rednecks and nothing more.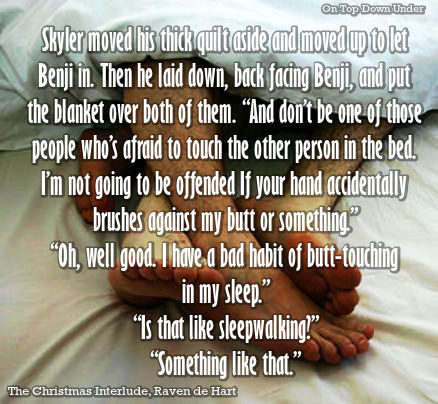 There's a slow burn between Skyler and Benji but it wouldn't have worked any other way. When they do get together, it's totally worth the wait.
I liked the ending but (as I said above) I wanted more. I want to see what happens after THE END. I didn't, however, end this feeling like the story wasn't complete. It definitely was.
I'm huge on tradition and this book has it in spades. The Jacobsons and Blizzard Falls suck you in and you find yourself wanting to grab a mug of spiked cocoa and sit by the big fireplace next to Snuggles the dog and stay awhile.
This was an easy 5 stars for me, which is pretty rare these days. I'll be seeking out more by this author.
A fantastic read.