Puppy Presents: Holiday Hotties, Rowan Nash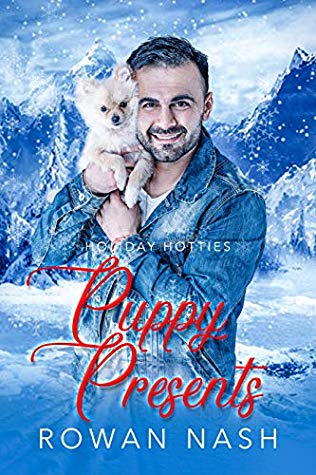 Rating: 3 Stars
Publisher: Rowan Nash
Genre: Gay Romance
Tags: Contemporary, Christmas, No Low Steam, Puppies!, Romance
Reviewer: Cindi
Purchase At: Amazon.com
***Consider this a spoiler-ish review.***
Blurb –
Two adorable puppies, two men with broken hearts, and the chance for all to have a happy new year.
This year Kiel Rushton wishes for something with a beating heart and maybe a wagging tail. A trip to the local shelter finds him facing a tough decision when he discovers that two dogs, Mistletoe and Holly, are destined not to see the New Year. He's never had a fish, much less a dog. The kennel worker with twinkling eyes seems to think he could handle the responsibility, but responsibility has always been Kiel's middle name.


Brady Littleton works the shelter every Saturday, more reliable than even the postal delivery person. When it comes to a dog being the right fit for someone, his gut has never been wrong, but it's been wrong about a man being his right fit—way too many times. The timid soon-to-be dog owner just needs some encouragement and maybe a doggie play date with his own dog to show him the season is meant for caring.
Will Brady be able to convince Kiel the two dogs were meant to be in his life? Will Kiel convince Brady that he was meant to be there, too?
Review –
Kiel is a twenty-three-year old bartender. After the death of his mother and grandmother a few years back, he was given the responsibility of raising his now nineteen-year-old sister, Destinee. He works hard and everybody seems to really like him. He's kind, patient, and sweet-sweet, as his coworker Kamille likes to call him.
Brady, twenty-four, does graphic design and volunteers at a local shelter. He's good with the animals and is close to the owner and other volunteers. When Kamille starts volunteering, she tries to flirt with Brady but he lets her know quick (but kindly) that she's barking up the wrong tree. She then mentions the hot bartender at the restaurant/bar she works at (that would be Kiel).
Her gaydar is bad. She'd also flirted with Kiel when she started working with him. I really liked Kamille.
Brady and Kiel end up meeting anyway but not really because of Kamille. Brady and his father (a wealthy businessman) show up for dinner where Kiel works and Brady and Kiel hit it off pretty quick. They go from talking about the food to planning a date of sorts at the shelter the next morning. When Kiel meets two of the dogs, Mistletoe and Holly, he falls in love with them at first sight. He's never really owned a pet, but he knows those two – who must be adopted together – are meant for him.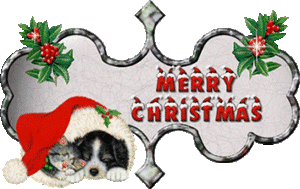 Everything, Holly and Mistletoe aside, happens quickly with Brady and Kiel. There's a misunderstanding that I thought wasn't handled as well as it could have been. While I may have understood where Brady was coming from in a sense, he flies off the handle kind of quickly. It was almost immediately resolved, so it didn't drag out for too long.
I enjoyed the story – who doesn't love puppies? – but I did have quite a few issues with it. I was constantly feeling like sections of the story were missing. As in, one second Kiel and Brady are all over each other, and the next, they're in the kitchen eating soup. There's no explanation really of what happened in between. For a minute there I thought there'd been an off-page sex scene thrown in that I'd missed.
This happens again several times, the worst of which being something that happened toward the end at a holiday party. Kiel was at the party and then I swear I felt like he'd somehow materialized back at his place with zero explanation of what happened in between. He didn't but it felt like it for a couple of pages.
I'm one of those readers who wants to know what happens from point A to point B. Granted, I don't need to know every minute detail down to what color socks somebody is wearing, but I do want more than jumping from here to there, and from this person to that one, with very little explanation of what happens in between.
If it was one section of the story I'd probably not even mention it. Unfortunately, this happens a lot. Things happen with the adoption of Mistletoe and Holly, and other things are going on in the background. Kiel's sister is dating Brady's brother, there's an issue with a homophobic stepfather (that was resolved and forgiven WAY too easily, in my opinion), and there are financial issues for one of their employers. All issues are tied up neatly in a little bow. While I'm not saying that's a bad thing necessarily, I just wanted to see (again) more details of what led to the resolutions of those particular problems.
With the exception of one minor thing, I absolutely adored Kiel. I liked Brady well enough, but I had a problem reconciling the responsible young man of now to the one he describes himself to have been as a teen. I liked both families well enough and their coworkers. I wasn't a fan of Brady's mother or even his real father. I should've liked the latter, I suppose, but something about him rubbed me the wrong way.
Overall, I enjoyed the story. I think this is my first by this author.