Audiobook: Lothaire (IAD, #11), Kresley Cole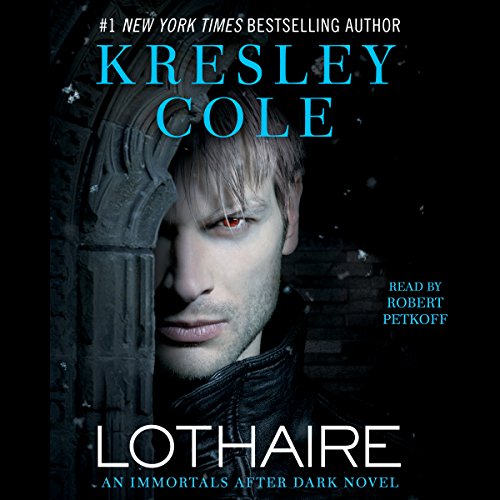 Genre/Tags: Paranormal, UF, Het Romance
Author: Kresley Cole
Story Rating: 5 Stars
Narrator: Robert Petkoff 
Narrator Rating: 5 Stars
Length: 16 hours 42 minutes
Reviewer: Kaz
Audiobook Buy Links: Audible 
Number-one New York Times best-selling author Kresley Cole continues her electrifying Immortals After Dark series with this thrilling tale, revealing secrets of the Lore, fierce realm of the immortals….
All fear the enemy of old.
Driven by his insatiable need for revenge, Lothaire, the Lore's most ruthless vampire, plots to seize the Horde's crown. But bloodlust and torture have left him on the brink of madness—until he finds Elizabeth Peirce, the key to his victory. He captures the unique young mortal, intending to offer up her very soul in exchange for power, yet Elizabeth soothes his tormented mind and awakens within him emotions Lothaire believed he could no longer experience.
A deadly force dwells within her.
Growing up in desperate poverty, Ellie Peirce yearned for a better life, never imagining she'd be convicted of murder—or that an evil immortal would abduct her from death row. But Lothaire is no savior, as he himself plans to sacrifice Ellie in one month's time. And yet the vampire seems to ache for her touch, showering her with wealth and sexual pleasure. In a bid to save her soul, Ellie surrenders her body to the wicked vampire, while vowing to protect her heart.
Centuries of cold indifference shattered.
Elizabeth tempts Lothaire beyond reason, as only his fated mate could. As the month draws to a close, he must choose between a millennia-old blood vendetta and his irresistible prisoner. Will Lothaire succumb to the miseries of his past—or risk everything for a future with her?
Review: 
I read this book when it first came out, I have it in hardcopy, I have it in e-book (for easy rereads) and I now have it in audiobook format. I've also read all the Immortals After Dark series books up to and including this one but I dropped off after this book because Lothaire, it seems, was my 'Endgame'. It's my favourite book of the series, followed by Dark Deeds at Night's Edge, a haunting and clever book, (I'm currently listening to it in audiobook) and Dreams of A Dark Warrior, Valkyrie and IAD favourite Regin the Radiant's book.
I remember the hype when Lothaire came out – Paul Marron was chosen as the cover model and they had a tour bus with his picture as Lothaire all over it, he even took part in signings. He was an inspired choice for the IAD villain. Absolute perfection. Everything, from his hair colour to his physical intensity, is on beautiful display. And Lothaire has red eyes, great cover-loving stuff.
Millenia old Vampire Lothaire Daciano is villainous. Cruel. Hyper-focused on a blood vendetta after his mother was killed horrifically when he was young, and he heard it all. Then he was left to rot by those who were supposed to be family. This book, this series can be gruesome at times as well as incredibly humorous and smokin' hot, with wonderful world building and characters you fall in love or hate with. Despite his peak assholitry I have always been completely invested in Lothaire throughout the series. He and his blood debt book. His dry, sarcastic, often cutting humour. His trajectory toward madness. His moment with Thad when they, and other paranormals, previously escaped a supernatural prison. He and perennial Lore soothsayer Nix, who lives at Val Hall with the Valkyries, are both around the same age, 'older than dirt,' and have had many interactions, increasingly getting a tad crazy over time. It's a combination of knowing too much – Lothaire reaps the memories of those he's killed or drank from, and Nix is on sliding-doors speed dial for many within the Lore – and having a kinship borne of surviving in the trenches with another.
The immortal Enemy of Old, Lothaire has kidnapped a mortal, Elizabeth Pierce. They have history longer than Ellie knows. But he and Ellie now have a battle of a relationship going on because Ellie doesn't like what's inside her and Lothaire believes he wants what's inside her – the haughty and bloodthirsty Saroya, a sociopathic and immortal soul reaper who needs Elizabeth's body and has made her life chaotic ever since 'moving on in'. Ellie is from a poor Appalachian background, now ex death row inmate, having to deal with Saroya rising when she feels like it, although Ellie sometimes fights it. Saroya wants Ellie permanently gone so she has made Lothaire swear to the Lore he'll do just that, destroy Ellie's soul. Once you swear to the Lore there is no backing out, baby. He doesn't care about a human and having Saroya as his queen means he can have his revenge and his inheritance. And he likes the idea of Saroya in Ellie's body. She's easy on he eyes. Most importantly, Ellie is clever, insightful, a scrapper. She's learnt more about pragmatism and human nature from her family, life in general, in her twenty-four years that Lothaire has missed in his millennia of life caught up in isolation and revenge.
"How could you have been happy in that trailer, forced to hunt for food, having so few possessions?" She blinked. He wasn't insulting her? Lothaire was genuinely curious about this. "I cherished the good times spent with those I love, and I quickly worked past the bad times. What's done is done. I never dwell on the past."
"That's simplistic."
"It's not a complicated thing," she countered.
Lothaire has a lot going on. He's sleep tracing to his enemies, and he has a lot of enemies, so he tries to keep awake. He's living waking nightmares on the regular, often going back to the Bloodroot Forest that flanks Castle Helvita, Dacia, where his vendetta and plans began. However, he feels that with Saroya, ridding himself of Ellie, it will only make him stronger because together Saroya and Lothaire will rule two kingdoms – the Dacian and the Horde. Hag, aka Balory, is his oracle and confirms that, yes, what presents as Saroya will make him even more powerful. So, Lothaire has to save Ellie from death row, and right at the time of Ellie's execution, then hole her up in his New York apartment that has wards on it so he can get the Ring of Sums back that will allow him to cast out Ellie's soul.
Ellie is the most amazing character. She's small, has a "hillbilly" accent, and is pretty, so people underestimate her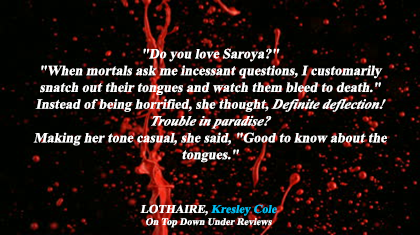 all the time. I have a good friend who assures me that Southern speak frequently ensures people underestimate you, often to their detriment. Ellie is Pierce family smart. Tough as teak with a good heart, and is one of the most resilient book characters I've had the pleasure of reading. Even when she's scared, Ellie won't lie down readily. She doesn't overestimate herself but she also knows her worth, she learns more of it as she spends time in Lothaire's world, and she takes no shit. She learns 'Lothaire speak' pretty quickly – meaning deflection. Ellie's and Lothaire's banter is often witty, sometimes horrific, if you think about it, and always sharp.
There are appearances by some of the more beloved IAD characters, Nix, Regin the Radiant, the absolutely adorable Thad, a half vampire half phantom who claims "Mr Lothaire" as a friend, much to the astonishment of most of the Lore. Balory, aka Hag, is here too because she is Lothaire's (reluctant) oracle who befriends Ellie. Irrespective of he cast, this book can definitely be listened to or read as a standalone.
This is a slow burn romance, an enemies to lovers. Cole is a clever writer and always makes this trope work. She also writes some scorching sex scenes and this book is no different. Lothaire is not nice to Ellie for quite a bit of the book, after all, he believes Saroya is his queen, his bride. He's also had a lot of years to have learnt to be the perfect prick, and he is that. He also despises humans, which Ellie is. There's some dubious consent moments around sex and other things, which Cole pulls off in an often gritty book. The paranormal/fantasy world building is, as always, stellar, the characters sensational, complete with enough backstory to make you feel them both.
If you like vampires, ones that are not especially cuddly and sweet, ones that are bloody and full of nihilistic
thinking and edginess, then Lothaire could be for you. Oh, and he likes to bite as well. Yeah. Lothaire is my crack and I'm awfully glad I spied this on Audible when searching about for a good listen. I savoured it every night  this past week and now I've finished, I'm sad. So I'm going to console myself by listening to Dark Deeds at Night's Edge, IAD #4.
The narration: Robert Petkoff, my god, what a performance. He's brilliant. Bringing incredible depth and understanding to Cole's words and characters. He doesn't just read it, he performs it. Elizabeth is very much brought to life, having a great deal of emotions, pushback, readjustment, and figuring out to do. She's given the right amount of sass, fear, caring. Lothaire's tone and accent is delicious. Lizvetta and Elizavetta now happen to be the sexiest names around after hearing them in Petkoff's Lothaire voice. Just. Wow! His delivery of female characters is very, very good. It was fantastic to hear Nix, she sounded so right. Same as Hag. His secondary characters were all distinct. Lothaire's animus, contempt, menace dripped through the Airbuds. The moments of pain or emotional angst, belief, denial, confusion, and dare I say it? Happiness? I felt it all at a bone deep level because of Petkoff's realistic delivery of a fantasy, PNR world and its inhabitants.
If you like well written paranormal and fantasy with a strong romance, darker bits and all, with biting humour, then I say grab Lothaire. For an extra treat, grab it in audiobook format, you won't be sorry. All the Stars!