Going Nessie (Finnegan & Morrow #3), Jess Whitecroft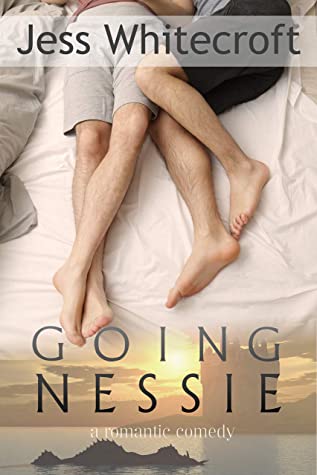 Rating: 4.5 Stars
Publisher: Self Published 
Genre:  Gay Romance
Tags: Humour, Romcom, Series
Reviewer: Kazza
Purchase At:  amazon
Blurb:
Wedded bliss feels like it's a long, long way away for Finn right now. When he popped the question to Chase he wasn't thinking ahead to the inevitable – fractious relatives determined to use the wedding to bring up old grudges, nieces jockeying for bridesmaid positions, and a non-human ringbearer with extremely antisocial eating habits. Every day brings fresh battles with florists and family, not to mention that planning a Hollywood wedding is really bringing out the monster in Chase.
Just when Finn is afraid that Groomzilla is going to snap and destroy LA, an opportunity arises to do something slightly less insane: hunting the Loch Ness monster. What they don't know at the time – but soon find out – is that the Loch Ness monster has a long and well documented history of driving people crazy. Have they just added to their stress by dragging monster madness into the mix?
Tartan bullsh*t, single malt frenzy, violent golfers, wayward dogs, Aleister Crowley, and deep fried Mars bars – there's a lot more to Scotland than shortbread, as they're about to find out. Join Finn and Chase once again as they make a splash (sometimes literally) in the mysterious waters of Scotland's most famous loch.
Review:                                                                    **NSFW
I love Finn and Chase, they're right up there with my favourite fictional characters. That both of these guys communicate well and simply love one another in amongst the craziness of life, and their life is definitely full of (crytid) crazy moments, is so romantically aww-worthy. Going Sasquatch, book #1, is a massive comfort read and on my high rotation list of re-reads. Going Roswell has had a couple of re-reads as well, and Going Nessie will likely join them at some stage. For those readers who like to know, you can read this as a standalone if you would like to. I suggest starting at the beginning, I think that adds more, but you don't need to.
What do you do when you're in the middle of planning your wedding, with all the associated stressors, including family, and you feel like running for the hills? You go hunting the Loch Ness Monster, of course. Well, Chase and Finn most certainly do. It was that or the Highgate Vampire, I'm hoping that gets a story, but I'm mostly hoping there will be more Finn and Chase.
Finn and Chase have a dog now, Eureka. Finn is a helicopter dad and Chase is a bit tense over the shit eating that Eureka finds so delectable. I had a greyhound x whippet who was into coraphagia… it wasn't a delight.
Jess Whitecroft has fun with the Loch Ness monster. There's the very real history of Nessie sightings and interest over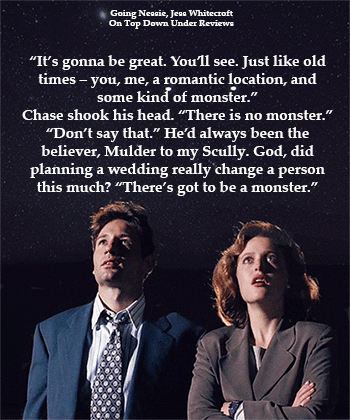 many, many decades. Her research is impeccable to make the story feel real, but humorously so. Chase gets the go ahead for a trip to Scotland to unravel the Nessie legend in a contemporary TV setting. His Roswell documentary went well. It went well after initially having to deal with (TV executive) Greg's interfering attempts to spin something into tin-foil hats that Chase was genuinely open about. Greg is back onboard again and being a little too accommodating. Suspicious much? Normally Chase is excited about all things supernatural and beyond but the spark has gone as the wedding preparations grow bigger than Ben Hur and life gets more complicated because of it.
There is a small cast in Going Nessie. Enough to create interest and to lend an authentic but still crazy vibe around Finn and Chase and the characters who find themselves in their orbit. It works well and it lends the right atmosphere to each series book and the overall series itself. The wit is, as always, on point. I can't not laugh out loud at this author's humour. My husband came in to check on me one night because he wondered what was going on. It was just me snort-laughing. Apparently quite loudly. Jess Whitecroft delves into the subject matter with glee and accuracy, and she always invests a lot in these lovable MCs. They never deviate from who they've always been from the very start, who the reader has come to know and love, and that's vital.
The tales of Nessie are big when the guys get to Scotland. The setting of stag heads on pillows, and elsewhere, the tartan, the whisky, the people involved with the production, the characters they encounter and the research that's been done. The obligatory Nessie sighting. Is it or isn't it a bunch of tartan bullshit? Nessie is part of folkore and history, has it's own legislation, and there is definitely tourist dollars in that monster and that Loch.
So. What worked.
Finn and Chase: They're delightful. They're fun. They enjoy life. They're romantic. They're crazy. They're such a wonderful fit.
The storytelling: Knowing when to push and when to pull back. When things could have taken a drama-llama turn or become all about the old miscommunication device, the author took us believably into wedding-planning anxiety and it's tentacles of emotional doubt but pulled us back at the right moment. This is a romcom after all, and Whitecroft plays adroitly to a romcom's strengths – that tightrope of the right amount of romance to comedy.
The secondary characters are well written. There's no antagonists to boo hiss over, just people we instinctively  know or understand and can laugh at sometimes – hello, Patty Chive – or identify with at some level. We've lived with them, met them, worked with them, seen them in action somewhere, somehow.
Pop culture gets a work out, past and present – Scottish food, digs at Trump, movie and TV references, photos and shenanigans. All things I personally enjoy.
"It was worth it. When was the last time you had a panic attack?"
"Please don't say that. You know what anxiety is like. It's like Candyman. You only have to mention it a couple of times and it crawls out of the bathroom mirror and comes after you like a murderer filled with bees."
It's bloody funny. Whether that be 'Greg's ratchet chupacabra' being thought of as a good name for a garage band to tales of tartan bullshit. Plus anyone who can add a Mean Girls quote in a gay romcom via a dog, a Jack Russell at that, is all good by me.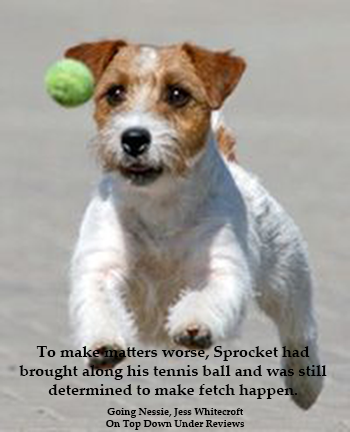 There's a good balance of story to sex. The sex is there for emotional connection, to have fun, and it fits beautifully and sexily within the overall tale without ever being overpowering.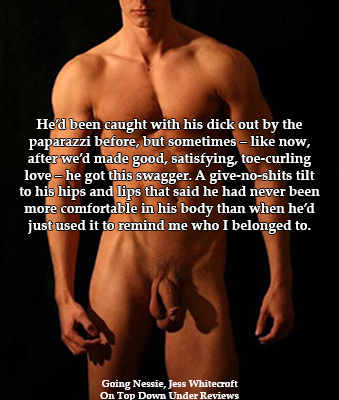 One of my favourite series is still going strong, and while this had a gorgeous ending, I hope there's more Finnegan &  Morrow and their craziness and love to come. Long live the cryptid! 4.5 Stars!