Up for Heir (Rosavia Royals #1), Stella Starling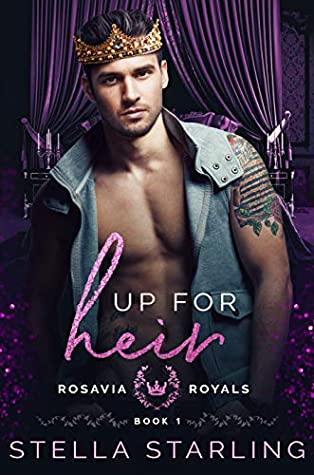 Rating: 3.5 Stars
Publisher: Stella Starling
Genre: Gay Romance
Tags: Contemporary, GFY, Opposites Attract, Romance, Royals, Series
Reviewer: Cindi
Purchase At: Amazon.com
*** There are spoilers at the bottom of this review.***
Blurb –
A playboy heir needs: a man to marry, right now.
After spending half his life dodging his duty to the crown, the rebel heir to the Rosavian throne has been told in no uncertain terms that it's time to settle down. Prince Leopold has one month and a vetted list of suitable princesses, and he will announce his engagement during Rosavia's Royal Ball. But Leo's got his own ideas about what really suits him…
Royal Librarian Edvin Blom is good at not attracting attention. Shy and self-conscious of his stutter, he's used to being overlooked and more than happy to stay in the background. At least, until the Crown Prince with a wild reputation shows up at the library's new opening and decides to flirt with Edvin's sister…
Edvin isn't at all what Leo thought he wanted, but turns out to be everything he can't stay away from. Edvin's been burned by falling for someone out of his league before, though. And believing that Leo has really fallen for him? While Edvin's drowning in his own doubts and insecurities, that might prove impossible… unless love gives them both a reason to come up for air.
Welcome to the tiny European country of Rosavia, where roses ramble over alpine slopes and princes fall for the men of their dreams. Every Rosavia Royals book happens simultaneously, so books can be read on their own, or in any order… but keep an eye out for familiar faces around the palace!
Review –
Prince Leopold, the heir to the throne of Rosavia, is a wild child and he totally owns it. He has respect for his title and never truly does anything to make his family look bad but he does have his fun. Sure, he's a little rebellious at times, but he never does anything harmful. To be blunt, he's a proud manwhore. 😉 Leopold (Leo) has just been informed by his parents, the king and queen, that it's time for him to grow up and find a suitable woman to marry. He has roughly four weeks to find that woman as the engagement will be announced during The Royal Ball, the event of the century. The Royal Ball will celebrate the 500th year of Rosavia. Leo's parents help him out by giving him a list of vetted women to choose from to be his future bride. He knows finding a spouse is his duty. He just doesn't have to like it. And shouldn't he be the one to pick out the woman he'll be with for the rest of his life? He barely gives the list a glance.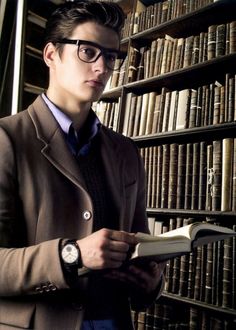 Edvin is a shy librarian for the Royal Library. He's been the sole caretaker of his siblings since his parents died five years prior. He loves his job but his siblings are his number one. Edvin mostly keeps to himself. He has a stutter that's more prominent when he's nervous. Edvin gets nervous a lot. He works with an ex, Hans, who treats him horribly. Hans is his superior though they don't work in the same part of the library. Even so, Hans is a true piece of work. He's constantly criticizing Edvin, even going so far as to make fun of how he is in bed to a colleague.
There's a special event at the library that Edvin has been helping prepare for for weeks.
I should point out early that Edvin is basically a doormat who doesn't know how to say no to anybody. This becomes a big problem later.
So, the member of the royal family at the event just happens to be Prince Leopold, a known playboy. Edvin has no problem staying back in the crowd gawking at the prince. The man is gorgeous. Well, the 'staying back in the crowd' disappears as soon as Edvin catches Prince Leopold flirting with Edvin's nineteen-year-old sister. Leo's reputation is well-known. No way in hell will Edvin allow this man anywhere near his little sister. So he rushes through the crowd and gets between them and basically warns the prince away from her. Hans, ever the jerk, tries to interfere but Leo's not having it. There's something about this cute man that has him forgetting all about the girl and pretty much everybody else. He invites Edvin's sister for a private tour of the Royal Gardens – with Edvin chaperoning, of course. Leo stopped being interested in the girl as soon as he saw her brother. The girl only wanted to see The Royal Gardens. 😉
When Edvin and his family have to cancel the visit to The Royal Gardens (Leo's excuse to see Edvin again), he takes it upon himself to find out why. He's determined to spend time with Edvin (who he calls Eddie), to get to know him. This is strange for him because he's never cared to get to know another man like that – and he's definitely wanting to know Edvin like that.
Kissing him had been a revelation, filling a want that Leo had never realized he had before. Not even something sexual, although that want had definitely been… stimulated. But something deeper. They just… suited. More than suited, although how Leo could feel so sure after so little time and such tame intimacies, he didn't know. Kisses that had been more sweet than hot.
This starts a really sweet relationship. Leo has always been all about the women. Now he's finding himself wanting to get to know every single thing there is about Edvin and his family. So he makes up silly excuses to get Edvin to spend time with him.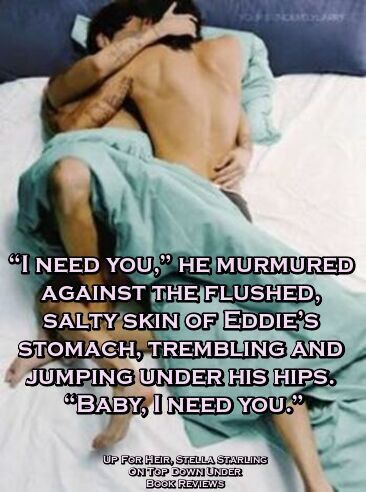 I loved Leo. He was so cute as he tried to woo Edvin, though he didn't need to. Edvin had developed a crush pretty quickly. One thing I loved about Leo is that he never – not one time – acted weird about wanting a man when he never had before. There was no hesitation at all. When their relationship eventually turned sexual, there was no shyness, no hesitation. Well, not for Leo. There was quite a bit of that for Eddie.
Leo made it clear early on that he wanted Eddie to be the one announced as his fiance at The Royal Ball. This was done not long after he and Eddie started seeing each other. He'd even discussed this with the king and queen, who were understandably concerned. They knew their son better than most and suddenly he's fallen for a man? Not just any man but one who's considered a commoner?
I liked Leo's parents a lot even if they were a little iffy over Leo's choice for a spouse. They weren't snobby or anything. It's that there's never been a marriage between a member of the royal family of Rosavia and a commoner. Edvin was definitely a commoner.
As much as I adored Leo, I had a problem with Eddie. He's shy, which is fine. He just took it to new levels. His being starstruck because Prince Leopold was interested in him – actually wanted to marry him – was one thing, but every single time they were together? And Eddie had these internal dialogues that droned on and on and on and on… and holy cow! and on and on and on…
I'm literally talking pages at a time. In the beginning it wasn't so bad but the entire book? Seriously, every time it looked like something else was about to happen in the book Edvin was thinking again. It really got annoying and I almost found myself skimming every time it happened. I didn't skim, but I damn sure wanted to.
Then there are the secondary characters. I adored Hugo, Leo's stuffy but totally charming valet. There are Eddie's siblings, of course, as well as Leo's. I loved all of them. I can't not mention Treble the monster cat who kept Leo on his toes. Treble actually belongs to Benedict, Leo's younger brother, but she spends a lot of time driving Leo crazy.
Her claws were sharpened by the devil. Her cuteness was a traitorous lie that hid the heart of a sadistic villain.
I loved that cat.
I've already mentioned Hans, the jerk ex of Eddie's who made him feel inadequate, unwanted.
"Is this too much?"
"No," Eddie blurted, wishing he had the power to curse The Banished One for his lingering words with a lifetime of soggy cereal and shoddy cell phone service and… and testicular fleas. Vicious, mean ones, preferably… but of course a disease-free variety, because Edvin wasn't a monster.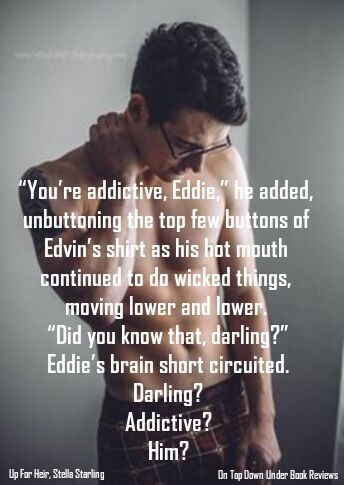 This book is absolutely 100% gay-for-you. This is no bi-curiosity situation or an out-for-you with a gay or bi guy coming out when they find the one. Until Edvin, Leo had never thought about nor considered being with a man. It worked with these two – Leo was so sweet and romantic – but it's not even slightly realistic. Even so, I loved the two of them together. The sex was hot and sweet at the same time, even if a lot of it was (again) full of Edvin's shy ramblings and inner dialogue.
One of the sweetest parts of the book was when Leo realized that he did love Eddie and it wasn't just the need to find a spouse. He genuinely wanted to spend the rest of his life with this man. When he told him he loved him the first time it was a true aww moment.
I loved Leo. Seriously loved him. He may have been the heir to the Rosavian throne but that didn't stop him from doing things his way.
I've since read the others in the series. I did this before publishing this review in hopes of something being resolved that wasn't resolved in this book. It was never mentioned again. It was something that should have been on page, not something that happens in the background. It honestly left Leo and Eddie's story unfinished. I've never read this author before this book (I don't think?), but I find myself wondering if this is how she does things in her stories; leaving things undone, unfinished, I mean. If so, I won't be reading anymore, regardless of how much I loved Leo. This book went from an easy 4.5 star rating to 3.5, with me considering knocking a half star off as I type this just because I'm still irked about it.
This is where the spoilers start so if you don't want to know what happens, don't read beyond here.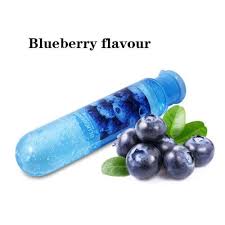 The Hans thing wasn't resolved. I ended this seriously thinking, "What the hell?" Hans is an ass who treats Edvin horribly. Bad enough, but no big deal. What is a big deal is Edvin gets locked inside the Royal Library overnight after being conned into working for Hans, worrying Leo, Edvin's siblings, and even Hugo. Hans obviously did something to prevent Edvin from getting out, but what and why? Just to be an ass? The thing that bugged me the most about all that was that NOTHING was done to Hans, or hell, he wasn't even mentioned once Eddie was rescued. I wanted to see him get his. I wanted to see his reaction when he saw that not only was Edvin engaged but he was engaged to the Crown Prince – the same Crown Prince that Hans had been flirting with and later gossiping about. The same one that Hans laughed about when Edvin said he and Leo were friends.
The book felt unfinished. What's the point in even putting all that in the story if you're not going to give the readers the much needed resolution? The thrill of seeing Hans get called out by Leo, the future king of Rosavia? I wanted to see Leo show him PUBLICLY that he was in love with Edvin. The fact that didn't happen really makes me mad, leaving me doubting that I'll be seeking out other books by this author.
This not being resolved had me knocking a star off my rating.