Christmas Bubble, Ana Ashley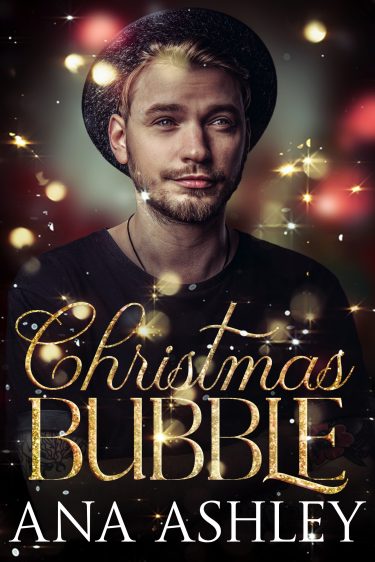 Rating: 4 Stars
Publisher: Ana Ashley
Genre: Gay Romance
Tags: Contemporary, Age Gap, Christmas, Demisexual Character, First Time, Opposites Attract, Romance
Length: 272 Pages
Reviewer: Cindi
Purchase At: Amazon
Blurb –
A Christmas snowstorm. Two opposites that most definitely attract. Only one bed.
When the man of your absolute dreams slams their mouth into yours, there is only one course of action. Yours truly–that's me–has broken it down into four easy steps for your convenience.
You're welcome.
Step one: make sure he really is attached to you. Lips to lips. You're a clam. Do not let go.
Step two: climb him like a tree.
Step three: thank your past self for all the squats that gave you those thunder thighs.
Step four: enjoy every second of that kiss before said (maybe-not-so-straight) man realizes what he's doing and has a freakout.
Christmas Bubble is a low angst, standalone, Christmas novel featuring a petite but larger-than-life cheerleader, an older demisexual football coach and a winter cabin by the lake with only one bed.
Will this be the season when all their wishes will come true?
Review –
I passed over this book quite a few times before finally deciding to read it. The 'stuck in a snowstorm, one cabin, one bed' thing has honestly gotten old. For me anyway. Even so, I decided to read it because I've read quite a few by this author. It turned out to be a nice story.
Riley (aka Coach) is the new high school football coach. Curtis (aka Bubble) is the new high school cheerleading coach. They're as different as night and day. Riley pretty much has jock written all over him. Curtis, on the other hand, is very flamboyant. There's also a twenty-year age gap between them, with Riley being 46 and Curtis being 26. Even so, that doesn't stop Bubble from wanting to climb Coach like a tree. 😉
As weird as it feels to me calling Curtis Bubble, he will be Bubble and Riley will be Coach in the rest of the review. If I goof, sorry. I often tend to mix up nicknames.
Coach walked away from a prestigious coaching position and his parents to get a fresh start after the woman he'd been married to for twenty-three years betrayed him in the worst kind of way. The ex's name is Mel. I'll come back to her.
Bubble walked away from his life in California to get away from a different kind of betrayal.
Since Coach started working at the high school, the new cheerleading coach – he can't bring himself to call him Bubble – has been leaving different types of baked goods on his desk. From pies, to cakes, to anything else you can imagine, he's made it and left it for the coach. He's also done other things like put up 'inspirational' posters with googly eyes behind Coach's desk… that type of thing. Bubble is quite forward. I think it annoyed Coach a little at first but he got over it. He got over it because he was suddenly seeing Bubble in a way he'd never seen another man before. He'd only ever been with Mel, so being attracted to Bubble is different. Not bad, just new.
Bubble also works part-time for Spilled Beans in Chester Falls, with Indy from How To Catch A Bachelor (Chester Falls, #4) as his boss. Indy was in this one briefly. I always loved Indy. Tate, his man, not so much.
An older couple, who just happens to be some of Bubble's favorite customers at the coffee shop, offer him their holiday cabin for two weeks when they notice that he's not quite as perky as he normally is. He could experience a true white Christmas for the first time ever, get away from the temptation that is Coach, and he can even invite his best friend Juju to fly out from Los Angeles. He jumps on the opportunity.
Coach, whose parents seem to think his ex-wife walks on water, has decided to spend his two weeks of Christmas break in a cabin that he bought not long after he moved to Connecticut.
You see where this is going.
It just happens to be directly next door to where Bubble is staying.
Bubble arrives at his temporary holiday home and is in the process of getting settled when the older couple's son, partner, and children arrive unexpectantly. Before they show up, he'd already discovered that Mr. Hottie Coach is his temporary neighbor because of course he is. 😉 It's snowing with a major storm heading their way, so Coach does what any good coworker would do – he offers to let Bubble stay with him. He agrees and this is where they really begin.
I should also throw out that Juju's flight to Connecticut gets cancelled because of the snowstorm so no nosy best friend getting up in Coach and Bubble's business.
The couple who showed up unexpectedly with their kids? Fletcher and Harrison from Antagonist (Dads of Stillwater, #1). I didn't find myself wanting to punch Harrison in this one, so I call that a win.
Bubble immediately makes Coach's cabin into a holiday home. Between his amazing cooking and mad decorating skills, Coach feels like he's won the lottery. Of course, there's a little hesitation at first with Bubble because, again, he's never been attracted to a man before and here he is, wanting Bubble really bad.
What I really liked about Coach is that once he went in, he went all in. He wasn't worried about what anybody – family, friends, coworkers – would think about him being with a man. He'd had a very public career as an NFL coach, but he didn't feel the slightest hesitation about everybody knowing he was with Bubble. Granted, all the 'people finding out' came later.
I should also stress that this isn't a gay-for-you book. It was very clear that Coach was demisexual. He'd only ever wanted Mel, the ex, and now Bubble. He's not attracted to other men or women, and hasn't ever been unless there was an emotional connection. He had it with the wife and he has it now with Bubble.
The sex scenes were written well. Again, no hesitation from Coach at all. He'd never had sex with a man before but it didn't matter. There were no regrets, no weirdness.
Now to the secondary characters…
I already mentioned Indy, Fletcher, and Harrison. It's kind of funny how they're the ones in this book when their books are the two by this author I liked the least.
Coach's parents. I kind of had an issue with them in the beginning because they were very pushy with Coach about Mel, the ex. Since he'd filed for divorce, he'd not had one conversation with his mother or father that didn't have one of them trying to push him and Mel back together. The man literally walked away from his job and everything he knew to get a fresh start away from the ex, but it didn't matter to the parents. They decided to be intrusive and push the woman on him anyway. They didn't know why he divorced Mel until later, but that shouldn't matter in the least. He'd made it VERY clear it was a done deal and they, as his parents, should respect his decisions.
I was able to let that go because all of that happened on the phone, not face-to-face – until later. It's that until later that really irked me about Riley's parents. I'm not going to say what they did because it would be major spoiler, but I will say that they took the Mel thing too far and it could've easily cost Coach his relationship with Bubble.
Juju, Bubble's best friend. In the beginning of the book Bubble talks to her a few times on the phone and makes plans (later) for her to spend the Christmas holidays with him at the cabin. I was thinking, "Okay, cool! A good female best friend who's not going to be bossy and butt into her friend's life." There aren't many good best friends in the books I read, so I was thinking this might be a breath of fresh air.
I was wrong.
Like Coach's parents, Juju also did something that ruined my opinion of her. She may not have been the one who did it, but she should've done more to ensure it didn't happen to begin with. Again, I can't say what, but I was shaking my head when I read it. Excuses or no excuses, it happened. There was no coming back for me. Sorry to talk in circles, but I really don't want to type a spoiler.
Mel. What a piece of work. She wasn't in the book long but she didn't have to be. I hated her before I even knew what she did to cause the divorce. That hate grew big time when it all came out.
I adored Bubble right off. I loved his flamboyance and happy attitude. I even liked Coach when I'm usually not a fan of jocks in books, whether they're coaching or playing.
I'm all about substantial age gaps, and we have twenty years between these guys.
Overall, even with the busybody characters I just mentioned, this was a really nice Christmas story. I've read several of this author's books this year. She's becoming an automatic go-to for me.
A really sweet Christmas read.