Antagonist (Dads of Stillwater, #1), Ana Ashley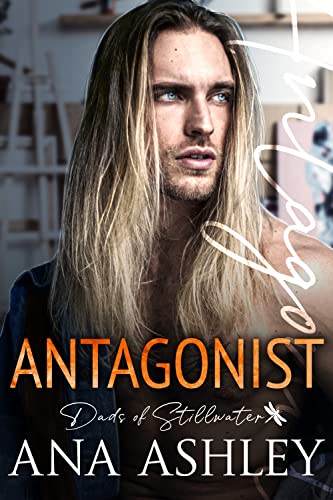 Rating: 2.5/3 Stars
Publisher: Ana Ashley
Genre: Gay Romance
Tags: Contemporary, Bi Characters, Enemies To Lovers, Family, Opposites Attract, Series, Single Dads, Small Town, Unnecessary Drama
Length: 342 Pages
Reviewer: Cindi
Purchase At: Amazon
Blurb –
One artist. One attorney. Two single dads.
Meeting at a bachelor auction for charity had trouble written all over it as far as I was concerned, especially when the guy that won the bid for me seemed to be after only one thing…a good time between the sheets.
Refusing Fletcher's advances was easy the first time round. After all, we weren't meant to see each other again.
Except I've just moved to Stillwater where Fletcher lives.
Except both our kids are in the same class.
Now the kids are fighting and I'm ready to throw my own punches.
If only Fletcher wasn't as goddamn irresistible as he is irritating.
When the fight moves from the playground to the bedroom, who will come out on top?
Antagonist is book 1 in Ana Ashley's new series, Dads of Stillwater.
Single dads, sassy kids, Ana's usual cast of intriguing secondary characters, Stillwater has it all.
Review –
The first thing I'm going to say about Antagonist is that while it may be a new series, a majority of the secondary characters are from the Chester Falls series. Harrison, a main character in this one, was one of those secondary characters in How To Catch A Bachelor, Tate and Indy's story. I was 16% into it when it clicked that I knew Harrison, who is Tate's best friend. It also reminded me of how much How To Catch A Bachelor drove me crazy because of my lack of love for Tate. I ended that one wondering why Harrison would want to be Tate's friend, and why Indy would want Tate after his behavior in their book. You can click the link above to read my review of Tate and Indy's story. It's full of spoilers, so keep that in mind if you're interested in reading the book.
Now to my review.
Harrison is a divorce attorney in Boston. Fletcher is an artist in Stillwater, Connecticut. Their first meeting doesn't go that great. They're at a bachelor auction, with Harrison being one of the bachelors. Fletcher, feeling kind of bad over something he said to Harrison in the men's room, bids on him. Fletcher hits on Harrison, Harrison acts like a child, and they go their separate ways, both men hoping they never lay eyes on the other one again.
Only they do.
Harrison, along with his daughter and ex-wife, move (separately) from Boston to Stillwater, and what do you know? The two guys bump into each other, this time at their kids' school. Apparently George, Fletcher's son, and Megan, Harrison's daughter, have a bit of a disagreement on the playground so both parents are brought in to meet with the teacher. The meeting between the two dads goes about as well as their last one. They're both attracted to the other but they're too different – WAY too different.
This begins a back and forth between the two men that drags on and on.
They go back and forth, back and forth, back and forth… for literally the entire book. They eventually get their HEA, but it takes forever and a bunch of unnecessary drama to get there.
I'm going to throw out my likes and dislikes and move on to another book.
What I liked –
George and Megan, the kids. They were written as typical six/seven-year-olds.
Stella, Harrison's ex-wife. I absolutely adored her. She was the perfect co-parent to Megan and friend to Harrison.
Fletcher… for the most part. See below.
Ellis, George and Megan's teacher. His book is next.
What I didn't like –
Harrison. While not as bad as Tate was in his book, still pretty bad. He's a stuck-up snob and acted so silly when Fletcher hit on him at the bachelor auction. This silliness carried over to pretty much the entire book. He was so wishy-washy that I found myself rolling my eyes more often than not.
Fletcher. He was funny at times, but he was also a doormat when it came to Fran, George's mother. There were also a lot of times when his joking made him look silly, not humorous. Also, Harrison tries to help him with some pretty important stuff, but Fletcher acts ridiculous about it.
Drama, drama, drama. Lots of unnecessary drama that dragged on much too long. A witchy mother (Karina) at the school tried to sabotage the school's Spring Fair, that Harrison and Fletcher had been asked to put together this year. The book goes on and on about it. Something major happens, and there's a quickie resolution that's not really on-page. There was also an issue with a sleazy attorney at Harrison's new firm, the nephew of the senior partner. That didn't really play out the way I felt it should have. It was kind of a build up to a whole lot of nothing.
Fran, George's mother. Where do I even start with Fran? She hasn't been a mother to George for five years. She lives in Europe living her own life while her son lives in Stillwater with Fletcher. Suddenly, Fran wants to be 'mother of the year' and what do you know? Doormat Fletcher allows it, not bothering to stand up for himself or his son until WAY into the book. Even then, it wasn't enough. He even goes along with a few things because 'he doesn't want to hurt Fran or cause issues between her and George'. Uh, the kid would've been better off had you stood up for yourself. Just sayin'.
Big misunderstandings. There were quite a few of those, especially after Harrison and Fletcher became an official couple. They never communicated unless it was about their wants in bed. I didn't get it. They would take others at their word instead of sitting down talking to each other about whatever it was.
Way too long. Antagonist is 342 Kindle pages. Every single thing that happened in this book could've been told and resolved in around 200 pages. It dragged more often than not.
Tate. Yeah, I still hate him, though he and Indy were barely in this book.
Not really a standalone series. I mentioned this at the top of my review. While I suppose people who haven't read Tate and Indy's book might understand this one, it's much better for those who have. Or maybe not considering how much I hated Tate.
I've since gone back and finished the Chester Falls series. The author DOES mention the Stillwater series at the end of the last book, How To Catch A Happy Ever After, so I stand corrected.
~*~
I think I'll stop there. I want to say I really liked this book but I can't. I had the hardest time getting through it because it dragged so much, and the back and forth between Harrison and Fletcher drove me nuts.
I do love the guy on the cover. It was easy to picture him as Fletcher.
I may read the next one when it's released because I'm curious about Ellis and Milo. Whether I do or don't will probably depend on how long the book is.
Since writing this review, I've gone back and finished the rest of the Chester Falls series, as I mentioned above. While I don't think Fletcher was in any of those – except for Fletcher being used as Harrison's last name – I do remember Harrison a little more now.
2.5 stars, bumped to 3.