How To Catch The Boss (Chester Falls, 4.5), Ana Ashley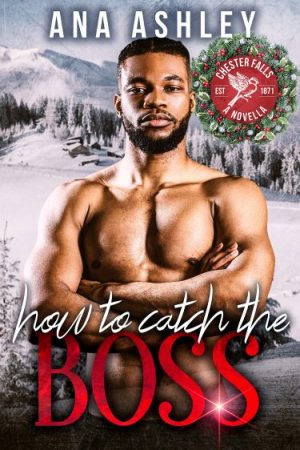 Rating: 4.5 Stars
Publisher: Ana Ashley
Genre: Gay Romance
Tags: Contemporary, Christmas, Friends to Lovers, Interracial Couple, Romance, Series
Length: 188 Pages
Reviewer: Cindi
Purchase At: Amazon
Blurb –
I'm in love with my brother's best friend.
Have I also mentioned he's my boss?
Working with Ryan is a daily reminder of what I can't have.
But how do I tell my heart that?
When we're trapped together in a log cabin, in the snowy mountains of Lydovia, just before Christmas, I realize my feelings might not be completely one-sided.
Ryan's afraid of losing my brother's friendship, but how can I go back to not being with him?
How do I make him see that what we have is worth the risk?
Caution! contains:
Excessive pastry consumption
Food-themed underwear
A voyeuristic deer
A meddling royal family
How To Catch the Boss is a 30k, MM romance holiday novella set in the world of Chester Falls.
This novella can be read as a standalone, although it will be better enjoyed as part of the Chester Falls series since it contains recurring characters.
Review –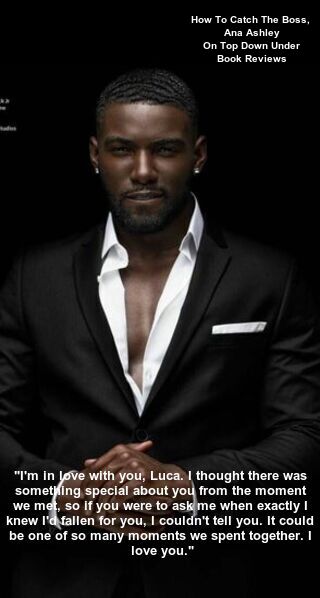 This one, I loved. I just read the first Dads of Stillwater book and that reminded me that I never did go back and finish the Chester Falls series. I was really nice going back into the world of Prince Kristof and Charlie. It was also really nice seeing both of them in this one. I loved them just as much in How To Catch The Boss as I did in their book, #1 in the series. It was also nice seeing some of the others from the first couple of books. My favorite books in the series are the ones that take place in Lydovia, the small country where Kristof is a prince and his sister is queen. Normally I don't read 'royal' books but these work for me.
Luca has been working as a Royal Special Guard for six months. His immediate boss is none other than Ryan, Luca's brother's best friend and the man he (Luca) has been in love with for over a decade. Even so, he keeps that to himself. One, Ryan's his boss. Two, his brother (Santiago) would probably strangle them both if they were to get involved with each other.
Ryan has been in love with Luca for as long as he can remember. Hiring him as one of his guards when Luca left the military was probably not the smartest thing he'd ever done. Sure, he gets to see Luca every day, but he's seeing Luca every day. It's hard for Ryan to keep his feelings to himself, but he knows he has to. Santiago has always been there. No way on this planet would Ryan do anything to hurt that friendship.
Well, apparently the two guys aren't as good at keeping their feelings to themselves as they think.
This is where Charlie, who's days away from marrying Kris, comes in.
Ryan takes a week off and goes to the only real private property the Royals own, a log cabin way back in the woods. This doesn't sit too well with Luca because Ryan never mentioned it to him. His feelings are even a little hurt. That doesn't matter. Matchmaking Charlie suddenly needs something picked up from the cabin, and, "Would you be a sweetie and take a bunch of boxes of Christmas stuff to the cabin when you go?" I'm paraphrasing, but close enough. You know, it's totally a coincidence that Charlie is sending Luca to the cabin Ryan happens to be at. Not.
Have I mentioned how much I love Charlie?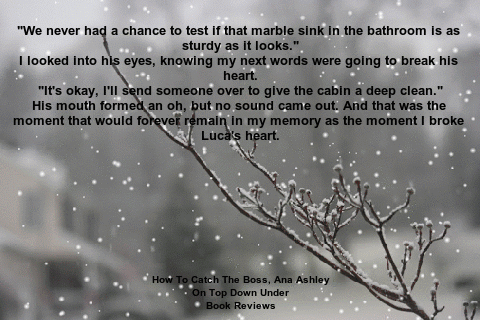 Anyway, Luca makes it to the cabin but he doesn't quite get the welcome he was hoping for. That changes shortly after he walks inside with Ryan. They've always been friends. Friends who secretly love each other but still. They can both use their friendship – and the thought of Santiago finding out – as an excuse to keep their hands (and other body parts) to themselves.
Of course it doesn't quite work that way. One little snowfight and everything changes. Granted, it took Ryan a little while to get his head out of his ass finally give in to his feelings, but when he does? HOT! After their first time, Ryan has a bonehead moment but he quickly rectifies that.
Everything is going perfectly for Ryan and Luca. They're enjoying their time together in their own little bubble away from everybody. That changes the day before they're supposed to head back when the 'he's Santiago's brother' slaps Ryan in the face. Ah, another bonehead moment, but again, it didn't drag out. Well, it did, but not for too long.
I love how everything was resolved, even if Ryan briefly hurt Luca's feelings before it happened. I didn't love, LOVE Ryan, but I liked him well enough, I suppose. I adored Luca and his goofy boxers.
I loved seeing the other characters, especially Charlie, from the first couple of books. The next book is back in the town of Chester Falls. 🙁 But I enjoyed my time back in Lydovia, even only for just a little while.
And for the record, Charlie and Kristof weren't the only matchmakers in Lydovia. Everybody, it seemed, knew how Ryan and Luca felt about each other even if they hadn't quite figured it out yet themselves.
I can't not mention Mrs. Nosy Deer, a voyeuristic deer who liked to watch Luca and Ryan through the cabin windows. That part was really cute.
A really good book.
Ryan and Luca are perfect together.
I know the guy in the photo looks nothing like the model on the cover, but I knew as soon as I saw it I'd be using it in my review. The reason for that is pretty much self-explanatory. 😉
Now off to the next one in the series.