How to Catch a Prince (Chester Falls #1), Ana Ashley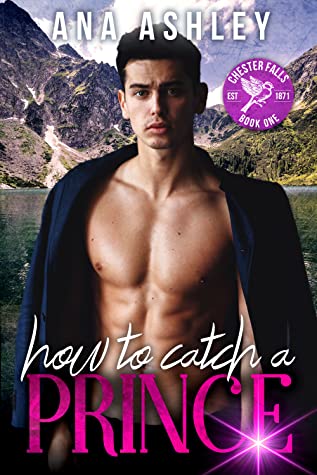 Rating: 4.5 Stars
Publisher: Ana Ashley
Genre: Gay Romance
Tags: Contemporary, Fake Boyfriend, Romance, Series
Reviewer: Cindi
Purchase At: Amazon.com
Blurb –
When you're faking a relationship, the last thing you should do is fall in love…especially with a prince.
Charlie is back in his hometown of Chester Falls for his sister's wedding. What he needs is a date to keep him away from the wandering hands of his ex.
Prince Kristof of Lydovia, or simply Kris, needs an escape from the latest press scandal. Hiding away in an American small town doesn't mean he can't pretend to not be royal, or be someone's boyfriend. Especially when that someone keeps falling all over him, literally.
Intense chemistry
A family wedding
Too many secrets
When their fake relationship starts to feel very real, and the press closes in, how will Kris and Charlie handle the fallout? And when the truth comes out will Charlie catch his prince, or will he let him go?
Welcome to Chester Falls, where you can expect to meet sweet men, sexy situations, interfering friends, lots of feels, and a happy ever after.
Book One in the Chester Falls series. How To Catch a Prince is a sweet and steamy MM romance novel with no cliffhanger, and a guaranteed HEA.
Review –
A lot of readers love the fake boyfriend trope. I'm not one of them. Not usually anyway. I've read some that have worked but the majority bug me because they're so predictable. It worked in How to Catch A Prince. It was still predictable but it didn't matter. I adored both Kris and Charlie.
Just leave reality at the door if you go to read this. If you can do that, no doubt you'll enjoy it as much as I did.
Charlie has to go to his sister's wedding. He's dreading it because his still-closeted ex will be there. The ex, Rory, is Charlie's brother's best friend. Because Rory's not out nobody in the family even knows they were in a relationship. The last thing he wants to do is be in the same room with the guy who cheated on him the entire time they were together.
Prince Kristof of Lydovia (aka Kris) is involved in yet another public scandal. As with almost all the others, he wasn't anywhere near where the press claimed he was. His ex, Sergei, was but not Kris. Even so, he's been told to disappear for awhile. There's a dinner with the American president in a few weeks and they expect Kris to attend. Hopefully by then the scandal will have died down. The first place James (his bodyguard) takes Kris is a no-go. They never even make it inside before they're being told the press has been calling and asking questions. So James makes a quick call and they're back on the road again, this time heading to James' small hometown of Chester Falls, Connecticut. The Old Mill is being converted into apartments and a couple of them are ready and completely furnished. As soon as Kris is dropped off there he knows the place is perfect. He should be able to hide out in Small Town, America and not be recognized by anybody. Or so he hopes.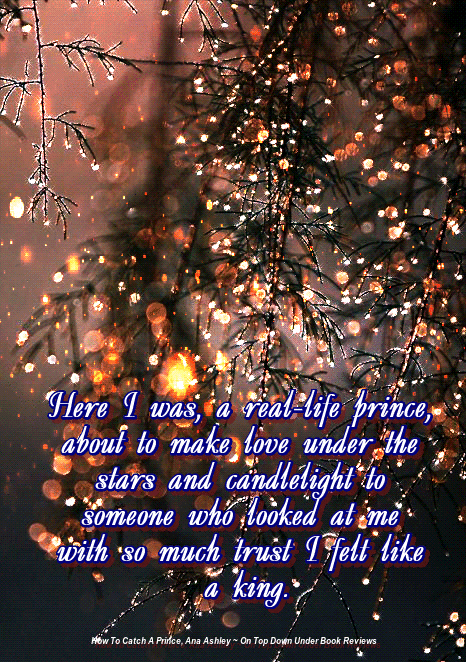 Charlie comes home to Chester Falls for the wedding with the intention of staying in his old bedroom at his parents' house. When he arrives he's told that he'll be sharing a room with Rory because of some lame excuse Rory gave about repairs or something being done at his place. Charlie knows it's a set up by Rory but he can't tell his parents that without giving the reason why he refuses to stay there. Charlie leaves in hopes of finding a hotel but they're all booked solid. He's about to give up when he runs into someone who tells him about The Old Mill and how there's a furnished apartment he can use while he's in town.
Yeah, you totally see where this is going. 🙂
Charlie meets his new, temporary neighbor (Kris) when said neighbor trips over Charlie's suitcase in the hall, effectively pulling Charlie down on top of him. To say there's instant attraction is an understatement. They end up going to a diner next door for dinner and then for breakfast the next morning. They both know nothing can happen between them because they're both only in town for a few days. Kris shares very little information about himself for obvious reasons. Charlie, on the other hand, shares quite a bit about his. He tells Kris about Rory and how he's dreading the wedding because of him. He's eager to see his sister and her fiancee get married, and he's eager to spend time with his family, but he's not wanting to pretend to make nice with his brother's best friend.
Everything changes when they're in a park and bump into Charlie's aunt. She wrongly assumes that Kris is Charlie's boyfriend and even makes a point in inviting him to the wedding. Kris goes along with it because he really wants to spend more time with Charlie, and he's not overly thrilled about Charlie being anywhere near his ex. He barely knows Charlie and he's a little jealous already. It was cute.
So, they decide to do things that week as fake boyfriends. Only the fake part of that scenario goes right out the window when real feelings get involved. While I wouldn't say they fell in love the minute their eyes met, it did happen relatively quickly. Kris feels bad because he needs to tell Charlie the truth about who he is but he doesn't want to bring him into the craziness of being involved with a Royal. And he doesn't want to take away from what they have. Right now they're just two regular guys. How will Charlie react when he finds out that the man he's falling for is a prince?
The truth comes out anyway and not from Kris. I felt so bad for both of them at that point. I despised the person who told, and no matter how the author tried to make the reader have sympathy for her, I damn sure didn't. She was a snake.
I found myself again in an alternate universe. My head started hurting. How had I found myself in a room with my ex-boyfriend, who was my brother's best friend and in the closet, to my fake boyfriend who I wasn't sure was so fake anymore, my fake boyfriend's ex-boyfriend, my brother, who may have just been dumped by the maybe not-so-wicked Witch, and my fake boyfriend's security guard who seemed to have not got the memo that my brother was straight.
I needed to get some fresh air.
Yeah, she was still a wicked witch.
Charlie is understandably upset, feeling like he was being made a fool of. Kris, on the other hand, is downright devastated. He's truly fallen in love with Charlie, prince or no prince, fake boyfriend or no. It doesn't matter that it's only been a few days. He knows what he's feeling is real – and he knows that Charlie feels the same way.
This is when I absolutely fell in love with Kris. I already adored him but this sealed it.
"We're not pretending anymore, are we?" I asked.
Kris shook his head. "I never was, Charlie. I never was."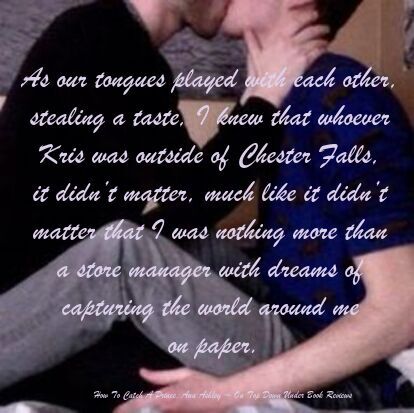 That's all I'll say about the story.
I loved both Kris and Charlie. I loved Charlie's family and Kris' sister, the future queen. I loved watching Charlie and Kris go from literally bumping into each other to so much more. Another character I loved who wasn't even in the story that long is Tom Jones (yes, that's his name), Charlie's roommate. He was hilarious. Tom's story is next but the one I'm really looking forward to is book #3, James' and Connor's.
Rory was the perfect jerk. His story was hinted at (along with his future love interest). I'll be curious to see if he can redeem himself.
I only had one problem with this story. The conflict – re: somebody outing who Kris was – was resolved much too quickly and much too easily. Even so, it was a good book. There's an epilogue that takes place a year later. I would've liked to have seen a little more about what happened in the twelve months leading up to it, but I was happy with the way it ended. It was a definite aww! moment.
A really sweet love story.