How To Catch A Happy Ever After (Chester Falls, #7), Ana Ashley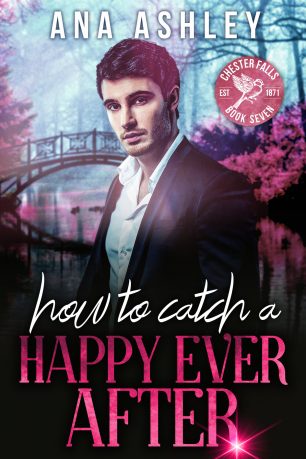 Rating: 4 Stars
Publisher: Ana Ashley
Genre: Gay Romance
Tags: Contemporary, Christmas, Closeted MC, Established Couples (Mostly), Mutiple POV, Series, Small Town
Length: 280 Pages
Reviewer: Cindi
Purchase At: Amazon
There are major spoilers in this review for this book and the entire Chester Falls series.
Blurb –
You are hereby invited to the wedding of the century.
Yes, you got it, Tom and Wren are getting married this Christmas.
Drama.
Sparkles.
Well intentioned, but meddling friends.
Surprise pregnancies.
This wedding is set to have it all, including a brand new couple who is well overdue for their Happy Ever After.
How to Catch a Happy Ever After is the final book in the Chester Falls series. Told from multiple points of view, this book is not a standalone, but better enjoyed after previous books in the series.
Review –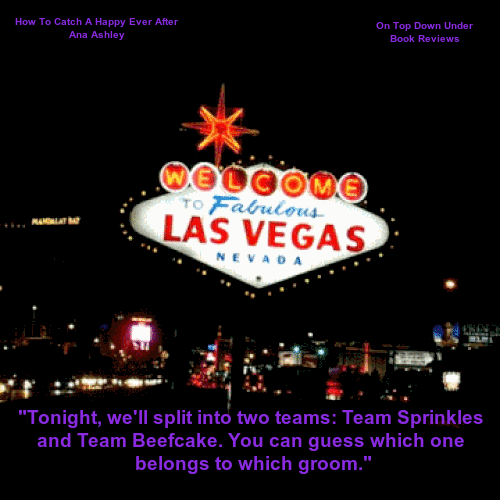 The first thing I'm going to say is that this can NOT be read as a standalone book. It covers all the books and main characters in the Chester Falls series, starting from the very beginning. The chapters alternate between the points-of-view of all those characters – Rory, Wren, Charlie, Sergei, Indy, Tom, Slade, James, Tate, Micah, Kris, Ben, Ryan, and Santi. <<<— That's the order the characters are listed, with some obviously having more than one chapter. I may have missed one. I was trying to read and keep notes of each story at the same time.
This is a romance between Rory and Sergei, but it's also about Tom and Wren getting married and tying up any loose ends from the previous stories.
That's 14 different points-of-view. If you've not read the series, you'll be lost.
Rory and Sergei are my least favorite characters in the Chester Falls series behind Tate, Indy's man. Tate kind of made up for being such a jerk in How To Catch A Happy Ever After, but he was the sole reason I walked away from the series at the end of 2020.
Rory and Sergei were both introduced in How To Catch A Prince, the first book of the series, and one of my favorites. Rory was Connor's best friend (from How To Catch A Bodyguard, #3 in the series), He was also a using bastard with Charlie, Connor's brother and a main character in the first book. Rory wasn't out of the closet, and he did everything in his power to keep it that way, including using poor Charlie for secret sex and then treating him like crap later.
I really despised him.
Sergei, on the other hand, was Kristof's (from How To Catch A Prince) longtime best friend and sex buddy. While I didn't dislike him as much as I did Rory, I wasn't a fan.
So, now they're both in Chester Falls for Tom and Wren's wedding (they're from How To Catch A Rival, #2 in the series). Sergei is the head of security for Kristof's sister, the queen of Lydovia, the small country where Kristof is from. He and Kristof had a very public relationship before Charlie came into Kris' world, including more than one public scandal. Even so, the friendship stayed, even after Kris fell in love with Charlie. Sergei and Charlie are even good friends.
Sergei and Rory kind of have a history but not really. Rory is still in the closet and Sergei is definitely not. One thing leads to another and they spend a little time together and end up hooking up. They go on to find their HEA.
Rory somewhat redeemed himself to me, though not completely. He was true using bastard to Charlie way back when. I had a hard time getting beyond that, even if Charlie and pretty much everybody else immediately forgave him and that was that. I will say that the way Rory outed himself to everybody – including his very best friend, Connor – left a lot to be desired.
Now to Tom and Wren…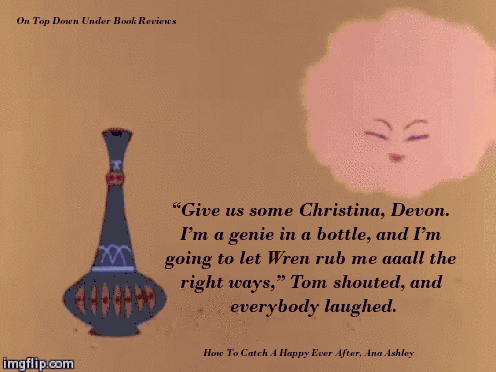 I will forever love Tom and his flamboyantly fabulous self. He's all glitter, unicorns, rainbows, and designer suits. Wren is a little more laid back. He loves Tom with everything he is and more. They get their amazing wedding but not without a bit of drama leading up to it. An NFL coach has shown up in Chester Falls out of the blue and offers Wren an assistant coaching contract. This guy – the coach – was a piece of work. The reader knows that Wren won't take the position, but it's left hanging until WAY into the book. That was a bit of an issue for me. The 'waiting on the other shoe to drop' part with the coach. It all works out nicely but not before the jerk coach goes behind Wren's back and ruins any chances of even sitting down and discussing it with Wren. One of my biggest reading pet peeves is when an author gives a couple their HEA and then comes back later with drama. No matter. It was taken care of.
For the record, I know the 'genie in the bottle' Tom was referring to. This GIF took me WAY back in time, so I chose to use it instead of Christina Aguilera.
It was nice seeing the others again. They each have their own little story within all the other stories. But as much as I love most of the characters from the other books, I found myself putting the book down more often than not. I never got confused over the quick changing points-of-view or anything like that. I know all the other characters well. Even so, for some reason, this did not blow me away, and I had to force myself to keep going back into it. It's still easily worth the 4 stars I'm rating it, but I'm thinking maybe my hesitancy to finish the book is because the new couple getting an HEA was Rory and Sergei. Honestly, I'm glad they didn't get their own full-length book. I liked them well enough in this one, but I could never really get a feel for them as a couple. Or, hell, maybe it's because they DID need more on-page time together.
I can't not mention the runaway pets. That gave me a giggle, especially after only recently reading How To Catch A Vet.
This series has been a nice ride. I know it kind of picks up with the Dads of Stillwater series. I've already read the first one of those. After reading this book, and finishing the Chester Falls series completely, I may need to go back in and revise that review. If I do, the rating will likely not change, just some of the wording.
Overall, it was nice to see all the guys together again. I enjoyed them updating us on their lives now.
4 stars.
Below are the Chester Falls books in order, along with the links to my reviews.
How to Catch a Bookworm (#.5) – Ben and Tristan's story
How to Catch a Prince (#1) – Kristof and Charlie's story
How to Catch a Rival (#2) – Tom and Wren's story
How to Catch a Bodyguard (#3) – James and Connor's story
How to Catch a Bachelor (#4) – Indy and Tate's story
How to Catch the Boss (#4.5) – Ryan and Luca's story
How to Catch a Biker (#5) – Slade and Aiden's story <<< — My favorite book in the series.
How to Catch a Vet (#6) – Santi and Micah's story.