Twice In a Lifetime (Sheltered Connections #1), R.M. Neill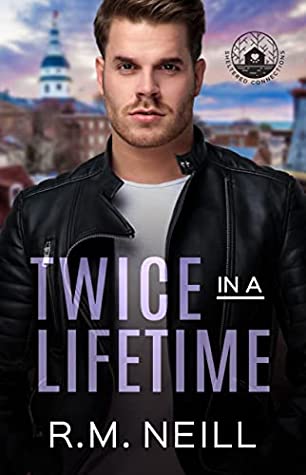 Rating: 4.25 Stars
Publisher: R. M. Neill
Genre: Gay Romance
Tags: Contemporary, Age Gap, Bi-Awakening (?), Insta-Love, OFY/GFY, Opposites Attract, Romance, Series
Length: 252 Pages
Reviewer: Cindi
Purchase At: Amazon
Blurb –
One is suffering through a fog of grief. The other crushing feelings of inadequacy.
Fate knew they needed each other.
Dominic
For the longest time, I believed we get one shot at true love. A single person that sets our soul on fire. I had that with my wife until she died, then I was lost in a dark sea of grief. In need of companionship, I decided to adopt a dog.
What I found at the shelter was so much more. Micha, the volunteer, is insanely cute and ridiculously funny. He awakens feelings within me I never knew existed. Is it possible I may get a second chance at real love?
Micha
Love just isn't in the cards for some people. And I'm among those unfortunate few destined to be alone. I trusted the wrong man with my heart once and had it shattered into a million pieces. I won't make that mistake twice. Instead, I pour every ounce of my energy into building my business and trying to convince myself I'm not lonely.
But Dominic could be the one to tear down the walls I hide behind. He's the most handsome man I ever met and unbelievably kind. I know he experienced a horrible loss. Is that what's behind his attraction to me? Or has the connection between us led to his bisexual awakening?
Twice in a Lifetime is the first book in the Sheltered Connections Series. This book involves themes of hurt/comfort, bisexual awakening, and an age gap. Swoon-worthy moments, laugh-out-loud humor, and scorching chemistry make up this 70k word story. Oh, and don't forget the cherry flavored icing.
Review –
I actually saw Finding The Right Forever (Sheltered Connections, #2) first and wanted to read it. I hate reading books out of order so I went back to Twice In A Lifetime.
Dominic, 32, has been a widower for two years. Jenny was the love of his life and it destroyed him to lose her. She was his one and only everything. For two long years he's mourned her. He's tried dating here and there, but it just didn't work out. No spark. No wanting to see the other person again. Just nothing really except Dom mourning and missing his late wife.
Micha, 24, owns his own dog grooming business. He's successful, but he traveled a long and twisty road to get where he is now. Getting kicked out as a teen, and forced to be homeless by those who were supposed to love and protect him the most, he's proud of all he's accomplished since. He was saved by his now-landlord, Roberta. Roberta is a true sweetheart, the type of person you just want to hug because you just know it will make you feel better.
Micha has been burned bad by love (re: when he got kicked out), and he's not in a hurry to attempt it again. He has his business, good friends, Roberta, and his cat Tux. He's lonely at times, but he's mostly content.
Two years ago, I was homeless, jobless and wondering if life was even worth living. Now I have a place to call home, I own a business and I'm back to being my usual confident self. Mostly. Fuck you very much, to the people that were supposed to love me unconditionally and didn't think I'd amount to anything. Look at me now bitches.
Dom's best friend Owen encourages him to adopt a dog in hopes that it'll help with his loneliness with Jenny being gone. The idea takes hold and Dom's eager for a pet.
What he doesn't expect is to meet a sexy volunteer at the shelter. At first, he thinks Micha is a woman. That thought disappears when Micha turns around. Dominic has never been with another guy. He'd only ever been with his late wife who was his high school sweetheart. But suddenly he's very much wanting to be with Micha.
One thing I loved about that was how Dom never acted weird about his attraction to Micha. If anything, he embraced it. For the first time in two years he was feeling something again – a feeling that went beyond arousal, though that was definitely there too.
A little flirting here and there and Dom and Micha are kind of seeing each other. It happened REALLY fast, over a period of a few days.
"What would you rather be called then?"
"I'd rather be called, yours."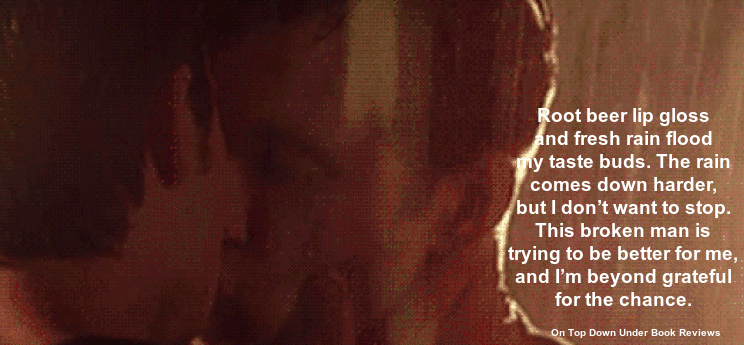 Dominic feels bad because he's caring about somebody other than Jenny. Thankfully (seriously, thankfully!) the book wasn't bogged down with Dom's guilt over wanting to be with somebody else. Not that it wouldn't have been understood if he had, but I've read so many books with lost partners where too many pages were dedicated to that partner and not enough to the new one. He had every right to be sad, to feel guilt, but his feelings for Micha were more of a happy awakening than a sad situation.
"I want to wake up with you in my arms and not care about the past. I want to live again. You make me want to do that."
Micha is understandably hesitant when it comes to Dominic. The last man he fell for treated him horribly, even leading to him being kicked out of his family and made homeless. That one had also been married to a woman, was still married to a woman. What happens if Dom gets over his little 'guy experimenting phase' and decides he wants another female? Dom had no label – not straight, maybe bi – but what if he was just bi-curious just for now?
He wasn't, but it was understandable that Micha was iffy about moving forward.
Thankfully a dog, that would be Maggie who brought them together initially, keeps them together. Maggie even brings them back together after a silly misunderstanding.
I really enjoyed this. I liked Dominic a lot. I liked Micha, but I felt he didn't handle a certain situation in a mature way. I get it. He was freaked out, thought he'd been played, but he could've at least listened to what Dom had to say. Thankfully the 'big misunderstanding' was resolved relatively quickly.
Which brings me to a couple of things that bugged me…
Tara. Tara was Jenny's best friend. She's now an annoying friend (though I use that word lightly) to Dominic. Dom feels he has to keep talking to her, spending time with her here and there, because he feels that's what Jenny would've wanted. It was easy for the reader to see in the beginning that Tara wanted more from Dom, but he didn't see it. To him, Tara was simply his late wife's best friend. He wouldn't have even spent time with her had it not been for Jenny.
The Tara thing was over the top when she showed her true colors, but not so much leading up to it. I knew something was going to happen. It was simply too predictable for it not to. But the way it happened was just too much, especially after her only being mentioned a couple of times early in the book. Even so, it was resolved quickly enough, I suppose.
Editing. I can ignore a lot – a misspelled word here and there, a few punctuation issues, mildly screwy timelines. It's really hard to ignore constant punctuation issues throughout the book. Commas were either nonexistent or in places they shouldn't be. This wasn't a page or two. It was every single page. There were only a couple of misspelled words – that I wouldn't have even mentioned had it not been for the other stuff. Also, a couple of times I got confused on timelines, mostly times of day, not necessary weeks or whatever. I had to go back and reread certain sections to understand what I was reading.
I read this book over 7 months before publishing this review, though I'd had it typed in a draft. If the corrections have been made since, my apologies to the author. If not, my comments stand.
Those things aside, I really enjoyed this. Micha came across as a tad immature a couple of times but not so much it had me putting down the book. Dominic was perfect, probably too perfect. Not only was he all in when it came to Micha – even if he'd never been with a man before – he was a true romantic and did such sweet things to show his feelings.
A really good book that could've been even better had it been more polished. Honestly, Tara and the editing are the only reasons I'm not rating it higher. Dom and Micha were really good together. I'll be continuing the series.