Mountain Fever: A Reverse Harem Romance (Stone Brothers #1), Bethany Jadin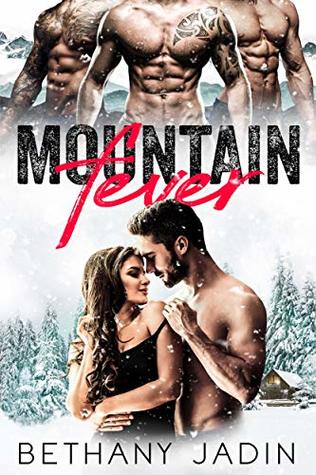 Rating: 5 "Sexy Mountain Men" Stars
Publisher: Jadin Press
Genre: Polyamorous Erotic Romance
Tags: Contemporary, Cliffhanger, Erotica, Multiple Partners, Start of a Romance, Series
Reviewer: Cindi
Purchase At: Amazon.com
Blurb –
A mountain rescue, a wicked blizzard, and three rugged, hot-as-sin brothers, who all want her. An accident sends Addie tumbling into our lives, shattering our quiet isolation. We're none too pleased about having an uninvited guest, especially since this storm's going to last a while. But she's got sweetness and sass, not to mention seriously tempting curves. Soon the fire isn't the only thing heating up our cabin, but once we've had her between us, letting her go might not be so easy…
The Stone Brothers is a sizzling reverse harem series featuring a sweet and fiery romance with intense chemistry, devilishly-handsome men with dirty mouths, firm hands, and hard, unprotected wood, enough steam to melt the snow right off the mountains, and a heart-tugging, emotional rollercoaster of a storyline.
Mountain Fever is book one of this reverse harem series.
Love without limits. #whychoose
Review –
As with the last couple of books I've read, Mountain Fever isn't the type of book I'd normally pick up. I've read a couple of decent reverse harem books but none that were really that memorable. Mountain Fever is different.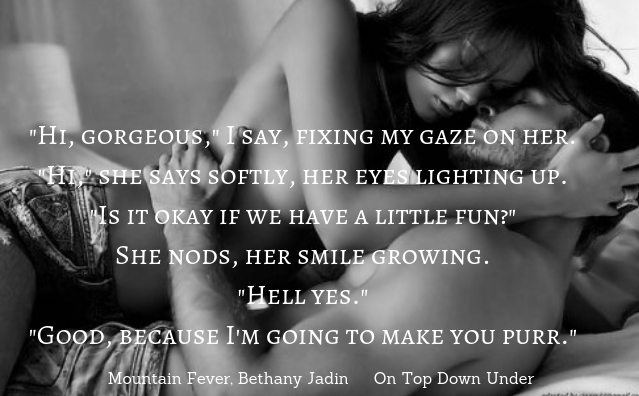 Addie is moving in with her boyfriend Jason. She walks into what she thinks is her empty apartment to grab some final items only to find Jason in Addie's bed with another woman. After dumping the jerk, she rushes back to his place and grabs suitcases that had been packed for a so-called special vacation she and Jason were supposed to take together. Needing to get far away from everything, she decides to go to the fancy ski resort alone. It was already paid for by Jason, so why not? Her first day there she has a bit of an incident on the slopes so she switches from skiing to hiking, eager to make it to the top of the mountain before hiking back down to the resort. Along the way she spots three ruggedly handsome men chopping down trees for firewood. They're all gorgeous and nothing at all like the prim and proper Jason she left back home. She instantly gets turned on by them. After taking a few pics of the guys with her expensive camera, she continues her hike. One misstep is all it takes for her to take a huge tumble down the mountain. Thankfully the three men she'd been almost drooling over earlier hear her scream. With their dog Daisy they rush to where Addie has been knocked unconscious. They take her back to their place to tend to her wounds, knowing that had they not been there to help her she'd freeze to death during a blizzard that will be upon them in only a few hours.
The Stone brothers – Colt, Remi, and Wes – live in a cabin high up in the mountains. They have a successful woodworking business that keeps them fed, clothed, and content living far away from the resort towns below. There's some talk about something their father did that brought shame to the Stone name. This keeps them away from people who look down their noses at the brothers for something that had nothing to do with them. They have a sister, Ann, but she moved away when she was old enough to. She's close to her brothers but only comes to visit them on occasion.
Addie wakes up in an unfamiliar bed. She looks around and sees the three men she'd seen before she took her fall. Colt, the oldest, is a bit serious. It's obvious that he's the one who keeps the other brothers grounded. There's Remi who's a bit of a jerk in the beginning. Then there's Wes, the youngest of the three, who's hot as hell covered in tats. Wes is more the live and let live type.
"You weren't up for long," he says, "but you did call us – what was it?"
He looks over at who appears to be the eldest of the men, and Tall and Yummy says, "Hottie hunks."
Oh my God.
"I think there was a 'mountain man candy' in there somewhere, too," Sexy Tattoos adds, an amused grin on his face.
Kill me now.
After intros and the brothers explaining to Addie what happened, she's told that she's stuck with them until the blizzard is over.
I could think of worse places to be stuck during a snowstorm. Just sayin'. 😉
After getting to know the guys some Addie starts feeling a little at ease and a lot turned on. Several hours later, she suggests a game of Never Have I Ever, that the men have never played before. This is when things start heating up. Remi doesn't pull any punches. After easing Addie into confessing a few things, he puts her on the spot in regards to what she wants to do. The brothers had seen the way she looked at them throughout the day and they are damn sure ready and willing if she is.
She is so ready and willing.
What a hot, hot story with some of the best sex scenes I've ever read. Each brother gets a turn with Addie, who's loving every minute of the attention. There's a bit of a power thing with the brothers a time or two but it doesn't last long.
There's more than a little insta-love happening with Addie and the brothers when they all discover that what they're feeling goes beyond when they're naked. They miss each other terribly when they're apart for a short time and it's not just missing the sex. Strangely, it all worked for everybody.
I really liked all four characters. Addie is a strong, independent woman who knows what she wants and has no problem asking for it or taking it when it's offered. Colt, Remi, and Wes are all amazing. Each one has a unique personality. They're all so different yet not. I adored them all.
This ended on a cliffhanger so I'm off to read the second book. I'm hoping I enjoy that one as much as I did this one.