Mountain Cure: A Reverse Harem Romance (The Stone Brothers #2), Bethany Jadin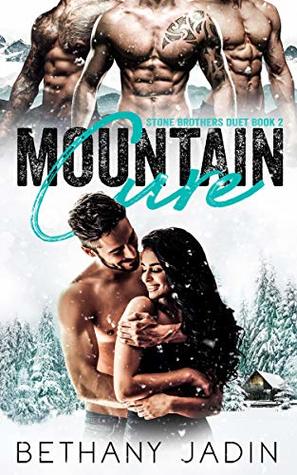 Rating: 5 Stars
Publisher: Jadin Press
Genre: Polyamorous Erotic Romance
Tags: Contemporary, Erotica, Family Issues, Multiple Partners, Series
Reviewer: Cindi 
Purchase At: Amazon.com
Blurb –
Addie found the cure for her wounded heart in the place she least expected—in the arms of three passionate, dominant men. As spark fly, they discover more than just the heat of desire—a connection so deep it shakes them all. They've lit a fire none of them expected, but Addie's vacation is almost over. Will the embers cool and die, or will their unconventional romance grow into a lasting inferno?
The Stone Brothers is a sizzling reverse harem series featuring a sweet and fiery romance with intense chemistry, devilishly-handsome men with dirty mouths, firm hands, and hard, unprotected wood, enough steam to melt the snow right off the mountains, and a heart-tugging, emotional rollercoaster of a storyline.
Mountain Cure is book two of this reverse harem romance series.
Love without limits. #whychoose
Review – 
This was not at all what I was expecting. I went into Mountain Fever thinking I'd be reading mostly porn without plot. That's pretty much what I've always found in the 'reverse harem' type books I've read. What I got was a real story. The sex is there – and it's so hot! – but it's not just about sex with the Stone brothers and Addie. Sure, that was most of the first book but there were also glimpses of Wes, Remi, and Colt's life outside of the bedroom.
Mountain Fever ended on a cliffhanger. I didn't mind because I knew I could immediately go into Mountain Cure when I was done with that one. Mountain Cure literally picks up at the exact moment that Mountain Fever ends. That's a good thing because what was happening was pretty important.
The first book covered Addie meeting the brothers after a hiking accident and being snowed in with them for a few days. It didn't take long before Addie was having sex with all three of the men and having the time of her life. She'd just dumped her loser cheating boyfriend (that would be Jason) and had no problem falling into bed with Colt, Remi, and Wes. They gave her something he never did – their undivided attention. They never pretended to be anybody other than who they were, unlike the ex who was all about appearances.
What nobody expected was to feel things outside of arousal. The brothers were away from Addie for a short time before they were missing her like crazy and not just missing getting her naked. It was the same way for her.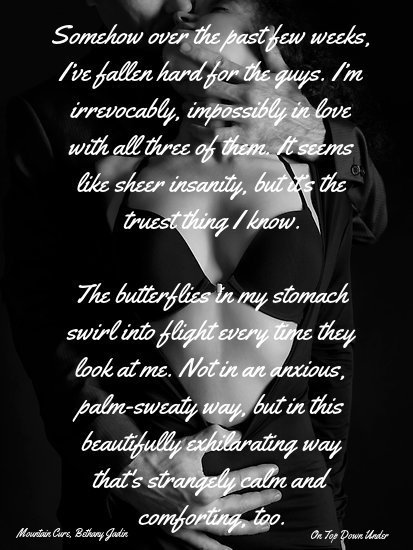 Mountain Fever was mostly about intros and learning some of the backstories without giving too many details. And, of course, it was about lots and lots of sex. That changes in Mountain Cure when the reader is able to catch more than glimpses of what made the brothers move to the cabin in the mountains and stay there. Their family history comes out little by little as they fall harder for Addie. A few things come out about Addie as well, but this is mostly about Colt, Remi, and Wes.
The book I thought would be nothing but sex, sex, and more sex ended up getting me teary more than once as I watched these men face their past. They were also working toward having something with Addie long-term, though nobody was quite sure early on how to make that happen – or knew if Addie wanted that to happen. Addie is a city girl on vacation. The brothers live in a remote cabin in the middle of nowhere without internet and cell signal. How could they expect Addie to want to give up her city life to live in a place where she may not see anybody other than the brothers for maybe weeks at a time?
What they don't know is that Addie wants to be with them permanently so bad she aches from it.
I loved watching things fall together for these guys and Addie. The brothers have different nick names for her, that I found to be cute. She's kitten, sweetheart and princess, and dirty girl. Sometimes the cutesy names annoy me but coming out of the mouths of these guys? It was downright charming.
Addie is a strong, independent woman but it was fun watching her give up control to the brothers. Like in the first book there was no silly jealousy or power struggles between Colt, Remi, and Wes. They simply wanted and loved Addie equally. To them it wasn't weird or anything, nor was it strange with all of them playing with her at the same time.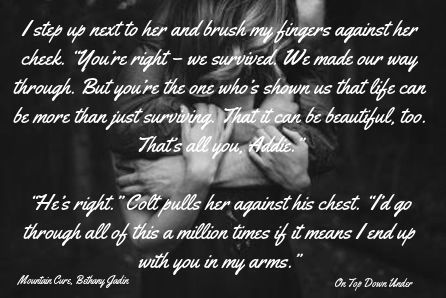 There's some drama with Addie's ex at one point and that was to be expected. I was a bit shocked by what he did but not by what was done to him. There were some questions left unanswered in regards to him and other players in the story that I've not touched on in my reviews. There are also a few things about Ann, the sister of Colt, Remi, and Wes that weren't elaborated on that need to be. I ended this with the hope that there's another story forthcoming with the answers to those questions. If not, I'll have to come back to this review at a later date and revise my rating. It deserves 5 stars because of the relationship between the guys and Addie, but I don't like things left hanging unless I know for sure there will be another book.
Overall, a fantastic book. I went into this series expecting straight up erotica. What I got was a beautiful love story between four people. At no point during my reading did anything seem weird or even implausible. The authors wrote the characters in a way that you can't help but hope for them to have a true happily ever after.
I'll definitely be reading more by these authors.