How To Catch A Biker (Chester Falls, #5), Ana Ashley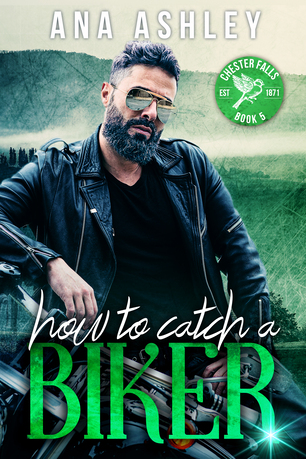 Rating: 5 "Bad Boy Biker" Stars
Publisher: Ana Ashley
Genre: Gay Romance
Tags: Contemporary, Age Gap, Opposites Attract, Romance, Series, Small Town
Length: 288 Pages
Reviewer: Cindi
Purchase At: Amazon
Blurb –
What do you do when you meet the tall, gruff silver fox of your dreams?
You flirt, pretend it didn't happen, and secretly admire his assets.
For research purposes, of course.
I came to Chester Falls to find my voice and save my publishing career.
Instead, I find him.
Slade's story is kept under a lock so strong I don't know if there is a man out there that can break it.
But I'll be damned if I won't give it a try.
A biker with a past
A down-in-the-dumps author
A kitten with a tiger attitude
Two guys that discover there isn't that much mileage between reality and fiction.
How to Catch a Biker is the fifth book in the Chester Falls series and features a May/December story between two guys who have more in common than they think, a group of friends who think everyone needs to be in love, and a small town like no other.
Review –
I love books with characters who have substantial age gaps. In How To Catch A Biker, there are eighteen years between Slade (48) and Aiden (30). I also like opposite attract stories if they're written right. It was definitely written right in this book.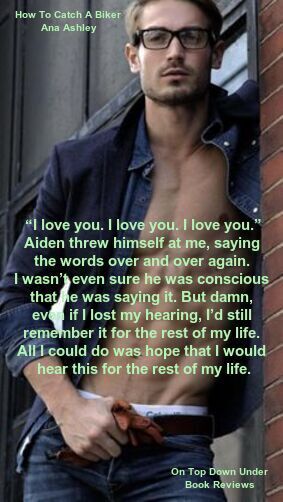 Slade has been living in Chester Falls for six years. He owns a successful motorcycle slash car repair shop, and loves the town he lives in, having been welcomed with open arms right off. Slade is a big reader, with gay romance being his genre of choice. He was married to Mike but that ended when Mike decided to play around with other guys. Even so, Slade had pretty much checked out of the relationship before Mike was caught cheating. Not just checked out. There are things in Slade's past that he couldn't ever share with his husband, or anybody else for that matter. For now, he's content enough being single.
Aiden, a successful romance author, is Wren's (from How To Catch A Rival, #2 in the series) best friend. He grew up in New York with wealthy parents but moved to San Diego pretty much to get away from them and their constant need to tell him how to live his life. I remembered Aiden from Wren and Tom's book, but I went back into it to refresh my memory on a couple of things.
After a bad breakup, Aiden hasn't been able to write for the past year. Apparently Richard (the ex) only cared about Aiden's family's money and connections. He was also a cheating bastard. Aiden's come to Chester Falls to lick his wounds, so to speak, and hopefully get motivated to write again. He has an idea for a story that he's hoping will get his creative juices flowing again. That story will have a biker type main character. He knows nothing about bikers at all so a lot of research is in order.
Slade and Aiden meet at Chester Falls' annual book fair that's put on to raise money for charity when they both reach for the same book. It's a little awkward but nothing major. They meet again a few days later when Wren takes Aiden to Slade's shop to meet Slade, not knowing they'd already met briefly. Aiden had no clue – when they met the first time – that Slade was a biker. That helped considering he'd been picturing him as his main character since he first laid eyes on him.
Slade agrees to help Aiden with his research, especially when he figures out that Aiden is his favorite author. Aiden will come by every night when the shop closes and Slade will explain things and answer all questions Aiden may have. Well, not all questions as Slade has a past that's he's not willing to revisit. Those things in his past are the same things he couldn't share with Mike when they were together.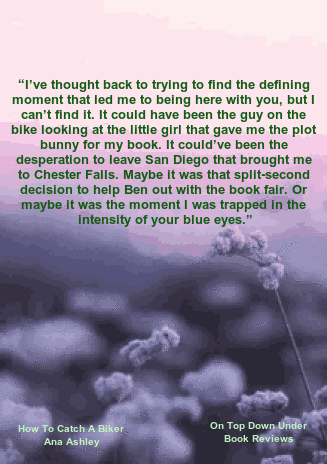 It doesn't take long before Aiden and Slade are playing around. I was so glad that it didn't drag out before they hooked up. Well, maybe at first, but once it got going, it got going good. 😉 There was no hesitancy for either man, and damn, the sex scenes were hot. Things are going pretty well between them. Aiden's learning about bikers for his book, and he and Slade are having the best sex of their lives. They're also getting closer as friends, another big plus. Their friends and the town itself are totally onboard with their relationship, though they both know everything will change when Aiden has to go back to San Diego.
But of course things are going too well. As they're secretly planning on sharing their feelings with each other, issues from both their pasts rear their ugly heads. The reader is then brought into the story of Slade and how he got to be who he is and why he doesn't share his past with anybody. Slade and Mike are forced to see each other again when there's an emergency with someone they both love. That actually went much better than I expected it to. I still didn't love Mike, but he didn't treat Aiden bad.
Aiden learns all Slade's secrets, the same secrets Slade never felt comfortable enough to share with the man he'd been married to. All is going well until suddenly it's not. Richard, who'd never really gone away completely, decides he's not quite willing to let Aiden go peacefully, though they've been broken up for a while at this point.
This is when I thought, "Okay, here we go. It's going to drag on and on before it's resolved." I just knew it was going to take forever for them to become a real couple. Thankfully, I was wrong. I absolutely LOVED how that played out. It also had me loving Slade more than I already did.
This is a great book. My new favorite in the series. There's drama but it doesn't go on for page after page. It's perfect how everything comes together. There are a couple of slight misunderstandings but nothing too bad. I loved Slade. He wasn't shy about showing his feelings, and when it really counted, he was right there for his man. I liked Aiden too, though I wasn't overly thrilled with how he handled the Richard thing. Not for long anyway. That didn't drag out. I was cheering them both on before it was over.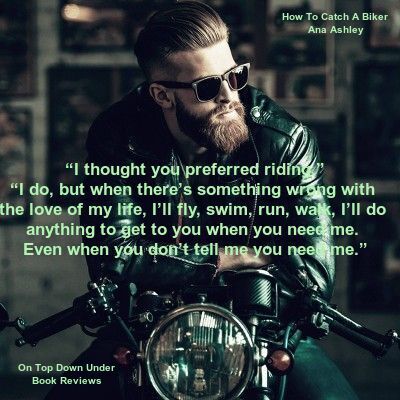 I can't not mention some of the characters from other books in the series, especially Tom, Wren's man. Tom is a breath of fresh air every single time he's on-page, whether he's in his book or any of the others. He's flamboyantly flashy and hilarious. He never fails to crack me up. I remember it taking a little while for me to warm up to Wren early on. Even so, he and Tom are perfect for each other, and he's a damn good friend to Aiden.
Tom was a one-man runway show, making the streets of Chester Falls brighter every time he walked past. Wren was a lucky guy.
There's also 'Harley' the cat. I wish Harley would've had more page time.
I'm quickly getting through the rest of this series, having stopped reading it a while back after How To Catch A Bachelor. That one kind of put me off Chester Falls temporarily because of one of the main characters, Tate. I'm glad I decided to go back into it.
Overall, a great book with two very different men.