The Anonymous Hookup, Jax Calder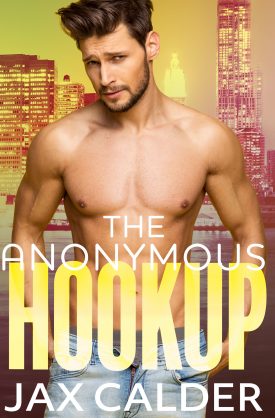 Rating: 5 'Aww!' Stars
Publisher: Jax Calder
Genre: Gay Erotic Romance
Tags: Contemporary, Humor, Low Angst, Romance
Length: 130 Pages
Reviewer: Cindi
Purchase At: Amazon
Blurb –
I've never been a strings-free sex type of guy, but when my best friend encourages me to have my first ever anonymous hookup, I figure, why not? One night of steamy sex with a stranger and then I'll focus back on recovering from my toxic break-up.
Only I'm not prepared for how incredibly hot the sex is.
Nor am I prepared to run into him again.
Because it turns out my anonymous hookup might not be so anonymous after all…
This low-angst 29,000-word novella is full of fun banter, steamy times, sweet times and contains a few surprises along the way.
Review –
Lane has recently broken up with his pretentious, snobby, asshole ex, Preston. Preston was only in the book briefly, but it didn't take much to see what kind of guy he was. An accountant, he was all about status, appearances, and money. Lane is a high school English teacher whose idea of a night in consists of playing online chess and grading papers. Lane's job was beneath Mr. I'm Perfect Preston.
Spoiler: He's not perfect.
One night Lane's best friend, Jules, pushes him to have a quick, anonymous hookup. Lane's not exactly an anonymous hookup kind of guy. Even so, he gives in to Jules, even agreeing to write an article about his experience for her successful blog.
"You need to have a hookup," is how my friend Jules first broaches the idea. No lead in, but that's Jules to a tee. Jules has been my best friend since we were ten and she doesn't call a spade a spade. She calls it a poor excuse for a shovel.
"No strings. Just hot and heavy sex."
~
I'm twenty-five. My sex life really shouldn't have boiled down to the quality relationship between my right hand and my laptop.
They go to a bar and Jules points out a guy who Lane can definitely see himself hooking up with. Lane has barely walked up before the man is definitely onboard with being his anonymous fling.
This is when the story begins.
The man's name is Sam, by the way. Lane just doesn't know it yet.
The sex is the best either man has ever had, but they agreed to only one time, so one time it is. No names, no exchanging phone numbers, nothing except going their separate ways. They do this knowing they'll probably never see each other again. Only they do see each other again… and again… and again. 😉  They keep popping up where the other one is. With their sexual chemistry, they don't attempt to stay away from each other, and end up spending a lot of time together – still saying they don't have a relationship. They don't even exchange first names until they kind of have to. Even then, no last names, not much family talk, and definitely no exchanging details about their jobs.
But, of course, all that flies out the window when they coincidentally bump into each other again in a professional setting. You know, just hours after they woke up in the same bed together. Last names are thrown out in intros, so no keeping secrets any longer. Before they know it, they're spending almost every night together, but it's not a relationship according to Lane.
It was definitely a relationship, but I couldn't fault Lane for being hesitant. Preston had done a number on his self-esteem.
Fate has a funny way of changing things.
Surprisingly, I liked Jules. I say surprisingly because I usually don't like female best friends in the books I read. They're normally nosy and intrusive. I wasn't sure about her at first, but I ended up really liking her before it was over.
Then there's Alice, Sam's mother. I wasn't sure about her at first either, but I totally adored her before it was over.
This is a very, very good book. All the coincidences leading up to Lane and Sam's HEA were entertaining to watch. One thing did kind of bug me about that, but I got over it quickly enough. I kind of felt the amount of time it took for them to exchange first names was a bit much. No matter. It all worked out beautifully in the end.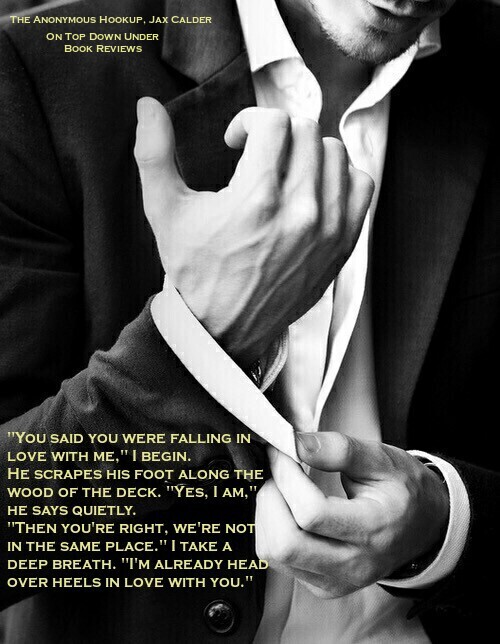 Because I feel like I have to mention it since other reviews have… there's a 'great misunderstanding'. You know how long that 'big misunderstanding' lasted? 90 seconds, max. Probably more like 45 seconds, but I'm adding a few to be safe. I only throw it out there because it was mentioned in other reviews.
I absolutely LOVED Sam. He was so perfect. There was nothing about him I didn't love. I liked Lane well enough. He was just a little slow on the uptake a few times.
The story was already good, but holy cow on the epilogue. I mentioned Sam being perfect. I won't give it away, but I was so teary-eyed before it was over. It was SO sweet.
The sex scenes were written very well. I love the guy on the cover. That's totally Sam.
Fantastic book by an author I'd never read before. I laughed a lot. I rolled my eyes a few times. I totally thought "Aww!" more than once.
No drama. Almost no angst. An almost perfect story.
I loved it.