Hitman vs Hitman, Cari Z & L A Witt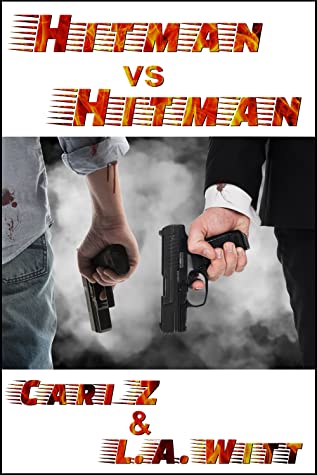 Rating: 4 Stars
Publisher: Self Published 
Genre:  Gay Romance
Tags: Hitmen (Duh), Humour, Enemies to Lovers, Some Gore
Length: 259 Pages 
Reviewer: Kazza
Purchase At: amazon
Blurb:
Ricardo Torralba and August Morrison don't agree on much besides the fact that they hate each other. According to Ricardo, August is a spoiled brat who really needs to knock off the sass once in a while. August insists that Ricardo needs a sense of humor, a good lay, or a well-placed bullet. Maybe all three.
Fortunately, the assassin's profession is a solitary one, and they can go about their lives without getting in each other's way.
Usually.
When a contracted hit turns out to be a setup for both of them, they narrowly escape with their lives. Now, even if they don't like it (spoiler: they don't), August and Ricardo have to work together if they want a shot at survival.
In between firefights and questionable interrogation methods as they hunt down their would-be killer, the cranky assassins discover that under all that mutual loathing is a spark of chemistry they can't ignore. They want to ignore it, they probably should ignore it, but August can't help flirting to annoy Ricardo, and Ricardo can think of at least one way to shut him up for a while.
But they need to focus, damn it, and figure out who's gunning for them and why.
Assuming they don't kill each other first.
Hitman vs Hitman is a standalone gay romantic suspense featuring two men who'd rather chew glass than fall for each other, a whole lot of inappropriate comments, and some buttons that will need resewing.
Review:
Hitman vs Hitman is another book very much in the style of the author's Double Trouble duology and Bad Behavior series. While it's two hitmen this time, they start out not wanting anyone else working with them. They are more likely to be interested in their standing on Rate My Hit than being buddies. Yep, hitmen have a Google style review system. Who knew? They also have handlers who get them jobs. That their individual handlers have sent both of them to make a hit on the same businessmen at the same time is interesting. That there's going to be a party at the target's mansion that night with the whos who of town makes it nothing but suspicious. Why would someone pay for a hit, and $5 million at that, for something so fraught with exposure and problems? That they're both there is a sign that particular someone thinks August and Ricardo will off each other. Clearly someone stands to gain something from this. But what? And why? More importantly, who?  Being hitmen, there could be a list of names. This ends up throwing two normally solitary workers side-by-side to find out the answers to these questions, always a promising story line.
August was two inches taller than Torralba, but there was an incredible intensity to the other man that could probably back down giants. Something about him—everything about him right now—screamed danger.
Hitman vs Hitman is a mostly lighthearted book with two interesting and complex but not (yet) fully fleshed out characters. August comes from the wealthiest of families, dresses in designer suits, and yet he contract kills for a living. It's not like he has to make a living in any manner, let alone as a hitman. That he chooses this profession makes you wonder why. August can be bitchy and fussy and not perceived as serious about the job as Ricardo. Ricardo is more of a pragmatic, blue collar pro who just happens to be the #1 rated hitman on Rate My Hit. He has a military background and he's left mostly enigmatic in this book. August mentions how nobody in the business knows much about Ricardo or how he became involved as a hitman. Which is true. There's a bit of backstory given to August later in the book. So you're fed a bit and left with a gap… which I suspect is quite deliberate on behalf of Witt & Z. It appears there's room left for more about this pair in another book or two. I hope there is more to come.
To truly get the most out of the reading good times offered here, you really do need to check belief at the entry to Hitman vs Hitman. August's backstory is a bit, really? Is that true? Three times? It's not meant to be taken too seriously. It's all a bit of fun and distraction with a twist of sexy stirred in. Anyhow, these guys don't muck around, they take money killing people. They also get job satisfaction, well, until someone starts trying to kill them. Challenge accepted though. Neither likes collateral damage so the edge is taken off them as being wholly flawed, which makes these hitman more 'palatable.' If you prefer your hitman stories darker to pitch black, then this is not especially the right book, but it does offer some bloodshed – bloodshed light I'd call it. But I do love dark books.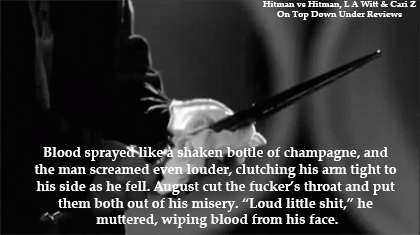 I know now that when I start a co-write by this pair of authors it takes me time to warm up. I was prepared this time because I remembered how I started other reviews by saying 'it took me a while to get invested in….'  As this book progressed it got better and better, the more I gelled with both MCs – which I certainly did – the more I liked them together-together. By the time I was about 70% in I was baited and hooked, and when the end came I wanted more August and Ricardo. 
The reason I've given this 4 stars as opposed to 5, is because it's still developing. If it's a true standalone, it's still 4 stars. Also, it took a little while for the humour to land for me. Once that happened, once the co-write groove was locked and loaded, I found the banter and dialogue snarky and witty.
What I really liked about this book was that while it was fun there were also teeth. Just enough bite to feel it, to make it more than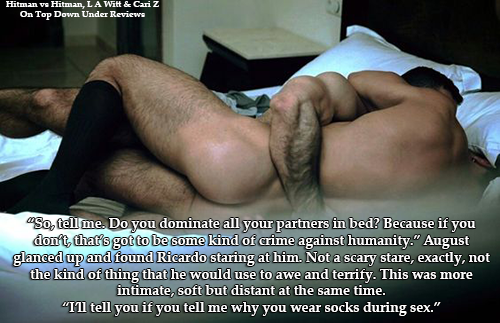 purely fluff. I need that. There's a  sense of the noir to August and Ricardo's back and forth and humour. I liked the flawed nature of the MCs but there is something there, something more, a chemistry that makes sure plenty of romance readers engage. It's lower on steam, it fits, but while I say this what there is is sexy as fuck. However, the main arc is that they're out to make sure someone doesn't finish them off and to head that person (or those people) off and kill them instead. So there's a mystery and suspense element, some fun, some gore, and the sex was organic to the story. There is also the budding development of their enemies to lovers relationship. Also important.
Solid. Fun. Entertaining. Hitman vs Hitman offers up some real bang for your buck. Fingers crossed for a book or two more. 4 "Rude" Stars!