Audiobook Review: Hitman vs Hitman, Cari Z & L A Witt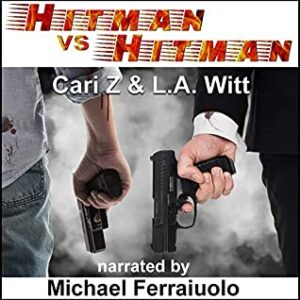 Genre/Tags: Genre Fiction, Gay Romance, Humour, Violence, Interracial MCs
Author: Cari Z & L A Witt
Story Rating: 5 Stars
Narrator: Michael Ferraiuolo
Narrator Rating: 5 Stars
Length: 7 hours and 40 minutes
Audiobook Buy Links: Audible 
Ricardo Torralba and August Morrison don't agree on much besides the fact that they hate each other. According to Ricardo, August is a spoiled brat who really needs to knock off the sass, once in a while. August insists that Ricardo needs a sense of humor, a good lay, or a well-placed bullet. Maybe all three.
Fortunately, the assassin's profession is a solitary one, and they can go about their lives without getting in each other's way.
Usually.
When a contracted hit turns out to be a setup for both of them, they narrowly escape with their lives. Now, even if they don't like it (spoiler: They don't), August and Ricardo have to work together if they want a shot at survival.
In between firefights and questionable interrogation methods as they hunt down their would-be killer, the cranky assassins discover that under all that mutual loathing is a spark of chemistry they can't ignore. They want to ignore it, they probably should ignore it, but August can't help flirting to annoy Ricardo, and Ricardo can think of at least one way to shut him up for a while.
But they need to focus, damn it, and figure out who's gunning for them and why. Assuming they don't kill each other first.
Hitman vs Hitman is a stand-alone, gay romantic suspense featuring two men who'd rather chew glass than fall for each other, a whole lot of inappropriate comments, and some buttons that will need resewing.
Review:
I have the original review for the e-book of Hitman vs Hitman here. Poetically? Ironically? I reviewed it in August 2020. I gave the book 4 stars then and I liked August and Ricardo, but what a difference superb narration can make, because this is 5 stars all the way now. August and Ricardo have gone from good characters to absolute favourites because Michael Ferraiuolo happened to them.
My general thoughts on the audiobook narration:
The humour and camp theatricality Ferraiuolo used for August/Augustus was something to audibly behold. He
stole the show. He channelled a snobby Louis Winthorpe 111 doppelganger perfectly when Augustus was needed. He could be sharp as a tack, hugely, annoyingly witty, but he could also be perfectly snotty upper-crust when he needed to be. August also injected enthusiasm and a joie de vivre about life (and death) into Ricardo. Ricardo was given a quiet, pragmatic, sometimes menacing, sometimes long-suffering, loyal quality that I found both amusing and endearing. Ricardo played off August's larger than life style with such controlled intensity, it was the perfect balance of yin and yang. Every night, when I could grab some downtime to listen, I was so excited to rejoin them both. I regaled my whole family, and anyone else I could corner, about how amazing this audiobook version was, how the narrator just got the MCs… celebrated them… and how much fun it was.
I listened to Risky Behavior before this, and because Ferraiuolo did such a good job with two of my all-time favourites – Andreas Ruffner and Darren Corliss – I sought out this book to see what he did with these characters. I was so impressed I've actually bought 4 more Michael Ferraiuolo narrated audiobooks to listen to. He's that good at what he does. It isn't just the primary characters either, the secondary characters are all given thought as well. He delivers across the board.
Overall:
I enjoyed the writing of the e-book, August and Ricardo were always fun with bite, but Michael Ferraiuolo cranked them up a notch and gleefully upgraded their whole story because of it. He gave them audibly dynamic chemistry, it's what I'm here for. He made sure that the mystery element of why someone wanted to off these two hitmen was played out intriguingly alongside the enemies to lovers arc.
I don't know whether Cari Z and L A Witt are planning on writing another book in this world, I sure hope so, but if they do, I also hope they book Ferraiuolo (stat) to narrate. He managed to capture and embrace the story's brief. Ricardo's quiet loyalty, definite attempts to not smile at August's theatrical side, his resignation that this is what it is… or maybe he'd just shoot August in the face. And he gave August the  snark, "the bitchy," the cheek, the audacity, all set alongside action, some violence, and building romantic feelings. Great listening!