Guarding the Runaway Omega (Alaskan Wolf Alliance #2), M.M. Wilde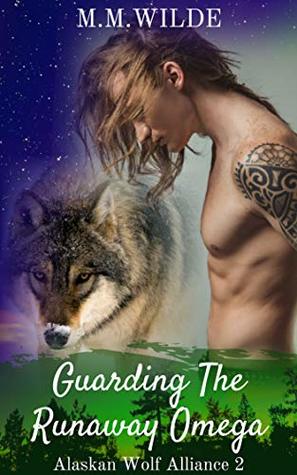 Rating: 4.5 Stars
Publisher: Knight Ever After Publishing
Genre: Gay Paranormal Romance
Tags: Age Gap (5 years), Fated Mates/Insta-Love, Mpreg, Paranormal, Romance, Shifters, Series, Virgin
Reviewer: Cindi
Purchase At: Amazon.com
Blurb –
After escaping a secret facility that's experimenting on omegas, Jasper stumbles across the one shifter who will risk everything to protect him. 
Omega Jasper might not yet be out of his teens, but he's already suffered a lifetime of misery. When his domineering father can't match Jasper with a prestigious gay Alpha, he finds a more sinister way to achieve his goal. Jasper's only choice is to break free from his prison—even if it costs him his life. 
Hawk is a half-Native, half-wolf shifter member of the beta-driven Guardian Pack. While on perimeter duty, he discovers a runaway omega in the woods who is cold, scared and injured. His senses scream that he and Jasper are fated mates. But, before he can act on their shared destiny, Hawk needs to investigate why Jasper was being held captive. 
Maybe the strange tales in the ancient texts of their ancestors are real after all… 
Author's Note: Guarding the Runaway Omega is Book Two in the Alaskan Wolf Alliance series and should be read in order. This Mpreg shifter story features a reluctant beta with a family secret and a pushy omega who can't take no for an answer. But fate is on their side, so you can expect lots of steamy, knotty fun. This romantic tale with a dose of action and suspense includes a fluffy, feel-good HEA and we all know that wolves don't cheat, so no worries there! 
Review –
Almost nineteen-year-old Jasper is running for his life. Thanks to his horrible father he's been held captive in a secret facility and experimented on, along with his best friend and other omegas. Somehow he managed to escape but barely. Because of the experiments and meds forced on him, he's unable to shift and all of his senses are going haywire.
Hawk, twenty-four, a half-human, half-wolf shifter is on patrol when he spots Jasper in distress. He knows immediately that Jasper is his fated mate, but Hawk's biggest concern at the moment is hiding him from those he's running from. Hawk breaks a lot of laws protecting him but he's willing to accept his punishment later as long as his mate is safe.
Jasper has never been with a guy before. He held off because he wanted to save himself for his mate who he'd hoped to meet someday. Once some of the meds wear off, he knows beyond doubt that Hawk is the man he's been waiting on. One thing leads to another and before long he's literally begging Hawk to take him. The want, need slams into him so hard he can't control it. Hawk had hoped to have their first time in a comfortable bed somewhere, not in a tent while they're hiding, but Jasper won't be denied. After reading the first book in the series it was easy to see exactly why Jasper needed him so badly.
The next day they're driving toward Nicolai's pack (from the first book) when Jasper gets desperately ill. Hawk knows he's risking his own freedom but he has to get Jasper to the healer before he dies. With a little help – and a lot of suspicion – from Nic, they arrive at the healer's place just in time. She rushes to help Jasper as the others discuss how to rescue the imprisoned omegas.
I can't really say much more about the story without giving too much away. I will say this… I really enjoyed reading about Hawk and Jasper. Jasper is young and this shows more than once in his interactions. I was able to overlook that because of Hawk, who I loved. He was willing to risk everything for his mate, even if it meant being killed or sent to prison.
It was nice seeing Nicolai and Elam again. There are other characters I'm eager to learn more about – Sacha, Cameron, and an Alpha who's introduced toward the end. I'll be eager to see them in future books. I'm guessing Sacha's is next. I'm really enjoying this series. It's quite a bit different from the other shifter/mpreg books I've been reading.
I love the cover.