Audiobook Review: Bitter Heat (Heat of Love #3), Leta Blake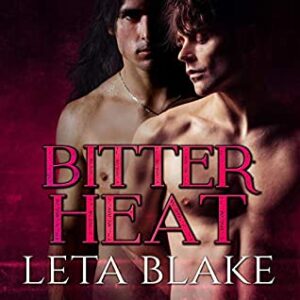 Genre/Tags: Omegaverse, MPreg, Emotional, Triggers – see bottom of blurb. 
Author: Leta Blake
Story Rating: 5 Stars
Narrator: Michael Ferraiuolo 
Narrator Rating: 5 Stars
Length: 11 hours and 52 minutes 
Audiobook Buy Links: Audible
Blurb:
A pregnant omega trapped in a desperate situation, an unattached alpha with a lot to prove, and an unexpected fall into love that could save them both. 
Kerry Monkburn is contracted to a violent alpha in prison for brutal crimes. Now pregnant with the alpha's child, he lives high in the mountains, far above the city that once lured him in with promises of a better life. Enduring bitterness and fear, Kerry flirts with putting an end to his life of darkness, but fate intervenes. 
Janus Heelies has made mistakes in the past. In an effort to redeem himself, integrity has become the watchword for his future. Training as a nurse under the only doctor willing to take him on, Janus is resolute in his intentions: He will live cleanly in the mountains and avoid all inappropriate affairs. But he doesn't anticipate the pull that Kerry exercises on his heart and mind. 
As the question of Kerry's future health and safety comes to an explosive head, only the intervention of fate will see these desperate men through to a happy ending. 
This gay romance novel by Leta Blake is the third in the Heat of Love universe which began with Slow Heat. It's 111,000 words, with a strong happy ending and a critically-acclaimed, non-shifter Omegaverse. It features alphas, betas, omegas, male pregnancy, mpreg, heat, and knotting.
Content warning for a violent and oppressive society regarding reproductive rights.
Review:
I've read Bitter Heat 3 times in the past year. That's how much I love Janus and Kerry's story. I didn't have to sample the narrator before buying. I bought this audiobook because of him plus the promise of his narration of a story I already loved. Original e-book review here.
Bitter Heat is the perfect title for this book because Kerry Monkton has lived through hell with his alpha Wilbet Monhundy, and even though Wilbet is in jail, he can still brutalise his omega during heats. While the story doesn't concentrate on Wilbet the opening scene is intense and he casts a dark shadow over Kerry's future.
Kerry is home in Hud's Basin with his Uncle Zeke, who raised him, to deal with his pregnancy. A pregnancy he doesn't want. A pregnancy his selfish and (beyond) painful in-laws want to micromanage. They cajole and threaten and want him to stay with them in the city when Kerry wants and needs to be as far away from them as possible. The boarding house that Zeke owns will be shut up for the duration of Kerry's pregnancy… except there is a 'city alpha' who is going to stay at Monk's while he does practical work with the mountain's doctor, Dr Crescent.
From the beginning, Janus is intrigued with the berry and musk scent of the enigmatic and sad Kerry. Kerry doesn't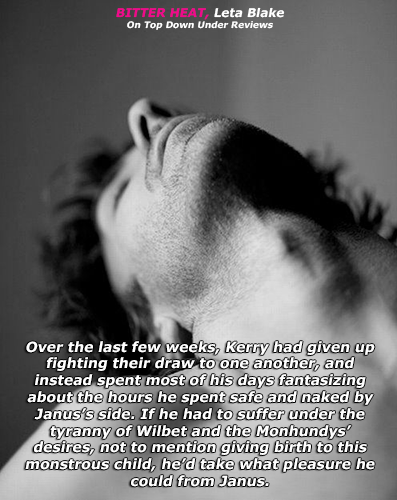 want to like anyone else, he hides away in his room with Kiwi, his little bird, as best he can and tries not to think of his future and the baby he's carrying. He wants to forget – although the baby he doesn't want is a constant reminder about his horrible past and his seemingly dire future with Wilbet. Kerry definitely doesn't want to have feelings for this new alpha. But Janus is patient and kind and, to Kerry's undoing, he's gentle. He inexorably pulls Kerry into his orbit as Kerry pulls Janus into his.
Janus has his own complicated backstory. He's in Hud's Basin to learn. He wants to give back, and he wants to become a better man. His past makes him feel guilty, but his past gave him his connection with Caleb, his cousin's omega, a forgiving friend and constant voice of compassion for Janus. He's also recovering from multiple bouts of flu and pneumonia and Hud's Basin has a lake with healing waters. Janus not only gets an opportunity to nurse, but to be a doctor for people who need medical assistance.
The world building in this series is very good, and it's never more on display than in Bitter Heat. The people, the lake, the different culture and ideas between the mountain and the city. And the social commentary is also powerful. Leta Blake invests respect and empathy into her omegaverse.
The Narration:
The only doubt I had about buying the audiobook of Bitter Heat is that there is a degree of introspection within the pages, it is a slow burn romance combined with a slow, deliberate story. This doesn't always translate well to audiobook. However, the writing is lovely, and the delivery by the brilliant Michael Ferraiuolo made sure it was never anything but addictive. It made this reader so very happy.
Ferraiuolo's narration was pitch perfect. Once again he demonstrates a clear understanding of the characters he's bringing to life. The e-book has a pretty sombre tone yet I found Ferraiuolo's delivery balanced and calming. His cadence ebbs and flows hypnotically like soothing water. The narration reflects where Janus is in his life, after much reflection, and where he wants to take Kerry. How he's feeling toward Kerry. It also allows Kerry's resigned attitude to what he considers to be his sealed fate feel so real. If Ferraiuolo had been too dramatic it would have swamped the character's true feelings, the story, the lovely writing of Blake's. It would have lacked impact. Kerry sees Janus as gentle, it's hard for him to believe an alpha can be this way, and Ferraiuolo's voice gives Janus a gentle strength. Likewise, Kerry is a kind soul, but it's buried under his immense hurt and worry. Ferraiuolo delivers understandable human juxtapositions. That Janus cares (loves Kerry) is frightening but he also wants it to be real. That Janus has friends willing to help, that anyone would care, unbalances Kerry, and his bubbling doubt and insecurity is delivered three dimensionally by Ferraiuolo.
Janus and Kerry stole my heart a year ago and remain an ongoing part of my reading enjoyment. Two men who have lost their way are found in each other's arms. Love is powerful, it can be littered with hurdles but still be full of tender surprises, its indicative of life in general: That's Bitter Heat. Michael Ferraiuolo gives the MCs such depth, it delivered everything I wanted. The important secondary characters are also given distinct voices too.
Beautiful, respectful storytelling by Leta Blake combined with a compassionate, dynamic delivery by Michael Ferraiuolo adds up to make Bitter Heat impactful, romantic, and emotional listening.