Venetian Valentine (My Bloody Valentine), Kristian Parker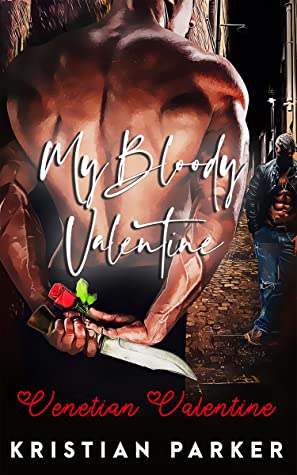 Rating: 3.5 Stars
Publisher: Pride Publishing
Genre:  Gay Romance
Tags: Mystery/Crime
Length: 105 Pages
Reviewer: Kazza
Purchase At:  amazon, Pride Publishing   
Blurb:
Venice at Valentine's? Andrew didn't bargain on outrunning the Mafia, fighting for his life…or meeting Sergio.
Post break-up Andrew, in Venice for Valentine's Day, isn't alone and pining for very long before handsome local Sergio sweeps him off his feet—and into his gondola.
What should have been the most romantic evening of Andrew's life turns into the deadliest when a dying policewoman they rush to help slips them a vital piece of evidence…and they're accused of shooting her.
With both the Mafia and corrupt cops in hot pursuit, Andrew and Sergio must deliver the evidence to the only man who can clear their name. The only problem is he lives at the other end of Italy, which sends them on the most action-packed Valentine's date ever.
It's going to take some serious Valentine's magic for the shy Englishman and the sexy gondolier to have a second date, never mind a chance at a relationship…
Reader advisory: This book contains scenes of mild peril, injury, and a gun battle.
Review:
This is the debut book by Kristian Parker. Kristian joined our blog anniversary last year, so if you'd like to know more about the author, the post he wrote – Never Give Up – is here. 
The blurb is clear about this book and I can't say a whole lot more about the actual plot as it's a novella. A novella  within a Valentine themed (different author) series.
Andrew's left London and his messy, cheating ex behind for a holiday in Venice. Andrew is enamoured instantaneously by his surrounds and it's a lovely, touristy snapshot of Venice. He marvels at being there – the food, the architecture, the history, Carnival, the gondoliers. And one Gondolier, Sergio, is flirty from the outset.
It isn't long before they find themselves in hot water, with the police and mysterious people in black after them. A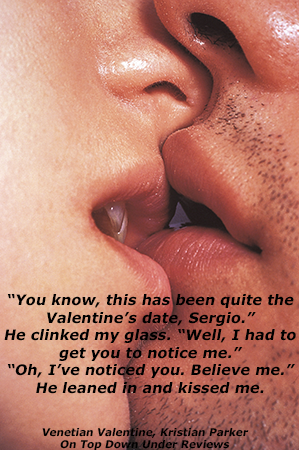 policewoman is shot and literally lands on Sergio's gondolier just after he's taken Andrew out for a 'getting to know you' dinner. Before the policewoman passes out she gives Andrew a name of someone he clearly needs to contact, someone trustworthy, Antonio Valeri. It results in a cross country trip/chase with the bad guys hot on Andrew and Sergio's tail.
Overall:
I found this to be a pretty decent debut novella. Because it's only around 100 Kindle pages there wasn't that much time to develop the real burn and chemistry between Andrew and Sergio. It's very insta-love, but it was tackling two elements within a restricted word count.
The MCs were pleasant without wowing me. Andrew was a nice guy who definitely got more than he bargained for on his trip to Venice. I liked Sergio, he's a bit cheeky and he certainly knew how to be seen.
There was a little bit of sex, it fit comfortably within the romance and mystery arcs of the story and was neither too much or too little.
The backdrop of Venice and then Italy gave it a nice overall flavour. I enjoyed the passion the author infused into both places, especially Venice. I felt like I was in St Mark's Square, on the canals.
The mystery itself was okay. I was thinking, 'why did you guys run?' Something Andrew ruminated on later, and I felt the pacing wasn't as smooth as it could have been – it got a bit frenetic towards the end whereas it cruised earlier.
Venetian Valentine was middle of the road, comfortable reading, complete with a nice setting and pleasant MCs. It's an enjoyable novella to while away a few hours on the weekend with a cup of coffee or tea in hand. You can imagine yourself in Venice. Not a bad place to be. I look forward to where this author ventures with his writing from here. 3.5 Stars!