Heart of Dust (Death's Embrace #1), H.L. Moore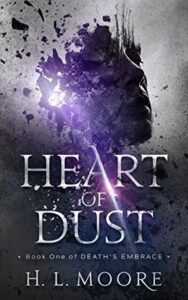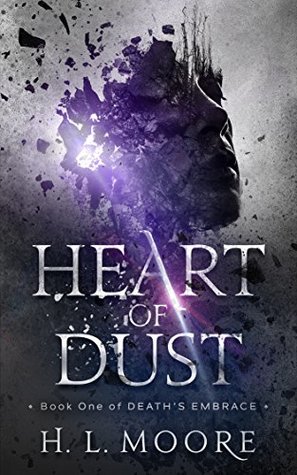 Rating: 4 Stars 
Publisher: Self Published
Genre: Fantasy/Spec-Fic  
Tags: Alt-Universe, Series 
Length: 185 Kindle Pages
Reviewer: Kazza
Purchase At: amazon
Blurb:
"Doran had a problem, and it wasn't that he'd been stabbed."
Iole City is in turmoil. Doran Ó Seanáin, leader of the Black Lung Gang, is determined to bring the Lord Archon – Iole's tyrannical ruler – down for his brutal treatment of the miners. But Doran has more to deal with than getting stabbed, a stalemate and city-wide lockdown that's seeing his gang of ex-miners being slowly starved out of their base – his daughter Grace has turned against him, and the weight of his wife's death two years prior haunts them both.
Things start to look up when he's inexplicably drawn to Nathaniel Morgenstern, the apotheker with a mysterious past he owes his life to, but Doran is in way over his head. The fate of the mines hangs in the balance; the clock is ticking and the Archon is closing in. Doran's plan to break the cycle may very well be his last.
Review:
This is the first book I've read of H.L. Moore, a fellow Aussie. It's a fantasy/spec-fic story with developing characters who live and work around a labyrinthine coal mine in a rock wall under a waterfall. There are different cultures with a common thread of jaded decency overlaid with hardness, which I thought was well depicted – living hand-to-mouth week in and week out will wear you down.
Heart of Dust is set in an alternative universe but there are so many comparisons to our world, current and historical – the obsession with coal, the reminder of a time when mining was fraught with danger, poor conditions, rampant lung conditions – like pneumoconioses and silicosis – and child labour, the soot-lined streets and slums juxtaposed against wealthier places, like Harrington Estate and the Archon's domain in the Bronze district.
Because of the black lung, because of the poverty, because the Archon won't pay the miners properly (currently it's meagre food stamps) Doran Ó Seanáin heads up the Black Lung Gang. He plans strikes and unrest, and because of this, because of his latest mildly bloody rebellion, he has a bounty on his head. Daily recordings blared out around the city remind people to turn Doran Ó Seanáin in for the reward. After his latest rebellion, after he's injured, he stumbles upon an apotheker in Methyr, Nathaniel Morgenstern. Nathaniel patches him up free of charge and offers him a friendly, if not enigmatic face in amongst a sea of sadness and doubt. While Doran may be a mine foreman and the BLG leader, his friends and co-workers don't always agree with him, they but heads with him. Nathaniel's young assistant, Gerald, also makes it known that Doran is not welcome by him at the apothecary. I'll freely admit I felt bad for Doran because he's motivated to do the right and just thing for his fellow miners. Trying to live up to the legacy of his dead wife, Rhian, who was murdered twelve years earlier is hard. Rhian came from a wealthy family but chose Doran and a life dedicated to the miners and their families.
"I was a fool to think I could do this without Rhian," he said. He felt so tired. "All I've done is – make things worse. For everyone."
There is an interesting story that is built in Heart of Dust, including the left of centre relationship between Doran and Nathaniel. I say left of centre because Doran was utterly devoted to Rhian, a woman, yet it seems Nathaniel is going to be a love interest moving into the next book. While Doran's life is unwound in current time and through flashbacks in this book, Nathaniel is more of a dark horse. A couple of background tells make you realise there is much more to Nathaniel's past and that it has the makings of a complex psychological relationship between Doran and Nathaniel, also Grace, Doran's headstrong seventeen year old daughter.
I was very impressed with the world building of Iole City and it's districts, the diversity of cultures, the dieties identified in conversations between people. I could taste the soot on my tongue, feel the oppression of the workers, sense the desperation of Doran through the Kindle pages. Found myself knowing my way around the city under Sionann's Falls. Overall this is visceral read. The reason this book gets 4 stars instead of 5 is because some of the characters and their connections needed to be fleshed out just that bit more – Lien, Samantha, Grace, Tiernan. And if there is going to be an intimate connection between Doran and Nathaniel, which I suspect will be the case, it does need more chemistry. In this book I understood why any possible relationship needed to be in the background to the other arcs of Doran's current life, the story around his wife's death, the events around Grace.
"The Archon's starving the soot slums and my daughter has taken teenage rebellion to a whole new level," Doran replied. "I'm a little stressed."
I'm excited to read more by H.L. Moore. She can write. However, it's hard to get traction when you write a genre fiction piece that slips between literary cracks – it isn't mm, it isn't something that will be seen as mainstream fantasy either, it's not really queer… well, not at this point. It hints at it though. But if you simply enjoy good fantasy or spec-fic writing, if you enjoy an alternative universe that teases around the edges of your mind, being so close to our own world and history yet still different, then this is a nice read. 4 Stars!