Blog Anniversary Upcoming Author Post: Never Give Up, Kristian Parker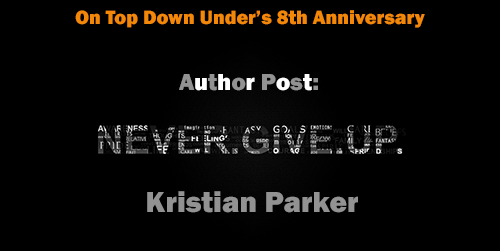 This year we have several not quite but soon to be published authors on our blog anniversary. Today we welcome Kristian Parker, who will be published by Pride Publishing next year, talking about his thoughts on the process so far. I hope you read Kristian's post, remember his name, and show him some love when his books are released in 2021.
***
A writer's life seems to be one of constant rejection and it can be difficult to keep a thick skin. I read somewhere that F Scott Fitzgerald wallpapered his study with rejections for The Great Gatsby.
During lockdown, I decided to be more productive. I had written a m/m romance story a while ago but hadn't done anything with it.
Thanks to Twitter (what did we do without it?), I saw the details for Pride Publishing and seized the moment. I had a mild panic and then promptly forgot about it. A worldwide pandemic can take your mind off things.
What a feeling when they accepted it. I have a MA in Scriptwriting but have spent recent years writing features for cultural websites. Encouragement in my fiction had me walking on air.
That isn't to say I didn't have a lot of work to do. My mentor at Pride Publishing continues to be incredibly patient and a wonderful source of encouragement. She has helped me get over my aversion to punctuation and ridiculous overuse of the word "was".
Two months later and the first story for my series "Speak Its Name" is due out in May with pre-orders starting in April.
"To Light A Fire" is set in 1920 and follows Frank who goes to stay at his friend's stately home. While he is there, he gets entangled with Tanner, one of the servants, and their love takes them to places neither had expected.
On a roll, when Pride Publishing did a callout for stories to be part of a Valentine's anthology, I decided to go for it. In a complete change I have set my story in modern day Venice which has been accepted.
"Venetian Valentine" sees Andrew, a shy Englishman, falling for the handsome gondolier, Sergio. Their love isn't plain sailing as they find themselves caught up in the attempted murder of a policewoman and must clear their names. I have loved writing an adventure story and hope that readers are kept on the edge of their seats as these two lovers run from danger. This anthology will be out in February with pre-orders from December.
I am really pleased I swallowed my nerves and went for it. I have well and truly fallen down the m/m romance rabbit hole and find myself plotting scenarios when I should be concentrating in yet another Zoom meeting.
As a new writer, I am grateful to be included in this wonderful blog's anniversary and would like to wish you a happy blog-versary.
Say hi to Kristian:
You can find me on Twitter and Facebook  or drop me a line at kparkerwriter@yahoo.com. I would love to hear from you.