Blog-Versary Author Post: Candi Kay, Willy #6. Excerpt + Giveaway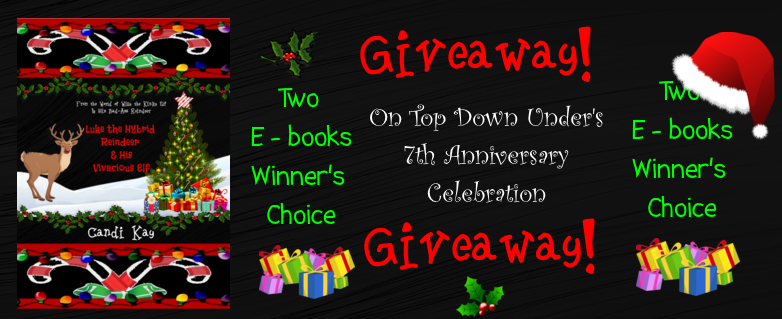 .
Woo hoo! It's that time again. On Top Down Under is celebrating another anniversary (7! Yay!) and Willy the kinky elf is bouncing on his little elf heels to tell another story from his world. If you know anything about Willy, you know he always gets his way. 😉
This year, it's all about Luke and Micah in Luke the Hybrid Reindeer & His Vivacious Elf. If you've read the Willy the Kinky Elf series up to now, you know to expect a new couple who have to work for their HEA, lots of Willy silliness and matchmaking, and at least one Peppermint Whiskey episode. In this installment, you can also expect a much different Santa Claus from what you've seen in the past. Oh, he's still, well, Santa, but he's suddenly seeing things he was blinded to when the missus was always around. As for Mrs. Claus, she's not quite as gone as everyone in Santa's Village would like to believe. Please! That bitchy ho (or as Willy would say, haggy ho!) won't be going down without a fight. Not that we expected her to.
You can check out the blurb and an excerpt for Luke the Hybrid Reindeer & His Vivacious Elf below. The excerpt describes Luke and Micah's very first meeting.
Note that Luke the Hybrid Reindeer & His Vivacious Elf would not be considered a standalone. There are a lot of characters and stories that you'd need to be familiar with to understand what's going on. It also prepares the readers for the finale of the series in 2020, Santa's story.
To help celebrate On Top Down Under's 7th year, I'm giving away 2 e-books – reader's choice – from my catalog. Included in the choices for the winner are Luke the Hybrid Reindeer & His Vivacious Elf and/or Kane the Fake Elf & His Sexy Mall Santa, a contemporary Christmas story that also releases on November 1st. You can click the titles for more info.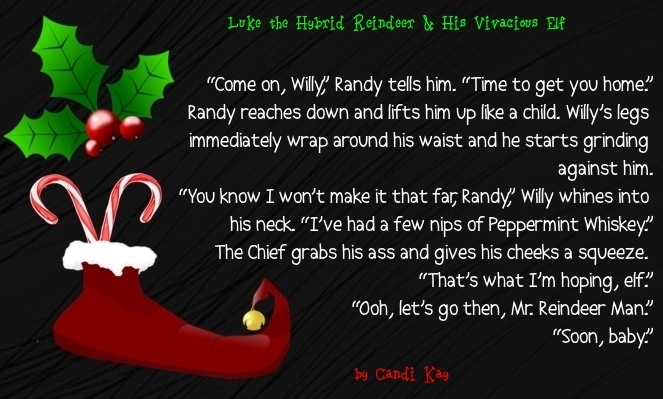 **GIVEAWAY DETAILS** 
**To enter the giveaway, leave a comment on this post by Midnight Sunday, October 27th (US EST.)  The winner will be chosen and notified via email the next day. They will have 48 hours to respond back or another winner will be picked**
Congrats again to On Top Down Under for another great year!
Good luck to all who enter the giveaway!
Blurb –
From the World of Willy the Kinky Elf & His Bad-Ass Reindeer.
The North Pole isn't exactly as it appears in fairy tales. It has the elves and Santa and his reindeer, but Santa and Mrs. Claus aren't the jolly couple the world believes them to be. The reindeer are all shape-shifters who transform into gorgeous beings in human form and are respected by all.
Luke has always known he was different. He's never fit in with the reindeer or the elves. When long-buried secrets come to light, he has no choice but to run. Forced to hide or risk his brother being caught in the crossfire, he does what he has to do to survive. He stays hidden well until the one moment he makes the mistake of letting his guard down.
Micah Matthews is one of the most loved nurses in the North Pole. He's funny, cute, and good at his job. When the big man himself requests Micah as a private nurse for a special patient, he agrees without hesitation. What he doesn't expect is to find his mate in the process. Micah knows it would be all kinds of wrong to stay as Luke's nurse once he discovers the truth, but is walking away even an option? What if the attacker somehow manages to find him and finish what he started?
Between a matchmaking elf and Santa Claus actually being nice, Luke is convinced he's been dropped into the Twilight Zone. Throw in some Peppermint Whiskey, a super-hot nurse, and a younger brother who may or may not have the hots for Santa, and Luke knows his life will never be the same again.
Excerpt –
The next time I wake up it's to the annoying sound of humming and the strong smell of peppermint.
Not a good thing considering my head feels like it was hit by a sledgehammer.
My eyes are still swollen shut so I can't see who it is.
"Please shut up," I mumble before I can stop myself. "And open a window or something. The smell's too strong."
The humming stops and I feel somebody near my head.
"Well, lookie here. Mr. Broken and Bruised is finally awake."
"And in pain."
"I was thinking you'd sleep until Christmas day, and that's three weeks away," he says with a laugh.
"Either give me something for pain or go away."
"No can do, I'm afraid. Me going away, I mean. I'll be your shadow for the duration of your stay at this fine establishment. As for the pain medication, Doc said no more until he can examine you again. And you really need to eat something before we give you anything else too strong. According to your chart, you're underweight. It's no wonder the medication hit you so hard, not to mention you were literally knocked out when you arrived. When was your last meal?"
"I eat fine," I lie.
"You barely weigh a hundred pounds according to your chart. Your height's not listed, but even so, it's obvious you don't weigh enough for anything. How old are you?"
"Twenty-five," I answer.
"Excuse me? Did you say twenty-five?"
"Yeah, I'm twenty-five. What did you mean, my shadow?"
"Back up," he comes back at me. "As in a quarter of a century old?"
"Yes," I snap. "I'm twenty-five-years-old. Why are you keeping on about my age?"
"If you're an adult male – a twenty-five-year-old adult male – and you're barely weighing a hundred pounds, something's wrong."
"What did you mean about being my shadow?" I ask again, ignoring his comment about my weight.
I know I'm underweight. I don't need a total stranger reminding me of it.
"I need to talk to Doc," he says matter-of-factly.
"No, what you need to do is answer my question."
He sighs. "I, Mr. B & B, am your own private nurse, currently on loan from Starlight Rehabilitation Center. According to Chief Randy, my position at Starlight made me the perfect candidate because I know how to keep secrets. I was also recommended by Santa Claus and Blake Simpson personally."
"Mr. B & B?" I ask.
"Mr. Broken and Bruised, as I said. Nobody will tell me your real name, and considering I've seen your private parts more than once as I've put in your catheter and cleaned you up over the past few hours, I thought it best to call you something other than that elf who can't get out of bed cuz he was beaten up by a bad man."
"I'm not an elf. Help me sit up, will you?"
A few seconds later I feel my upper body move as the bed lifts me to an upright position. I almost groan when he leans over me to place a pillow under my lower back. He may be annoying as hell, but he smells good, broken nose or no broken nose.
"I need to get with Doc about your concussion too," he tells me.
"Dylan didn't say anything about me having a concussion."
I hear the shuffling of papers before he responds.
"Well, I don't see it listed anywhere, but there's something going on in that noggin of yours if you don't even remember what species you are."
"I know what species I am, nurse. I'm a reindeer."
"Okay, sweetie, you're a reindeer. A twenty-five-year-old reindeer," he says in a placating voice. "My name is Micah Matthews and I'm a twenty-four-year-old elf. A pretty hot one too, I'm told. The diff between us? My name really is Micah Matthews, I really am twenty-four, and I really am an elf."
"Don't be a condescending prick," I growl at him. "What I am is none of your fucking business."
"Okay," he says, drawing out the word. "I think I'll take my leave now."
"I thought you were supposed to be my shadow."
"I can be your shadow from another room. There are all kinds of fancy-schmancy little monitors I can look at while I'm doing my nails or braiding my hair or something."
Well, that was sarcasm if I ever heard it.
I feel him lean in a little. When he does, I almost groan out loud. Damn, he smells good.
"Why do I have a catheter?" I ask before I embarrass myself by saying that out loud. "Dylan said my main injuries were to my face."
"A catheter is standard procedure when a patient is unconscious. You were out cold when you got here and on and off since. Somebody beat you up good. It's my job to see to your needs, not upset you. My apologies for offending you." I feel him put what feels like a small remote control in my left hand. He positions my thumb over it and makes sure I know there's a button there. "Push this if you need me. I can be here in ten seconds flat. There's a door separating this room and where the monitors are, so I'll be close. Try to rest if you can, hon. Doc will be in soon."
He lets go of my hand and I feel him moving away.
"Micah?"
"Yes?"
"Lucas Lanzer. I go by Luke. I shouldn't have snapped at you."
"Understandable after what you've been through. I shouldn't have kept on. A bad habit of mine, I'm afraid. A pleasure to meet you, Luke, though I admit the circumstances kinda suck."
That makes me smile, which I'm sure is his intention.
"I'll douse the candle. I didn't think you'd want to wake up to a room that smelled like a hospital."
"You can leave it. Can I ask you a question, Micah?"
"Of course."
"How bad do I look?"
When he doesn't immediately answer, I repeat the question.
"Somebody did a number on you, Luke, but you'll be fine and as good as new in no time."
"That didn't answer my question. I don't want a bullshit professional answer. I want the truth."
I'm surprised when he takes my hand in his, sending tingles throughout my entire body.
"Right now you've got a lot of swelling. According to Doc, when you arrived last night there was so much blood he didn't even know what color your hair was. That was from a cut under your eye and the bloody nose. I'm not going to lie to you. Your face is so swollen I wouldn't be able to pick you out of a photo lineup if somebody handed it to me right now and said to identify you."
I have to take several deep breaths before I can respond. "How long will it last? The swelling."
"Doc said a few days, though the bruising will hang around for a while. Not much we can do for the broken nose other than wait it out, I'm afraid. Thankfully the break isn't as bad as Doc initially suspected. Everything's just going to take time."
"Have you seen my brother?" I ask him.
"I don't think so and I've been here since not long after you arrived."
"If you've been my shadow, you've seen him. Tall, kind of thin. He was here with a girl, Andrea."
"He's your brother?" he asks, suspicion evident in his voice. "The big reindeer with the blond hair that some of the staff members were salivating over? Not quite my type, but it was entertaining to watch nurses stumble over themselves when he was around."
If I could, I'd roll my eyes.
"I don't know anything about anybody salivating over anybody, but that's my kid brother, Andrew, or Drew, as he likes to be called."
"But he's a reindeer."
"Will you stop talking to me like I've lost my mind?" I come back at him, frustrated. "He's my brother – my biological brother. I look like him, only without the height. Where's my phone?"
"Why?"
"I have pictures," I tell him.
He lets go of my hand, much to my chagrin, and I hear him opening and closing a drawer.
"Got it. How it survived the attack beyond a cracked screen is beyond me. Give me your thumbprint."
I lift my hand a little and he presses my thumb against the phone and I hear it coming on. I don't even have to tell him where to look for a photo because my lock screen is one of Drew and me taken together right before I took off last year. He sent it to me when I got a new phone.
I hear an intake of breath and there's silence for a few seconds before I hear Micah whisper, "Oh, my God," so low I barely hear him.
"What?"
"Oh, um, you two really look alike. I think I've seen him before," he says in a weird voice. "Holy heck, you're a pretty one, aren't you?"
I know something's up, but I don't call him on it.
"Are you always so blunt?" I ask instead.
"Yep, and I'm humble, too."
"What do you mean?"
"Just you wait, Lucas Lanzer. When you're able to open those baby blues and can catch a glimpse of your hot nurse, you might just be hoping to hang around for a while."
###
And because Willy is Willy and no one escapes being called a butt head if they deserve it, especially Santa…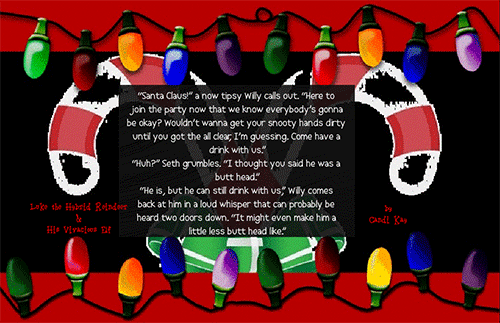 Author Bio –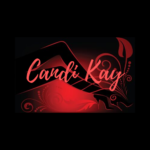 A blogger by day, at night Candi Kay transforms into a writer of various genres, with an emphasis on LGBTQ and erotica. Author of the Willy the Kinky Elf & His Bad-Ass Reindeer series, Candi's books are often filled with humor, lovable, kooky characters, and sweet happily-ever-afters.
You can find Candi on Facebook – Twitter – her blog – Queeromance Ink – BookBub – Amazon – or email her at CandiKayAuthor@gmail.com. She loves hearing from readers!