45 and Holding, Jacki James, Jill Wexler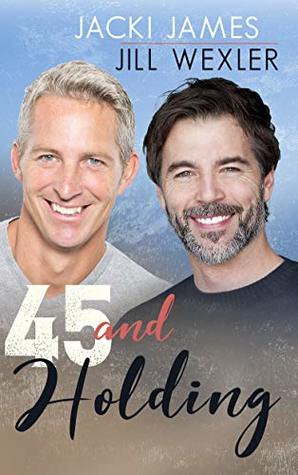 Rating: 4 Stars
Publisher: Self-Published
Genre: Gay Romance
Tags: Contemporary, Bisexual/GFY, Friends To Lovers, Humor, Older Characters, Romance
Reviewer: Cindi
Purchase At: Amazon.com
Blurb –
Empty Nest meets Mid-life Crisis 
When widower Scott Anderson's daughter goes off to college, he finds himself alone for the first time in as long as he can remember. With his primary role no longer being "Claire's dad," he realizes he isn't sure who he is or what he wants out of life. 
For Craig Baker, a mid-life crisis crept up on him in the form of restlessness that a new Jeep didn't solve. Just as he's contemplating getting a tattoo to try and shake himself out of this funk, he meets an old classmate who is in the same boat. 
They're both trying to figure out who they are at the age of forty-five. 
For one man, there's a slow realization that maybe he doesn't need something to cure the restlessness, but someone. 
For the other man, it's the discovery of a new side to himself and the willingness to embrace it. 
And for both of them, it's realizing that mid-life means you still have half your life left so you might as well live it.
Review –
I'm normally not a fan of gay-for-you books. They're just not realistic to me. With Scott, however, others in his life had long suspected he was at least bi. I can't go into why they thought that, but let's just say that it just hadn't quite caught up with Scott yet. Well, not until he reconnected with Craig anyway. 😉
Scott and Craig went to high school together but they moved in different circles. Scott was a nerd (his word) and Craig was a jock. They reconnect twenty-five-plus years later over a puppy named Sabi.
Both men are having a mid-life crisis.
Scott, a widower, has just sent his daughter (Claire) off to college, leaving him alone for the first time in decades.
Craig is wondering if maybe he should get a tattoo. He'd never wanted one before but suddenly he's thinking he needs one after seeing a guy he secretly calls Tattoo Dad with a tat on one of his arms. That was hilarious, especially after Scott comes into his world later.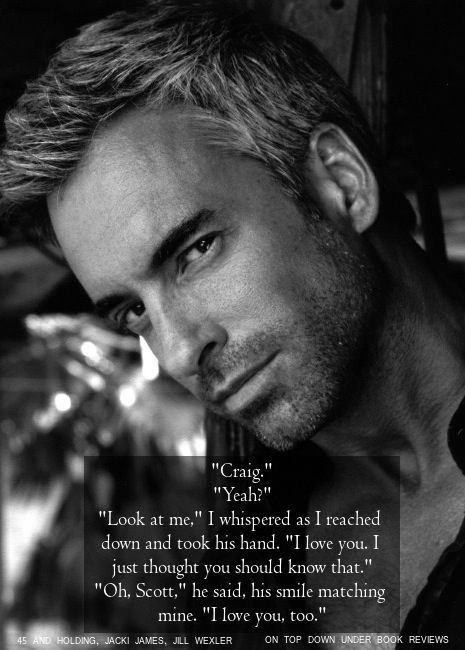 Both forty-five, Scott and Craig are separately having their little issues. When Scott's best friend encourages Scott to get a dog he recommends obedience training where Craig is the instructor and part-owner. While bonding over dogs, a friendship is struck up and they find themselves doing things together away from class. Craig is openly gay and hasn't been in the closet since college. Scott was married to Monica and had never really seen himself with anybody except a female. His best friend (Jon) is gay and he'd never thought of him that way at all. But something about Craig stirs something inside him. Sure, there's friendship, but Scott is seeing more, wanting more, and seeing Craig in a different light. Craig wants Scott right off, but he knows better than to make a move on a straight guy.
What I really loved about this book, other than the fact that both main characters were older, was how the friendship came first. There was no rush, rush hopping into bed or anything like that. They went slow. Another thing I really liked was that Craig left everything in Scott's court. Craig desperately wanted more than friendship, but he didn't push, even after Scott made it clear that he was interested in taking things a step further. The friendship always came first.
Now to the secondary characters. Claire, Scott's daughter, was wonderful. She was wonderful about Scott getting out and doing things, about him dating, and especially about him dating a man. So often I read books with the teenage kids getting upset if their parents dared date somebody, whether the parent is divorced or a widow or widower. Not this girl. She was excited and happy for her father. I also loved Scott's parents and Craig's family.
It was so refreshing reading a book with older characters coming together. These guys were at an age where they no longer gave a damn what people thought and they went with it. I especially love how Scott was written. Not once – even though he'd never been with a man before Craig – did he act ashamed or did he try to hide the relationship. He was proud to have found happiness again after Monica. He was just a great character.
I can't not mention the MidLife Musings that started a lot of the chapters. At first, I laughed out loud because they were so hilarious. But then I thought about it and it clicked how much I related to almost every single one because I'm older than Scott and Craig.
Hmm…. never mind. 😀 😀 😀
Overall, a really sweet love story. There's an epilogue that takes the reader up the road a bit. I ended it with a huge smile on my face.