More Than Enough (Enough #1), B. Harmony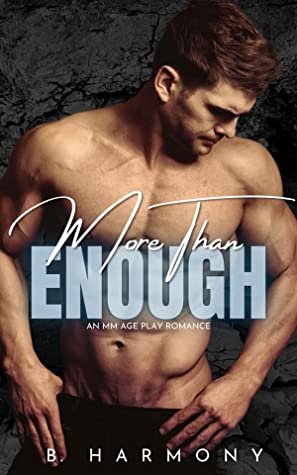 Rating: 4 Stars
Publisher: B. Harmony
Genre: Gay Romance
Tags: Contemporary, Age Gap, Age Play (including lite ABDL), BDSM, Daddy Kink, Disability, PTSD, Romance
Length: 224 Pages
Reviewer: Cindi
Purchase At: Amazon
*This review has slight spoilers.*
Blurb –
Can one vulnerable heart heal another?
Eric.
Cresting the hill of middle-age, I find myself single. Again.
I think it's time I give up being little and the hope of finding my one true Daddy.
A final hurrah at the local club, fulfilling a promise to my friend, and then I'll move on with my life.
Locking eyes with the handsome man across the room sends my head spinning.
Is it possible my dream Daddy is real after all?
Sawyer.
A life-changing injury marks the end of my military career.
I never expected it would also send littles running scared.
Looks like my time as a Daddy might be over.
Being dragged to the local club only reminds me of the past and a future I may never have.
Until I see a little who challenges everything I know.
He's adorable, but can he accept me as I am and look past what's missing?
More Than Enough is an MM age-play romance featuring an older little and a younger Daddy. Together, they navigate the pain of inadequacy and discover the strength of love.
Review –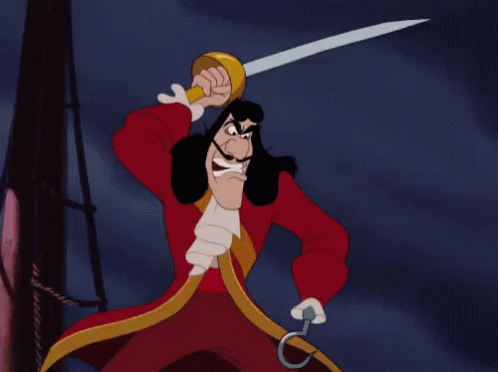 Eric has just been dumped by a Daddy. Again. The only thing that really bothers him about the breakup is knowing at his age of forty-three, he'll likely not be able to find another one. Being a little is one thing. Being a little at forty-three is something else. Throw out that most Daddies want twinks who are in their twenties and he knows it's probably time to give up on his needs for good.
Sawyer, a twenty-eight-year-old Marine, lost a leg fighting for our country a couple of years ago. Along with the physical injuries, he also suffers from severe depression, anxiety, and PTSD. He's a Daddy but has given up on that part of him. The last boy to see him naked literally ran kicking and screaming.
"I was injured while I was deployed. Sparing the garish details, my leg was trapped under a bounder, and once I was freed, there was no saving it. I was flown to a medical site in Germany where they amputated just above the knee."
Eric's best friend Cody Bass (aka Codfish to Eric), worried about Eric, insists on taking him to The Garden, a new kink club. Eric reluctantly gives in but only because there's no arguing with Cody. Eric figures he'll check it out with his friend as promised, then that will be that on his little side.
Sawyer's best friend Aaron is worried about Sawyer. They served together and are extremely close. Aaron's been there for Sawyer through it all – through his injuries and recovery, and his trying to live his 'new' life outside of the Marines. Aaron, after a lot of frustration, finally talks Sawyer into going to a kink club, The Garden.
You see where this is going.
It doesn't take long for Eric to be grateful Cody pushed him into going to the club. Once inside a playroom, he makes a new friend (Pepper) and is able get into his little space almost without an issue.
"My age varies when I regress. Most of the time, I fall somewhere around five, but when I'm really stressed out or super comfortable, it's closer to two or three. I like my binky, stuffies, and soft things. I enjoy coloring, cartoons, and playing imaginative games with my Disney figurines."
As for Sawyer, he makes his way into the playroom and stops short when he sees Eric having a tea party across the room. Unlike all the boys Sawyer had had in the past, this guy was older and not overly thin. He blew Sawyer away with one look. After watching for a little while, he walks over and introduces himself. One 'bedtime story' later and he's hooked. But then again, so is Eric.
Cody is shocked when he walks in and sees his friend sound asleep with a Daddy next to him.
I'll just go ahead and say this… I LOVED Cody, aka Codfish. He was a Dom through and through, and so protective of Eric he wasn't afraid of letting everybody know, and that includes Sawyer. I loved Aaron too.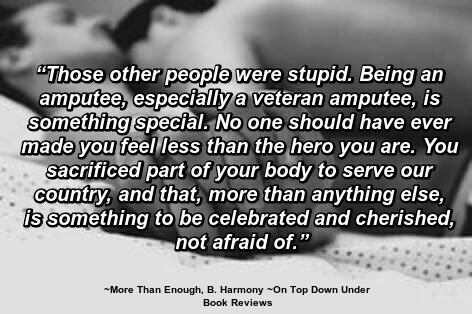 Eric and Sawyer exchange numbers and get to know each other a little over the next few days via text. Sawyer is scared to believe somebody as amazing as Eric would want him. Eric can't believe someone as perfect as Daddy Sawyer would want him. Together, they work their way through the start of an interesting relationship. The only issue? Sawyer still hasn't completely opened up to his boy, his little prince. The last boy who saw him naked freaked out. What if Eric does the same? That's taken out of both their hands when Sawyer is forced to show his vulnerable side before he's ready. If I didn't like Eric before, I definitely did during this scene. Sawyer's unable to hide his agony when his leg gets infected. He tries – the last thing he wants is for Eric to see him not in control – but it's simply not possible. Eric, who'd been mostly a little up to this point, goes into 'taking care of Daddy' mode. Sawyer fights it but Eric doesn't give him a choice. Sawyer's convinced Eric will run away when he sees where his leg once was. That, of course, doesn't happen. All Eric cares about is taking care of Sawyer.
After that, things are going beautifully until suddenly they're not. Aaron insists on meeting Eric at The Garden. Eric is nervous about it but he's also excited about meeting Sawyer's best friend. Everything goes well at the club. Eric spends time with Pepper again (I want to see her find a Daddy or Mommy) and has a good time. But then a jerk Dom not only insults Eric, they also insult Sawyer. Thankfully, Aaron is able to hold Sawyer back but the damage has been done. It pushes Sawyer into a deep depression.
On one hand, I wanted to reach in and slap the crap out of Sawyer for how he treated Eric. He wasn't mean to him. He just left. The incident with the jerk Dom pushed him back, made him start believing that what he and Eric had might not be as perfect as he was hoping it was. It hurt Eric badly.
But on the other hand, I tried to understand where he was coming from. This wasn't just the jerk Dom. It was Sawyer's constant depression and anxiety that had him bolting. He had suddenly found a man, a boy, who loved him for who he was. Eric didn't care about his leg, his scars. All he cared about was Sawyer. But when the depression slams into you, you can't always control your reactions or the things that trigger it. For that reason, I got over my above-mentioned wanting to slap him. Yes, he hurt Eric, but he was hurting too. Everything, of course, works out in the end, though I will say I'm not really sure how I feel about how Eric, Cody, and Aaron went about fixing things.
I get it. I understood where they were coming from. I did. Really. But I also know it takes more than an intervention of sorts to take away the gut-wrenching anxiety that plagues some people, especially those dealing with PTSD like Sawyer was.
Overall, I really liked this. I went into it expecting more of the same as far as age play, and I don't mean that in a bad way. What I got instead was a sweet romance with two very different men. Both Sawyer and Eric had different needs. Together, they worked beautifully. I admit to even getting a little misty-eyed a few times. I liked Eric and his Disney villain loving ways – Holy shit. This room looks like Disneyland threw up in it then sent it on a teacup ride for good measure. – though there were times I felt his 'little side' was a bit too much as far as his emotions. I liked Sawyer a lot and I felt bad for him throughout the entire book, especially when he was battling his own issues internally while at the same time trying to be strong for Eric.
The next book in the series, Just Enough, is Aaron and Cody's story. I loved the two of them separately so I'm definitely looking forward to it.