The New Neighbor (Corio Heights #1), Rye Cox
Rating: 3.5 Stars
Publisher: Rye Cox
Genre: Gay Romance
Tags: Contemporary, Friends-to-Lovers, Romance, Series, S L O W Burn
Length: 230 Pages
Reviewer: Cindi
Purchase At: Amazon
Blurb –
What do you do with an irresistible neighbor you didn't account for in your life?
Caleb had big dreams of opening a bakery when he was young, but they were shattered when tragedy struck, making him the man of the house. His Mom and younger brother depend on him to be strong and support them, even if it meant sacrificing himself. He was resigned to being a cog in the wheel in a job he hated, until his new neighbor moves in and challenges everything.
Zack didn't do relationships. After his family cut ties with him, he vowed to stick to friendships in the future. However, when his blushing neighbor overhears him mention erectile dysfunction and balls, he can't let the cute man leave thinking he has issues with his lower parts.
The New Neighbor is book 1 of the Corio Heights series about well, the new neighbor. Join Caleb and Zack's story as they discover that they can have more than what they resigned themselves to. It features a regal cat, hurt/comfort themes, and lots of blushing.
Review –
As a child, Caleb always dreamed of opening a bakery. Those dreams were shattered when he lost his father when he was eleven. His mother worked hard to keep a roof over his and his baby brother's head. There wasn't much left after. When Caleb got older, he went to college for a sensible, steady job. He's now an accountant and hating every minute of it. Even so, he knows he'll keep doing it because he's able to help his mother and brother financially.
Zack is a restaurant consultant. He's also Caleb's new neighbor. The way they meet is cute. Caleb bakes him cookies and overhears Zack and his friend Eric joking about something to do with ED and balls. This embarrasses him – good Lord, he got embarrassed and blushed a lot – but it made for a funny meeting.
This awkward meeting is the beginning of a friendship between Caleb and his new neighbor. Before long, they're running together in the mornings, having dinner together at Zack's almost every night, and Caleb's baking all kinds of sweets for Zack and for Caleb's friends who live in their apartment building.
Caleb has never been in any type of real relationship because he's not sure how to do it. When feelings start creeping in, he's usually out the door.
Zack doesn't do relationships either. His estranged family played a big part in that.
Because this is a romance, you know they fall in love and they live happily-ever-after. The problem I had was how long it took to get there.
There's slow burn and there's, "Oh my gawd! Just kiss him already, and stop freaking out if he smiles at you, accidentally brushes against you, or says something nice to you."
Caleb blushes A LOT. He also stutters when he's nervous, gulps and gapes a lot, cries a lot, and tends to ramble and giggle when he's embarrassed. He's embarrassed a lot. There's also a lot of !!! that I found to be distracting.
Zack winks a lot.
Another thing I didn't get was the constant, "Ahem," throughout the book. Are they clearing their throat? Coughing? I couldn't tell most of the time, but it's something I've not seen much (at all?) in books I've read. Usually the author just says, "He clears his throat," or coughs or whatever.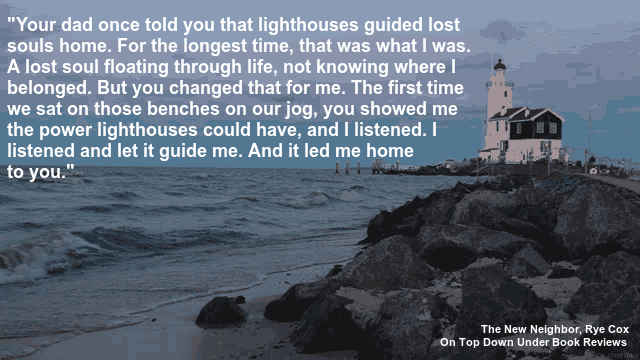 Watching these two guys come together really was sweet. They both fought it for their own reasons, but because they'd developed a nice friendship first, it worked well. Zack is amazing in how he helps Caleb follow his dreams.
I can't not mention Lady, Zack's cat. I'm a cat person so I smiled a lot over Lady's little diva ways.
I also liked their friends. First, there's Eric, who was with Zack when Caleb popped in to introduce himself the first time. Second, there's Ian, who's been Caleb's best friend since high school. There's also Scott, Zack's coworker, and he'll be Ian's love interest in the next story. And there are Will and Jason, who'll also have their own story.
There are some questions I have about Scott. Hopefully they'll be answered in his and Ian's book.
There's one thing that was NOT answered in The New Neighbor that really bugged me. A big deal is kind of made about Zack's new boss, Joshua. He doesn't like Zack right off, though the reasons why aren't given. He's outright rude to him when they'd never even met before, even taking an important client away from him and giving him menial tasks as a bit of an eff you. Joshua also totally freaks out when he finds out that Zack is gay. No, not just freaks out. The man rushes out of the room like a bat out of hell and acts even weirder than he did before.
None of that was resolved unless it will be in Scott's story because he's Scott's boss too.
Because this was such a big deal, if the Joshua thing isn't explained later – and it's simply left as is – I'll be popping back on here and dropping my rating by at least one star, possibly more. Right now, I'm giving the author the benefit of the doubt when it comes to Joshua. If it is explained later, I'll come back on here and adjust my review accordingly. If it's not, it was a whole lot of wasted words and unnecessary drama thrown into the book for no reason at all.
Overall, this was a sweet romance. It took forever for Caleb and Zack to get there, but they did get there. It was really sweet when it happened, making me really like Zack a lot.
There were no typos, misspelled words, or formatting issues, but it needed some serious tightening throughout. I was told an awful lot, not shown, and the stuttering, gulping, gaping, ahem! and !!! should've been toned down drastically. It didn't read smooth.
I will be reading Ian and Scott's story.