The Flirty Neighbor (Corio Heights #2), Rye Cox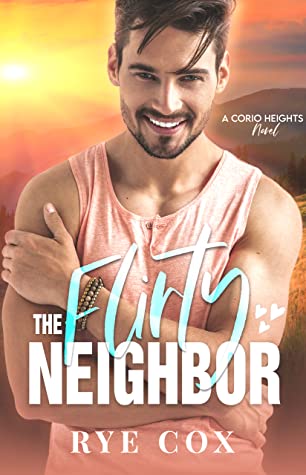 Rating: 4 Stars
Publisher: Rye Cox
Genre: Gay Romance
Tags: Contemporary, Age Gap (9 Years), First Time, Friends-to-Lovers, GFY/OFY (?), Romance, Series
Length: 229 Pages
Reviewer: Cindi
Purchase At: Amazon
This review is slightly spoilerish.
Blurb –
What do you do with a connection you can't explain?
Ian had been burned more than once by his past relationships. After being seen as an extension of his family and not for himself, he swears off serious and dons his flirty shield to protect his heart. But as he develops a friendship with Scott, he wonders if more is possible.
Scott dealt with bullying for most of his life, leading to his lack of confidence. Now in his thirties, he struggles with his weight and image issues, but is ready to overcome the insecurities that have been drilled into him. However, he didn't expect his personal trainer to change his life in more ways than one.
The Flirty Neighbor is a bisexual awakening M/M romance with low-angst, eccentric family members, lots of flower references, and HEA guaranteed. It is the second book of the Corio Heights series and can be read as a standalone, but will be more enjoyable read as a series.
Review –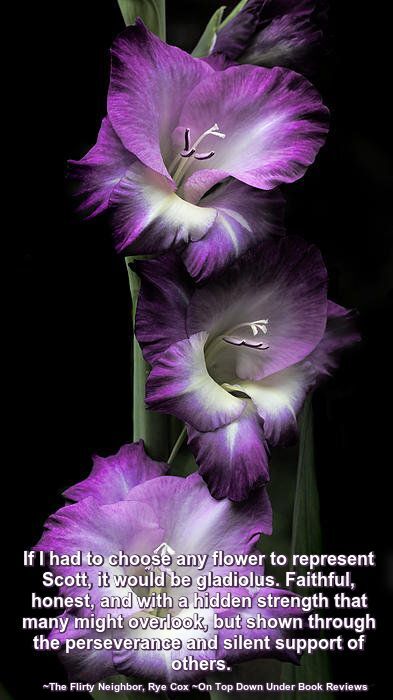 I'm going to start my review by saying that this book was written MUCH better than the first one, The New Neighbor. While there were still a couple of issues – !!! overload, SHELLY used on one page several times instead of SHERRY, dude/bro/man used way too much – it wasn't as difficult to read as the other one. I'm going to go with maybe it had a different editor? No matter the reasons, it was much easier to read, and I wasn't taken out of the story because of certain things.
Both Ian and Scott were introduced in the first book. Ian, 26, is a personal trainer. He's also Caleb's (from first book) best friend. Scott, 35, is a restaurant consultant and former coworker of Zack's (also from first book). The two men are as different as night and day. Ian comes from a very wealthy family that's well-known pretty much everywhere. He's had problems with relationships in the past because the guys always wanted him for his family's money and influence. Scott comes from a typical working family, from what I understood when they were mentioned or on-page.
Ian's mother and father are big snobs, who can't understand why Ian doesn't want to be part of the family business.
Scott's mother… where do I begin with this woman? I HATED her. I hated her the first time she was introduced, and I hated her so much more later in the story when Scott took Ian home to meet the parents. The author attempted to have her make good toward the end, but it didn't work for me.
I'll come back to the mothers.
Scott is very self-conscious about his weight and his appearance, though he's not overweight at all, and he's apparently quite handsome. His self-consciousness came from his horrible mother and being bullied while growing up. He's so self-conscious that there are certain things he's never been able to do sexually out of fear of being rejected because of his appearance. I don't think he'd ever gotten completely naked with anybody. He made me sad because I saw myself in him from my younger years when I battled an eating disorder because of my mother and the hurtful things she said.
Scott wants a personal trainer so of course he goes to his new-ish friend Ian. It's really hard for him to walk inside the fitness place, but Ian's right there to ease him into it, along with easing his mind. This starts a routine work-out schedule, as well as them hiking together on weekends. They become friends first, but they ultimately move on to more. Their moving on to more is quite big for Scott because he's never been with another man before, nor has he ever thought about it. Even so, he wants Ian and he wants him bad. This is good because Ian's all over wanting Scott.
And, boy, was he beautiful. While most of my friends were gay, I didn't consider myself to play for that team. I could appreciate their handsome looks and muscular bodies that were so different from my soft one, but that was only longing to have something that I would never obtain. And Ian was the perfect embodiment of those longings. To say I was intimidated when I first met him was an understatement, but his relaxed smile and down-to-earth personality made it easy for me to get past my insecurities of being next to a beautifully perfect man and treat him as a friend instead.
Unlike in The New Neighbor where Zack and Caleb took SO long to move their relationship from friendship to more, Ian and Scott get going pretty quick. I can't tell you how much I loved that after watching Scott and Caleb go on… and on… and on… and you get my point. 😉
Of course, it's not just sexual with Ian and Scott. They both want a real relationship but are scared. Ian's scared because he's had bad luck in the past when dates learned who he was, who his family was. Scott's scared because he doesn't believe he'll ever be good enough for Ian.
And that brings me back to Scott's horrible, HORRIBLE mother.
I'll just leave some quotes below so you can see what I mean.
After telling Scott he looked like he'd lost a few pounds…
"Thanks, I've been working out." I smiled, a bit surprised at her positive comment. 
"Now if you could lose another twenty or so, perhaps you could find yourself a nice girl and settle down."
After telling his mom and dad he's going hiking with Ian…
"Maybe you should lose some more weight before going. What would you do if your friend laughed at you for lagging behind or something? I don't want my baby to be bullied…" 
Did I mention that Scott is 35????
"In any case, it's better if you don't go. How about you stay the night here instead?"
When she meets Ian the first time and discovers who his parents are…
"But… But you two are from completely different worlds. He is too out of your league. He could find someone else… someone more fitting of his stature. I mean, why would he stay with you when he could do so much better?"
Ah, but sweet Ian, who would never be called shy, put the old bat woman in her place, making me love him even more.
As for Ian's mother, she was a snob, but she seemed to take to Scott fairly quickly, as did Ian's brother, father, and grandmother. Once 'Dad' was put in his place after a rude comment, he came around. The only time the differences in Scott and Ian's so-called status mattered was during a charity ball when Scott was forced to listen to a snobby man who made it clear that Scott didn't belong there.
That broke my heart. Here Scott was a nervous wreck being told he's less than and some snobby bastard calls him a charity case and tells him he doesn't belong.
Regardless of all that, Ian and Scott make a beautiful couple. There's no weirdness from Scott over being with a man, nor does he attempt to hide their relationship from anybody. He jumped to incorrect conclusions a lot when it came to Ian, but thankfully those were resolved quickly. After seeing his mother, I can totally understand why he was the way he was, though I admit to wondering how he made it to 35 without sticking up for himself at least once. I also couldn't understand why his father sat back and allowed the woman to constantly criticize and belittle their son.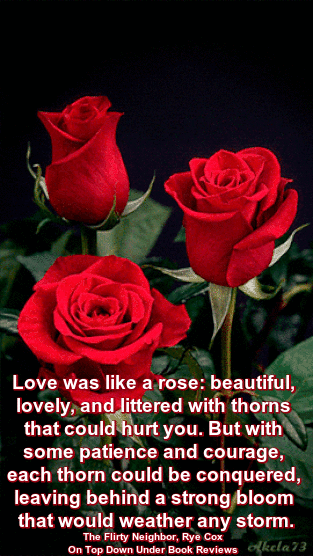 There were a few slight misunderstandings, but they were resolved quickly.
Overall, it's a really good book. I loved Ian in the last book, and I love him more in his own. Scott was a little hard to read early on, but I really liked him with Ian.
I'm ending this review with a big complaint that has nothing to do with Ian or Scott or even The Flirty Neighbor book. Even so, I'm voicing my complaint.
In The New Neighbor, Scott and Zack were coworkers. This ended when Zack and Caleb got together and Zack moved on to other opportunities with his man. While they were coworkers they got a new boss, Joshua. I was quite blunt in my review of the first book about my displeasure of a lot of talk being in that book about Joshua only for it to end without his issues being explained or resolved. With Scott and Zack being former coworkers I'd hoped something would be said about it in this book. It wasn't. Scott's job was barely mentioned.
I'm going to go out on a limb and assume Joshua will be getting his own book someday? If not, I'm going to go back to wondering why in the hell the author even mentioned the guy if she was going to leave him hanging.
That's all I'll say about that for now.
Good book. Scott and Ian were really good together. I'm looking forward to reading Will and Jason's, though there are a couple of things about Jason that give me pause. There's being a big eater and there's Jason shoving food into his mouth like he's not eaten for days. This was every single time he's been mentioned in both books. It's so bad that Will has to always stay close with water in case he chokes from eating so fast. I'll reserve judgment until I read his and Will's book.