Broken Things, Barbara Elsborg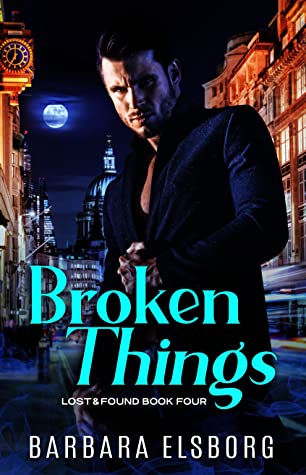 Rating: 4.5 Stars
Publisher: Self Published
Genre:  Gay Romance
Tags: Paranormal, Childhood to Adulthood, Second Chances, Hurt/Comfort, Humour, Series
Length: 372 Pages
Reviewer: Kazza
Purchase At: amazon
Blurb:
An ancient book of faerie magic. A renegade who will stop at nothing to possess it. And the two boys who stand in his way.
When fifteen-year-old Tar, part vampire, part something else, helps his father break into a remote house, he doesn't care about the book his father is looking for. What he does care about is the little locked-up faerie kid. Merrick is alone, vulnerable and deaf.
The break in goes wrong, but Tar refuses to leave the eight-year-old even though it means facing his father's fury. Events spiral from bad, to worse, to out of control: the book disappears, and Tar and Merrick are wrenched apart.
The boys grow into men, one living in the light and one in darkness, yet neither has forgotten the other. As powerful forces rise, the search for the missing book gains momentum, and Tar and Merrick's paths collide once more.
Merrick is the key to the missing book and Tar is faced with a near impossible task: to keep the man he cares for safe, and do everything he can to stop the book and its secrets from falling into the wrong hands. And maybe, just maybe, save the world as we know it.
Review:
This is book #4 in the Lost & Found series. I haven't read the other three books preceding it and I had absolutely no problem reading this as a standalone.
I love a good paranormal tale and this was a good story. Barbara Elsborg is adept at writing young boys who find a friend in one another in difficult times who then re-find each other again as adults. The MCs here have never given up on that possibility either. My favourite of BEs with this particular theme is The Story of Us, definitely one of my all-time favourites. *Sighs. Zed and Caspian still hold my heart.
My enjoyment of this story has much to do with the MCs but I liked that the humour was a bit more pared back. I
like humour, and Barbara Elsborg is good at it, but sometimes I just want a bit of hunger or difficulty or intensity. Elsborg is good at putting her characters in intense situations while using self-deprecating humour to take the sting out of it. However, I like some sting, and while Merrick is pretty sunshine-y, Tar has had a lot to contend with and carries those inner demons close to his chest, he's definitely not perky. So Broken Things delivered an undertone of difficulty.
Tar and Merrick first meet when they are 15 and 8. Merrick is deaf and Tar's dad, who's a bit of a half vampire dodge, burns a house down after going way too far with someone in the house while he's doing one of his not at all legal jobs. Tar rescues Merrick and looks after him over the course of a week, including during very tough circumstances when Tar's dad disappears on them – talk about abandonment issues. There ends up being a paranormal confrontation and Tar and Merrick are separated for over 20 years. Merrick never gives up hope of finding Tar again and we discover that Tar has looked for him as well
Tar heads up a paranormal investigation organisation that is like the police for supes and keeps himself at arm's length from his staff. He succeeded an absolute arsehole in the role and the staff know how fair Tar is. Still, he doesn't fraternise.
Merrick is now a doctor and moves around England quite a lot doing locum gigs in various hospitals. He wears contacts to cover up his heterochromia and has changed his surname, hoping to keep anyone off his tail. That's if there is anyone after him. But… there was a stalker in the last town. It's not long after getting this contract that he runs into Tar. He believes it's Tar, they've grown up some since Merrick was 8 and Tar was 15. When they talk there is something there. Well, Merrick hopes there is but he wears his gentle heart on his sleeve while Tar is now walled off and aloof when they reconnect.
Things That I Liked:
I really liked this MCs pairing. Tar and Merrick were good together. It felt like they were meant to be together.
The overall story was engrossing, I didn't realise that this was a 372 Kindle page book. I often find 300 pages or more just that bit too long in romance, even if it is paranormal. But this never felt drawn out at any stage.
The suspense or mystery element regarding the magical book that refuses to leave Merrick, that any number of supernatural beings with nefarious plans would want, made the pages pass by easily.
I loved Merrick's carpet bag and it seriously became my favourite secondary character. I'm not sure if that was the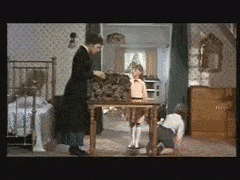 plan but I kept thinking, "What about the bag? Is the bag okay? Don't let just anyone access the bag!" So, you know, I had skin in the game. I also kept thinking about Mary Poppins' bag, which is a good memory for me. Fond memories aside, we all need Merrick's carpet bag to travel with.
There was a bit of darkness in the book, not much but enough to make you truly feel for Tar. His father wasn't winning any awards for parent of the year, that's for sure, but Merrick's father was an absolute bastard.
I think if you have read prior books you'll get a kick out of returning series characters but I didn't know them.  It made no difference in terms of how I experienced Broken Things but I imagine for some readers it would definitely value-add.
The backdrop of the book is contemporary London but there are visits on occasions to another realm. It's more character based and emotive and mystery than urban fantasy or a hierarchical paranormal world.
There wasn't anything I didn't especially like about Broken Things. The reason it's .5  away from 5 stars is because I really would have liked to have seen a bit more of… inner Tar. I don't want to spoil anything so I'll leave it at that. But, yeah. That would have been the icing on top.
Overall:
I had a lot of fun and felt really connected to the well named Broken Things. There was heart, some heat, a bit of right brain stuff going on, the characters were easy to be with for the entirety of the story, the romance was sweet but laced with some definite hurt/comfort, along with second chances. These guys had to work for their HEA. I flew through this book and enjoyed my time spent with Tar and Merrick (and the bag.) It was a great distraction for me on my nightly mindful reads. Highly entertaining and recommended reading, 4.5 Stars!