Extended Stay (California Crush #1), Mia Monroe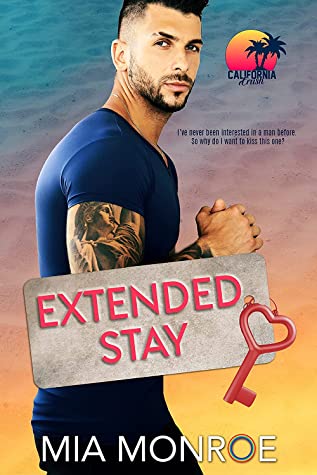 Rating: 5 Stars
Publisher: Mia Monroe
Genre: Gay Romance
Tags: Contemporary, Bi-Awakening (x 2), First Time, Friends-to-Lovers, Opposites Attract, Romance, Series, Slow Burn
Length: 256 Pages
Reviewer: Cindi
Purchase At: Amazon
Blurb –
I've never been interested in a man before. So why do I want to kiss this one?
Promising my sick uncle I'd help fix his rundown hotel in San Diego was just the beginning of my problems. I plan to do what I can, convince him to sell, and then take off, returning to my calm and structured existence back east. I double down on that plan when I arrive to find it in worse shape than I expected.
Unfortunately, my plans go awry when I fall for the quaint neighborhood, quirky locals, and loyal employees. That's when he enters my world. A contractor down on his luck, looking for work and a place to stay, offers me an offer too good to pass up.
He makes me feel things I never have before, and now I'm considering hanging around much longer than intended. As long days turn into even longer nights, I can't force myself to leave him. His presence turns my carefully planned world upside down, and before I know it, my quick trip becomes an Extended Stay.
Extended Stay is a double bi/gay awakening, opposites attract, slow burn romance starring a laid back contractor and the buttoned up hotel owner who hires him. It is book 1 in the California Crush series, featuring tan lines, thick thighs, and plenty of hot guys. Book your vacation and meet the men of Hillcrest Hideaway.
Review –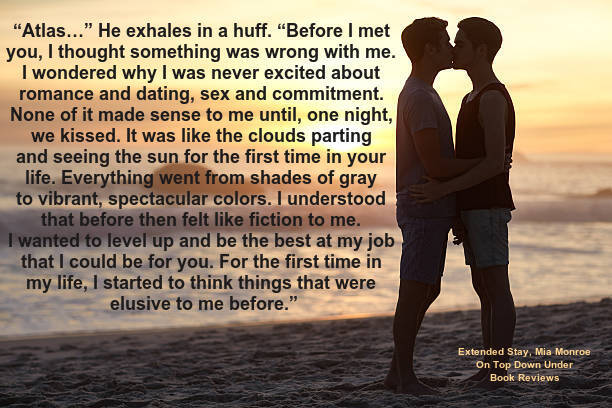 Atlas, a busy financial adviser in New York, receives a call that changes his life. His Uncle Howie, in San Diego, has been rushed to the hospital. Atlas drops everything and catches the first flight out. After making sure his uncle is okay in the hospital, he makes his way to the hotel owned by Howie – the very rundown hotel. With Howie making it clear that after his little health scare that he wants to travel, he puts Atlas on the spot. Remember that high-powered job Atlas has in New York? Yeah, he can forget that for a while. Not only does Howie make it clear that he wants Atlas to help get the hotel up and running again – it's rundown in every way imaginable – he also makes it clear that he's transferring ownership to Atlas whether he likes it or not.
I liked Howie for the most part, though he was presumptious when it came to his nephew. He didn't give Atlas much choice. No matter how many times Atlas tried to discuss it with him, he shut him down.
The hotel itself was a big mess. Atlas went in with the plan to do what he could to get it fixed up and then he'd be talking Howie into letting him sell it. Only he couldn't. Howie made him promise to not sell it out from under the employees – the same employees who haven't been paid in a month because of their dedication to Howie.
The finances are a disaster. The rooms are clean, though super dated. The only thing the hotel has going for it other than the employees is the attached restaurant and bar. Even those two things aren't enough to even have the hotel at a third capacity most of the time.
Every member of the staff is amazing. An LGBTQ+ hotel, all the employees are part of the rainbow.
Using his financial knowledge from his job in New York, Atlas gets started on trying to make heads or tails of the finances. When I say it's a disaster, it's a MAJOR disaster. Bills haven't been paid, taxes are owed, and, again, the employees aren't getting paid their salaries. Even so, the employees are more like family than coworkers so they stick it out, all now in fear of being tossed out by Howie's nephew.
Then there's Rome. A contractor, he'd once upon a time been successful as he worked for his father's company. He lost his position when his parents disowned Rome's brother (London) for being gay. When being forced to choose between his parents (and his job) and his brother, it was a no-brainer. He chose London. Now he's taking odd jobs here and there.
Atlas is burning the candle at both ends. He's trying to get things right at the hotel while also working to keep his clients in New York happy.
And then one day an angel appears.
Okay, not quite an angel, but a contractor who's eager to help with the remodel of the hotel, having been pushed there by his brother after Rome's longtime live-in girlfriend dumps him. After two years, she'd had enough of waiting for Rome to put a ring on it.
Rome is answer to prayers of sorts for Atlas. They talk for a few minutes, walk around to see what changes can be made, then Atlas hires him on the spot. It's an impulsive decision that ultimately pays off.
Atlas and Rome are as different as night and day. Atlas is this high-powered businessman who's comfortable in a suit and tie, though he's hiding sexy tats under that suit coat. 😉
Rome is more of a free spirit, a surfer guy with long blond hair who's comfortable in shorts, tank tops, and flip flops. Strangely, they begin a nice friendship. They get coffee together a lot, do lunch, and usually end up having dinner together. It's really nice for both men. Neither has ever been with a man but it doesn't matter. This was just friendship.
But then things start to change. Rome is noticing things about Atlas that he'd never noticed in other guys. Atlas is suddenly getting erections at the mere thought of Rome. For Rome, it was easy for the reader to see he wasn't straight. He'd just always done what he thought he was supposed to do, though he never could understand what all the fuss was about when it came to sex. It was something he did because it was expected. This, of course, is what led to his latest breakup. The most recent ex accused him of not wanting her sexually. And really? He didn't. He tried to be good to her. He just didn't see stars or have an all-encompassing need to get naked with her.
Atlas was a little different. I'm going to go with him being bisexual. He'd just not realized it until Rome came into his world. He'd always enjoyed sex with women, but like Rome, he never felt a real connection.
They both definitely feel that connection with each other.
Atlas and Rome are friends first. There was no sudden epiphany that they're in love with each other. It was organic. It came naturally. There was also no (thank goodness) insta-love. It was a slow burn as far as their sexual relationship, but they were the best of friends leading up to it.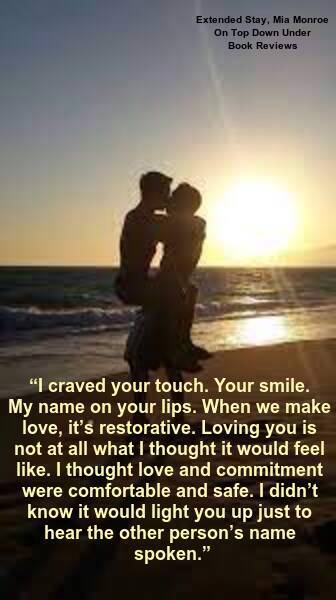 In the back of both their minds is also the fact that Atlas has a life on the other side of the country. The way things came together for these two was really nice. It happened the way it was supposed to happen, when it was supposed to happen. They were beautiful together.
I can't not mention the staff at the hotel. These people prove that family is family you make, not necessarily share blood with. I loved them all. The only one I had problems with is Howie. He claimed these people were like family. They'd stuck things out with him – even not getting paid – when he was down on his luck. While it was good that he brought in Atlas to fix things (albeit not in the best way), where was he when everything was going on? If these were his friends, his family, why didn't he even bother to check in with them when he got out of the hospital? They literally put their lives on hold for Howie to not even make an appearance when they were struggling to get the hotel fixed up? That didn't sit right with me, nor did the fact that he never – not once – asked Atlas what he could do to help fix the financial situation of the hotel that he put them in because he didn't handle his finances correctly. It was basically, "Screw your life in New York. All this is your problem now."
Another secondary character I love is London, Rome's brother. I really hope he has his own story someday. I'm going to guess that he will with the way certain things happened in Extended Stay.
I wasn't a fan of Uncle Howie and how he just assumed with Atlas. I get that he had a major health scare, but Atlas had a very busy professional life in New York. Taking a few weeks to help his uncle out was one thing. Being expected to walk away from the only life you know is something else. Not to mention the mess Howie had left and just expected Atlas to fix.
I also found myself saying, "Ouch!" during Atlas and Rome's first penetrative sex scene. It was… I guess I could say, ambitious? 🙂 Considering it was the first time for both men. Even so, it was written well. All the sex scenes were.
I can't not mention the flamingos. All I'll say about that is that I'm really curious to know who the troll is.
I'm having a difficult time tagging some of these books I've been reading lately. This wasn't gay-for-you. Not really, anyway. It's also not a situation where one or both of the men are in the closet but come out when they meet the one. So, it's not out-for-you. I'm just going to say bi-awakening for both men, just as the blurb says, and leave it at that.
Overall, a very good book. I look forward to reading All Inclusive, book two of the series. I'll also be going back and reading Room Upgrade (#0.5), that I didn't know existed until I was halfway through Extended Stay.