The Date (Love in O'Leary 0.5) – A Love in O'Leary Prequel Novella, May Archer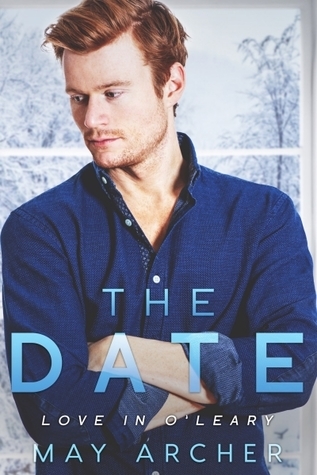 Rating: 5 'Insta-Love' Stars
Publisher: May Archer
Genre: Gay Romance
Tags: Contemporary, Humor, Insta-Love, Romance, Short Story, Series
Reviewer: Cindi
Purchase At: Amazon.com
Blurb –
Caelan James should've known better than to let a dating app set him up on a blind date. Nothing in life was guaranteed-perfect, especially not guys… and most definitely not guys in the immediate vicinity of tiny O'Leary, New York. And then sexy Navy SEAL Ash Martin walked into Cal's bakery, and made him wonder if fate might have cooked up something sweet for him after all. Their connection was immediate, all-consuming, and definitely not vanilla… but could their perfect date last for more than just a night, or even a season?
(This is a newly-expanded version of the story previously published as in the Heart2Heart anthology as The Baker and the SEAL.)
Review –
Caelan (Cal) owns a successful bakery in O'Leary, New York. He's not exactly a people person. Thankfully he has an amazing assistant (that would be Maura) who can fake those smiles better than most. It's the day before Valentine's Day when a particularly difficult client arrives. Think bridezilla on steroids. Karen, the client, is the ultimate bitch and expects everybody and their mother to bow down to her. She's getting married in a few days. Caelan's bakery is doing her wedding cake but now it's the 11th hour and she's demanding a specialty cake for the rehearsal. Cal would like nothing more than to tell her where to shove the cake she's demanding. I couldn't blame the guy. She was just bad.
And then Mr. 6'5″ hottie walks in and Cal's not thinking about bridezillas. He's thinking about how bad he wants to the see the man on his knees, preferably naked. 😉 There's a slight misunderstanding when Cal realizes that Mr. Hunk Of Muscles (that would be Ashley, aka Ash) is there with the bridezilla. Of course Cal immediately thinks the man openly flirting with him is the groom.
Cal has set up a profile on a dating site. He's not looking for Mr. Right Now. He wants somebody he can maybe date and hopefully have more with down the road. He has a blind date set for Valentine's Day that's he's dreading with every fiber of his being. Imagine his surprise when the blind date is the hot man from the bakery. 🙂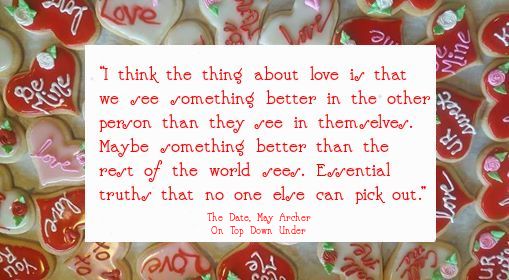 This is insta-love in every sense of the word. They go from flirting a little, to sex, then to talking about tomorrow and next week and maybe even further down the road than that. Oh, and with a little baking (*snort*) in between.
I absolutely loved this. I loved Caelan and his grumpiness the minute he was introduced. There's nothing at all not to love about Ash. He's perfect and head over heels in love with Cal.
I don't have a problem with insta-love in books when they're written right. It was definitely written right in this story. Nothing seemed silly or unrealistic, nor did it feel forced. These guys had an instant connection that grew as time went on.
I didn't realize until after I was already involved in this that I'd recently read and reviewed a book co-written by this author (Pros & Cons of Vengeance, another one I loved), so I can't say this is my first by May Archer. What I will say is how much I truly loved this and how I can't wait to read the rest of the series.
Highly recommended. I love the cover.