Reunited, Andrew Grey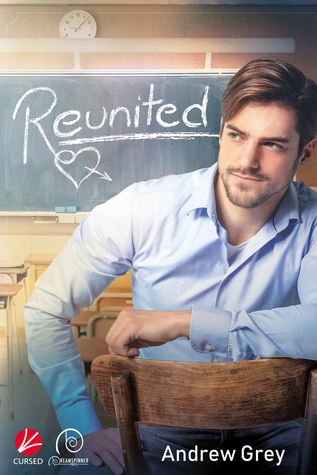 Rating: 3.5 Stars
Publisher: Dreamspinner Press
Genre: Gay Romance
Tags: Contemporary, HFN, Nerd/Jock, Opposites Attract, Romance, Short Story
Reviewer: Cindi
Purchase At: Amazon.com, Dreamspinner Press
Blurb –
Back in high school, nobody noticed quiet nerd Kevin Howard.
But everybody noticed handsome, athletic, and ultrapopular jock Clay Northrup.
They had nothing in common and lived in different worlds.
But a lot can change in fifteen years, and when they meet again at their high school reunion, Clay is no longer the big man on campus, and Kevin isn't hiding in a corner anymore.
Can they put aside who they were? Can one night really lead to forever?
Review –
In high school Kevin, a self-described nerd, had a huge crush on super popular Clay. Clay was the it guy. You know the type of guy I'm talking about. Every high school has one. Popular jock, successful at everything he does, dates (and later marries) the popular cheerleader. In other words, the complete opposite of Kevin.
Now it's fifteen years later and it's high school reunion time. Kevin almost talks himself out of going, but his friend (Nathan) keeps pushing until finally does. I wasn't sure why Kevin would want to go, to be honest. His high school years didn't exactly seem like the best four years of his life.
Anyway… he drives the hour-plus to his old high school and guess who's in the parking lot when he pulls in? That would be Clay looking every bit as hot as he did a decade and a half ago.
This story predictably had exactly what you'd expect from a nerd/jock book. There's Clay, the jock who was closeted all through school. He's since come out to his family but not to his former classmates. There was no reason to really. Then there's the nerd who changes his life for the better and ends up more successful than most of his former classmates, including the formerly closeted jock.
And of course, because it wouldn't be a nerd/jock story without one, there's the homophobic jerk who's still trying to live in his so-called glory days. A decade and a half later and this homophobic jerk – as expected – causes a couple of scenes with the 'nerd' in the here and now at the reunion.
The jock finally admits to having had a 'thing' for the nerd back in high school but wasn't ready to come out and admit it back then. Now, he's quite content doing just that.
I enjoyed watching Clay and Kevin reconnect. I even enjoyed watching Patrick (the homophobic jerk) get his when he discovered that Kevin wasn't the same scared kid he was a decade and a half ago. Then there was a dance between Clay and Kevin that was really sweet.
I liked the story but felt that there was way too much going on for 32 pages. Between Clay coming out publicly, to issues with his ex-wife (the former cheerleader), and even another important person in the story, it was just way too busy for so few pages. Don't get me wrong, I enjoyed it but felt that it was too much crammed into it. A few pages added would've had me upping my rating drastically. There's also a coffee date (of sorts) that was nice – and I did understand why the author wrote it the way he did – but it kind of felt out of place so soon.
The story ends with a HFN ending. I wouldn't have minded that so much if Clay and Kevin had actually spent more time together alone. It does end with a promise of a lot more between them.
Overall, a nice, quick read.