Pretend I'm Yours, Aiden Bates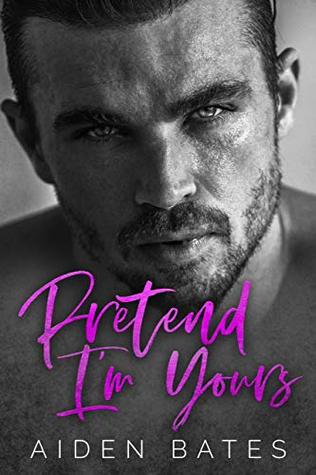 Rating: 4 Stars
Publisher: Equal Love Publishing
Genre: Gay Romance
Tags: Contemporary, Age Gap, Non-Shifter Mpreg, Romance
Reviewer: Cindi
Purchase At: Amazon.com
Blurb –
Desperate times call for desperate measures, like seeking a mail order groom. 
Saul McCormick isn't the kind of man who believes in fairytales like love or trust. After a terrible breakup left him publicly on the ropes, Saul disappeared to the mountains to find himself again. He's just not ready to do people again, yet. 
Kyler Nielson thought he had it made at the Tall Oaks Country Club, until he was suddenly canned. Stuck trying to keep his father in a comfortable living facility for dementia patients, Kyler needs cash now. Mail Misters, an online mail-order groom service, is waving the green in his face. Can it be that bad? 
With Kyler desperate for cash and Saul desperate for companionship, the two seem like a perfect match. But Hollywood just won't let go of Saul's name, and Kyler can't help but notice the seclusion isn't great for his soon-to-be fake husband. Unfortunately, the city means exposure—and they can't have that. 
These two are brought together to fake it until they make it. But when Saul's trust fund is put in jeopardy, can they make things work for real? This standalone contemporary gay mpreg novel is for adults only.. 
Review –
Saul, a famous actor's son, has just been told by his father that unless he's married and at least has a child on the way within the next two years his trust fund will be cut off.
There had been a scandal a decade earlier involving Saul and his former fiance that had driven him completely out of the public eye. He had a house built in the mountains in the middle of nowhere and he's spent his days and nights as far from the prying eyes of Hollywood as he could get. I wouldn't say he's happy, but he seems content enough.
Until the ultimatum by his father.
His father is not being a jerk when he makes the ultimatum. He's watched his son hide away for a long time and he uses the threat as a way to pull him back into the real world and to maybe find happiness.
I loved Saul's parents.
Kyler has just been fired from yet another job for standing up to a homophobe. He needed this job. His father, Korbin, has just been placed in an expensive facility because of dementia where all are his needs are being met. He's happy. No way can Kyler take him away from there. Kyler has no job, he's being threatened with eviction, and he has no other family. All he has is his best friend Jess. Jess has an idea – an idea that she puts in action. She sets up a profile for Kyler on a matchmaking site. This isn't like Tinder or Grindr. Its sole purpose is to hook up rich men (sugar daddies, I guess you'd say) with people like Kyler to get married. It's the 21st century version of mail order grooms.
Saul, feeling a little desperate, decides to check out the site right after his parents leave. As soon as he sees the photo and profile of Kyler he immediately gets turned on by what he sees. He makes an 'offer' for Kyler, who surprisingly accepts not long after. There are contracts and stipulations that have to be considered, but both men are desperate to get it done for different reasons – Kyler so he can provide care for his father, and Saul so he won't lose his trust fund. The contract gives Kyler ten days to walk away if he chooses to.
There's a little texting back and forth between the men before they meet that breaks the ice somewhat. Kyler's not shy in any way so it helps to pull Saul out of his self-imposed shell. When they meet it's instant fireworks and they're both glad they found each other, even if the marriage is supposedly not traditional. Saul makes it very clear more than once that he's not looking for love or romance, not after the public fiasco with his ex a decade before. The problem with that is that while the sex is super hot, they're both starting to feel a heck of a lot more than arousal when they're together. They fall into a quick routine that says they're a real couple.
Until one day things start crashing down and Saul's private life, that he's worked hard to keep private, isn't quite so private anymore. He's exposed along with Kyler, who he's grown to love. He's just too much of a bonehead to admit it until it's too late.
I loved the immediate connection between Kyler and Saul. They have a funny banter that makes the relationship not seem forced even if they did come together under nontraditional means. It's obvious to the reader early on that Saul's fighting himself over the 'no love or romance' thing he put in the marriage contract. Kyler doesn't hide his feelings, even going so far as telling Saul he loves him when he knows it can backfire on him later.
Until the last chapter or so this was a solid 4.5 to 5 star read. Then the book took an odd turn and I ended up dropping my rating a little. The story was good, it was well written, and I liked all the characters, but I had a hard time buying into something Saul does after the 'major' conflict of the story.
There's talk about why Saul had to leave Hollywood and the public eye. The ex and what happened with him (I thought) was pretty straight-forward. I didn't get why that (if everything went down the way Saul said it did) would have hurt Saul so publicly, but it's likely I missed something. It should've hurt Chris, the ex. When Chris makes an appearance later I only got more confused about all that. I also question how Chris knew to be where he was at that particular time. Was it somewhere he and Saul had been to when they were a couple? Again, maybe I missed something.
I loved Kyler from the get-go and still liked him at the end of the book. He hid nothing in regards to why he was marrying a rich man he didn't know. All he wanted was to take care of his ill father, who I also loved.
Jess, Kyler's best friend, is a good friend. Normally that type of character comes across as too controlling. Jess may be a little outspoken, but it's because she loves Kyler, not because she wants to control his life or force him to make decisions he doesn't want to make.
The sex is written very well. There's some humor between the two men that had me smiling a lot. Kyler's just adorable.
Back to the conflict mentioned above… something happens that upsets Kyler and has him taking off. He should have taken off, not because of what Saul said but because of how he said it. When Saul tries to make amends, while I thought it was kind of sweet, it's a little over the top, especially for someone who'd worked so hard to keep his private life private for the past decade. I get why he did it the way he did but it came across more as cheesy than anything else.
Kyler, in my opinion, gave in much too easily.
I will say that I was surprised when it came out 'who' the one was who exposed them.
This is a non-shifter mpreg book so there's a pregnancy as well. It's my first read about an alpha and omega that doesn't involve shifters of some sort. I actually liked that aspect of it. It was different. Not bad, just different.
I believe this is my first by Aiden Bates. I'll be reading more.
A nice read.